Jerash is a place where history comes alive! Welcome to my Jersash travel guide, where I take you through all things you need to know before planning your Jerash travel.
The ancient city of Jerash is located 48 km North of Amman towards Syria. For centuries Jerash was hidden in the sand and its 6500 year of history was excavated in 1800's by a German explorer. The city prospered under the rule of General Pompey, it was known as Gerasa at that time and was acknowledged as the best-preserved Roman provincial town in the world.
So, what's on the agenda, you ask? Plenty! Brace yourselves for a blend of ancient wonders and cultural marvels. Picture Jerash attractions that will make your jaw drop, and Jerash historical sites that will leave you in awe.
But hey, don't worry about getting lost. My trusty Jerash travel guide has got your back. Let's get started!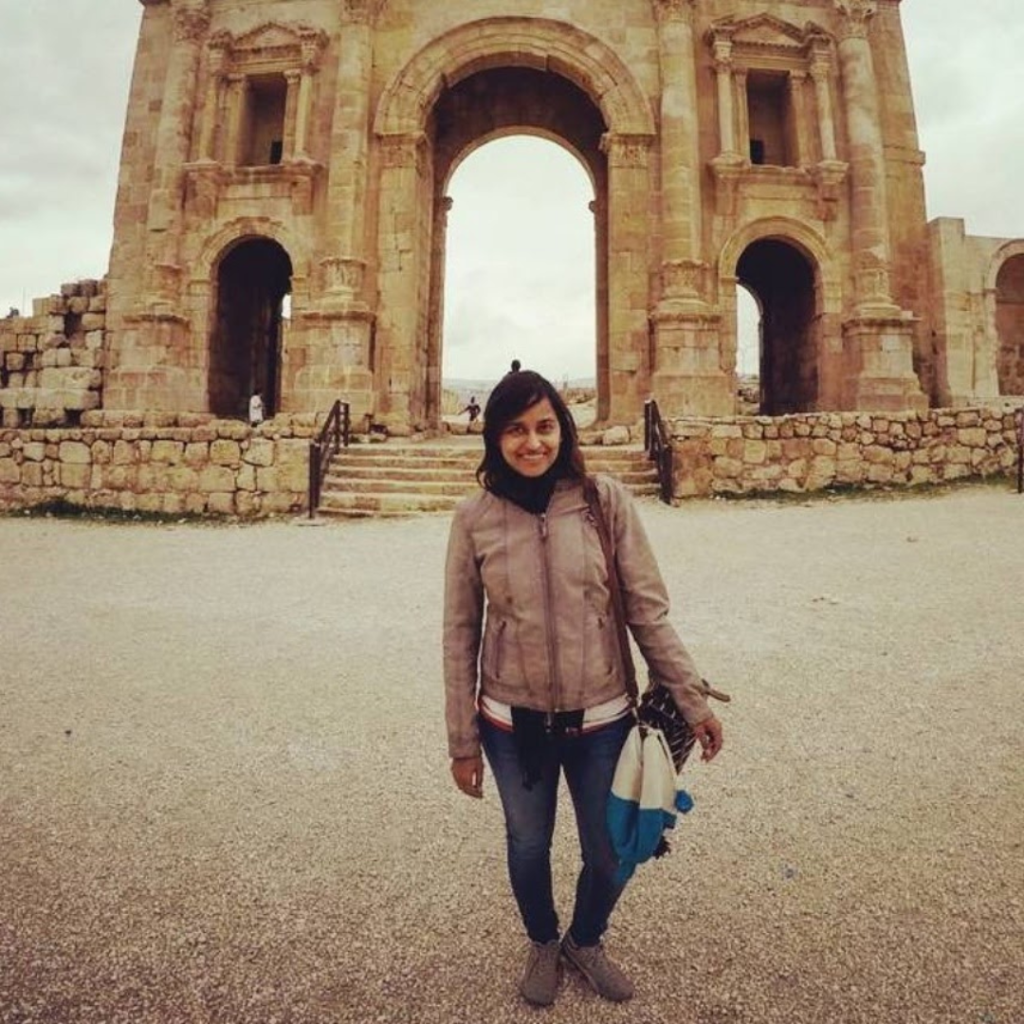 How do I get to Jerash from Amman?
Jerash is a 45 to 60-minute bus ride, buses are available from the North Bus Station at 1JD per person. These buses leave as and when they fill up, which is not too bad considering the price you pay. Taxi, on the other hand, can charge you anywhere between 10 JD to 15 JD. If you are wondering 'Can I visit Jerash on a day trip?' Yes, you can visit Jerash on a day trip from Amman.
What is the best time to visit Jerash?
I feel the best time to visit Jerash, Jordan is somewhere between February to May. I visited Jerash in February, while the weather was a bit chilly the crowds were far less than in peak season! The Jerash attractions are also easy to visit during this time. Although March-April would be the absolute best time to visit Jordan. Here's a month-wise breakdown to help you plan your Jerash travel better.
Spring (March to May)
Springtime in Jerash is a delightful season to explore the city. The weather is mild and pleasant, with temperatures ranging from 15°C to 25°C (59°F to 77°F). The Jerash attractions come alive amidst blooming flowers. Don't miss the Jerash Festival, a cultural extravaganza held in July, showcasing music, dance, and theatrical performances.
Summer (June to August)
Summers in Jerash can be hot, with temperatures ranging from 25°C to 35°C (77°F to 95°F). If you can handle the heat, you'll enjoy fewer crowds and discounted accommodations. Make sure to stay hydrated and seek shade during the day. The Gerasa Festival in August celebrates Jerash's rich heritage with music, art exhibitions, and culinary delights.
Fall (September to November)
Fall is a delightful season to visit Jerash, with mild temperatures ranging from 15°C to 25°C (59°F to 77°F). The landscape transforms into stunning shades of red and gold as the foliage changes. Explore the Jerash historical sites and take leisurely walks amidst the autumn scenery. The Olive Harvest Festival in October celebrates the region's olive-growing traditions, offering an authentic cultural experience.
Winter (December to February)
Winter in Jerash brings cooler temperatures ranging from 5°C to 15°C (41°F to 59°F). While it can be chilly, the city's historical sites exude a unique charm in the winter mist. Bundle up and explore the ancient wonders with fewer tourists around. Keep an eye out for the Jerash Winter Nights Festival, featuring music performances and local cuisine.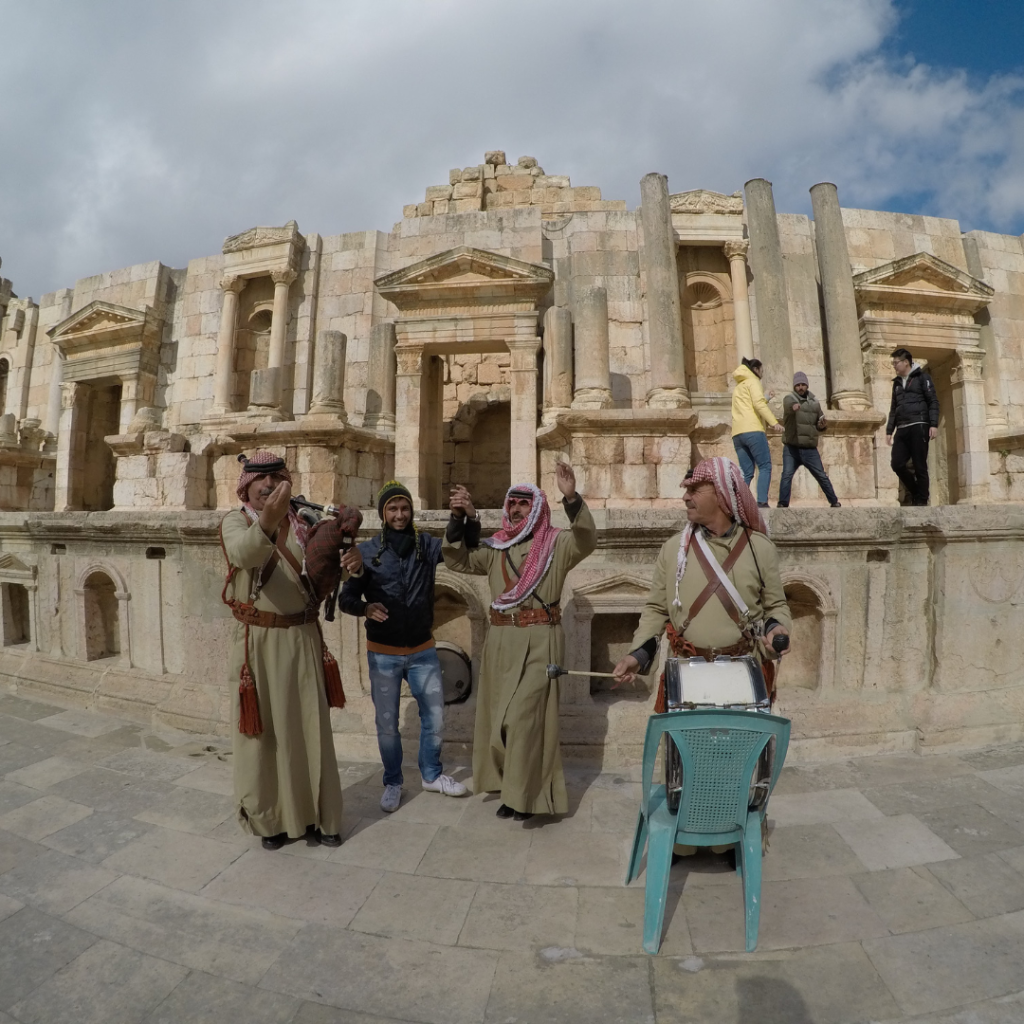 Jerash travel cost
Cost of accommodation in Jerash
Although Jerash is best done as a day trip from Amman. If you still choose to stay back here's some average cost of accommodation in Jerash to help you plan your Jerash itinerary:
Budget Accommodation: If you're looking for budget-friendly options, guesthouses and hostels in Jerash offer comfortable stays at affordable prices, ranging from 20 JD to 40 JD per night.
Mid-Range Accommodation: For mid-range options, you'll find cosy hotels and boutique accommodations with prices averaging between 50 JD and 100 JD per night.
Luxury Accommodation: If you prefer a touch of luxury, high-end hotels and resorts in Jerash provide premium amenities and services, with prices starting from 150 JD and going upwards.
Cost of food & drinks in Jerash
Vegetarian and vegan Jordanian food options are available in Jerash. While traditional Jordanian cuisine often includes meat, many restaurants and cafes offer vegetarian dishes. Vegetarian meals typically cost around the same as non-vegetarian options, while vegan choices may require more specific requests, which could vary in price.
Local Eateries: For an authentic experience, local eateries and street food stalls offer delicious meals at affordable prices. You can enjoy a filling falafel wrap or shawarma for around 2 JD to 5 JD.
Mid-Range Restaurants: Mid-range restaurants and cafes provide a diverse menu with a mix of local and international cuisine. A meal at such establishments can cost around 10 JD to 20 JD per person.
Fine Dining: For a fine dining experience, upscale restaurants in Jerash offer exquisite dishes, and the prices range from 30 JD and above per person.
What is the entrance fee for Jerash?
Entrance Fee to Jerash Archaeological Site: The entrance fee for adults is around 12 JD, and for children under 15 years old, it is approximately 6 JD. This entrance fee is covered under the Jordan pass.
Workshops and Cultural Experiences: Participating in workshops or cultural experiences, such as cooking classes or pottery-making, can range from 20 JD to 50 JD, depending on the activity and duration.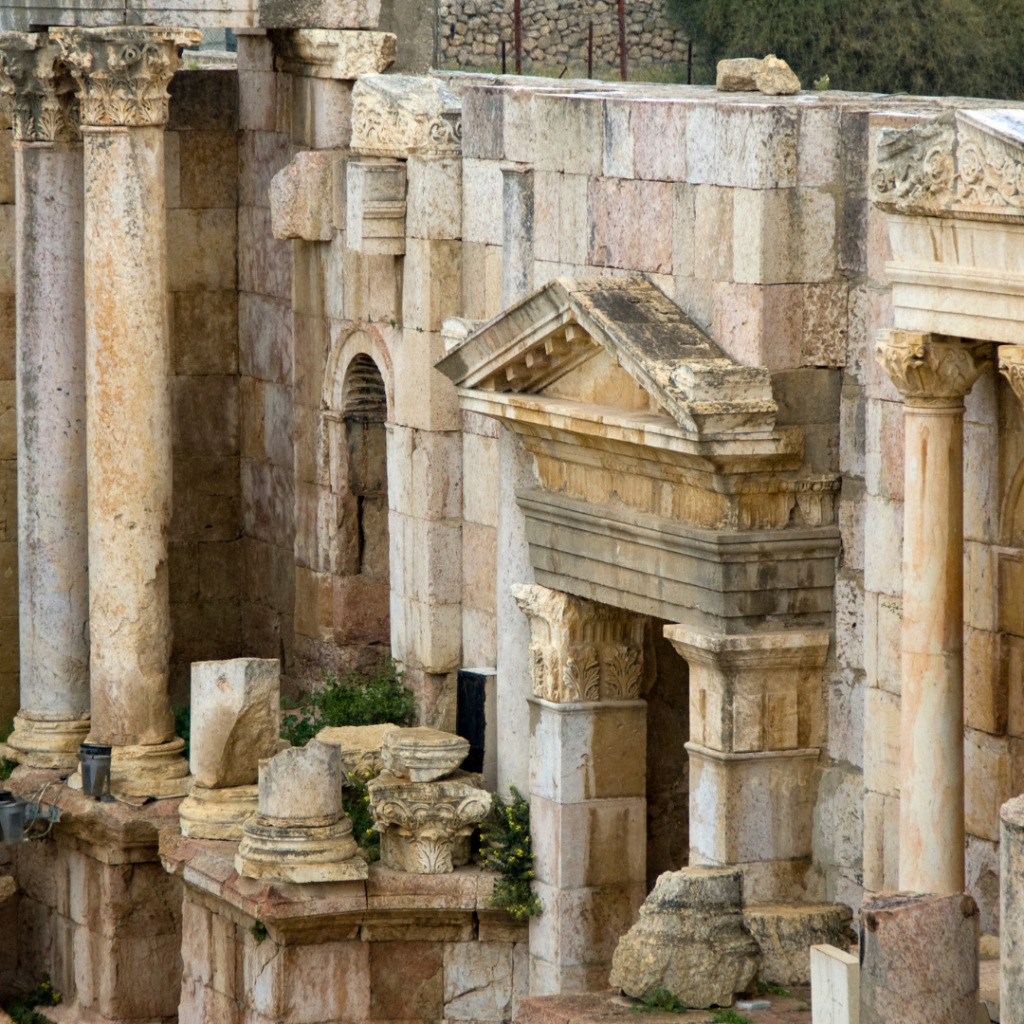 Are there guided tours available for Jerash?
Yes, there are guided tours available in Jerash. Hiring a local guide to explore the historical sites in Jerash can cost around 40 JD to 80 JD, depending on the duration and depth of the tour. I simply hired one from around the entrance gate, there are plenty of locals standing there to help.
You can even ask your cab driver to patch you up with someone. The guides do speak English well. Next up in my Jerash travel guide are the top Jerash attractions that you must visit!
What are the must-see attractions in Jerash?
1. Jerash Archaeological Site
This one tops up the things to do on Jerash's list! Jerash Archaeological Site transports you back in time. When here wander through the well-preserved remnants of this once-thriving Roman city. Experience the grandeur of the Jerash Roman ruins as you stroll along the ancient streets. The site's highlights include the monumental Hadrian's Arch, the expansive Oval Plaza, and the impressive South Theater, which whispers tales of performances and spectacles that once captivated audiences. Lose yourself in the maze-like pathways, and let your imagination run wild as you envision the bustling markets, lively processions, and vibrant community that once thrived in this historic city.
2. Jerash Temple of Artemis
Discover the majestic Temple of Artemis, an architectural masterpiece dedicated to the goddess Artemis. Stand in awe of the imposing columns and intricate details that adorn this sacred site. As you wander through the ruins, envision the rituals and ceremonies that took place within its hallowed walls. Feel a sense of wonder as you connect with the spirituality and devotion that once filled this revered temple. Absolutely can't miss this Jerash attraction.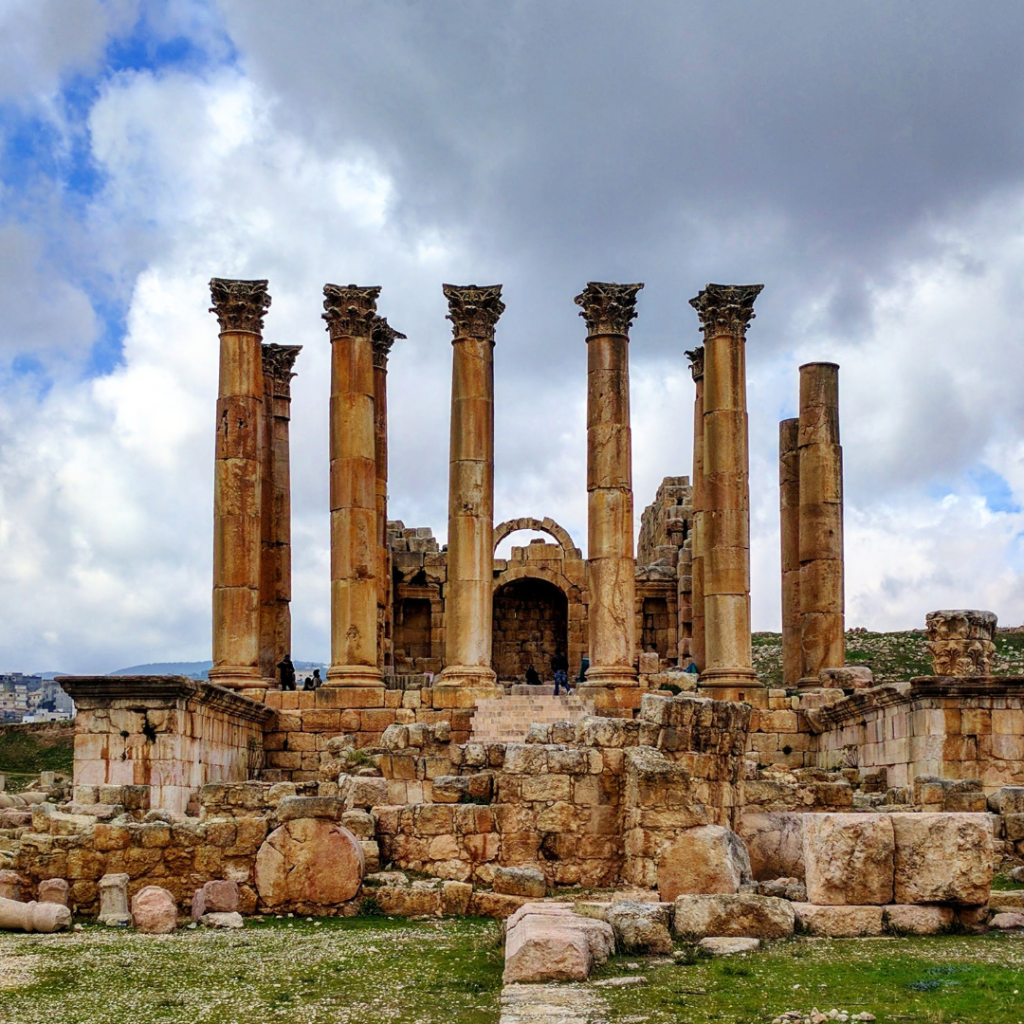 3. Cardo Maximus
Take a leisurely stroll along the Cardo Maximus, an ancient Roman road that served as the bustling heart of Jerash. Immerse yourself in the sights and sounds of the past as you walk among the remnants of shops, homes, and public buildings that lined this vibrant thoroughfare. Admire the remnants of columns that stand as silent witnesses to the city's bustling commerce and lively social interactions.
4. North Theater
Step into the North Theater and find yourself transported to an era of grand entertainment. You'll be surprised by the well-preserved seating arrangements! Just imagine the excitement that filled this amphitheatre during performances. Stand at the centre of the stage and let your voice echo through the ancient structure, connecting you with the rich history of this magnificent venue. You've got to add the Jerash theatres to your Jerash itinerary.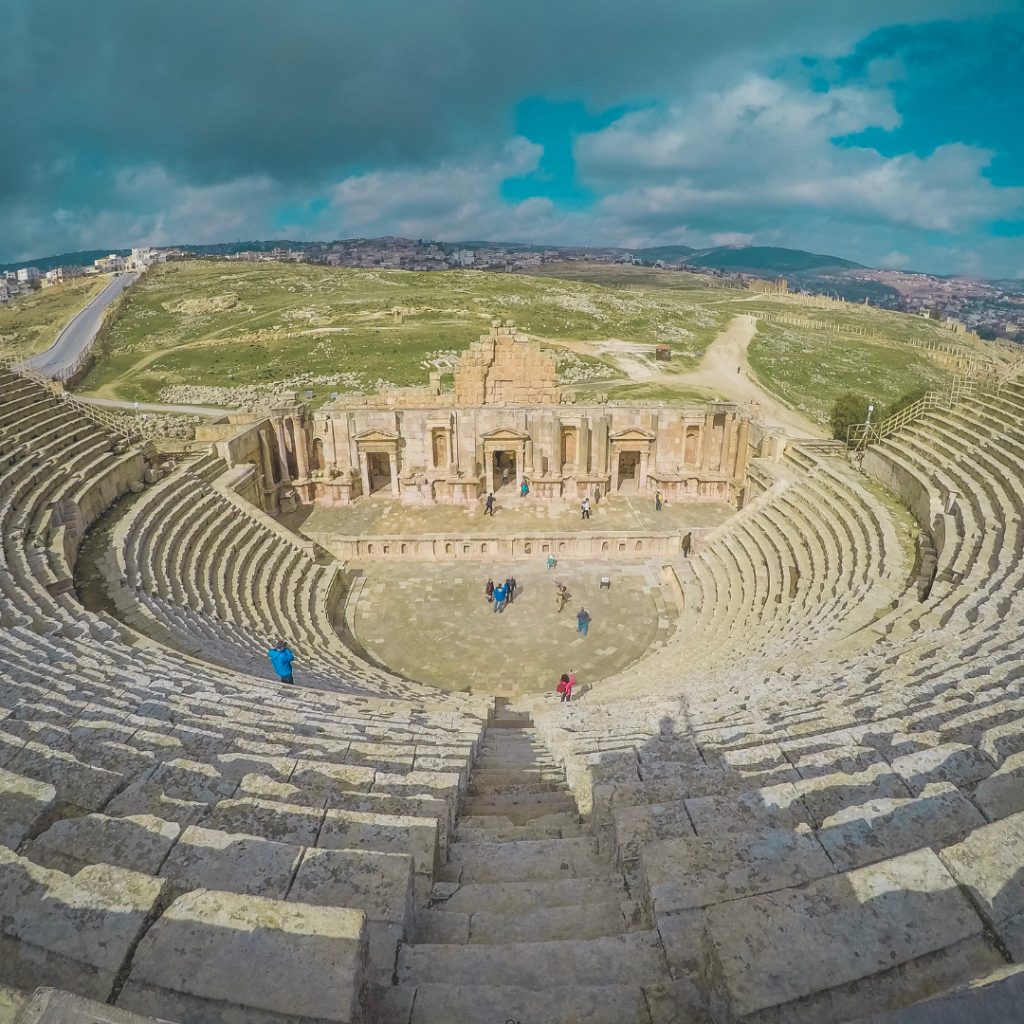 5. Hippodrome
Uncover the thrilling world of chariot racing at the Hippodrome, where ancient competitions captivated the masses. Picture the thunderous hooves, the cheers of the crowd, and the adrenaline-fueled atmosphere that once filled this grand arena. As you walk the grounds, let your imagination race alongside the chariots, experiencing the excitement and energy that defined this ancient sporting spectacle. One of the must-visits is Jerash historical sites.
6. Nymphaeum
Encounter the enchanting Nymphaeum, an architectural gem that served as a gathering place for Jerash's inhabitants. Admire the intricate carvings, the ornate design, and the soothing flow of water that once brought life to this beautiful structure. Take a moment to pause and reflect in this serene spot, appreciating the architectural mastery and the peaceful ambience it provides.
With that, we come to the end of my Jerash travel guide. If you are visiting Jordan I bet you have Petra on your mind! But here's a Jordan travel trip, after visiting Petra head to wadi rum for an off-beat experience during your Jordan trip.
Pin this Jerash Travel Guide