Estimated reading time: 18 minutes
So when I decided to travel to this beautiful country, I was prepared to face a few raised eyebrows. A lot of shocked faces and tonnes of questions right from "Is it safe?" to "You do know what is happening in the news, right?" Let us not forget the blatant statement "You are taking this whole travelling the world thing a bit too far! Why don't you go to Europe?" Well, unfortunately, one tends to make a final judgment of the country relying on Western news sources. For, everything in mainstream media may or may not be the utter truth. And with the number of travel blogs I read, there was no scope for clouding my judgment with what most media has to say. This is why I thought of writing this Jordan travel guide, to help you plan your Jordan trip with ease.
The concerns deepen not only because Jordan is a part of the middle east. But perhaps because it shares its borders with Saudi Arabia, Syria, and Egypt – basically some of the most controversial countries of our times. Yet again, there is no place you could call the safest. May it be the sudden shootings in broad daylight in the USA, terrorist attacks in Europe, Molestation and Rape in Asia. Terror is everywhere, the least you can do is be careful of your surroundings while travelling, just as you are otherwise.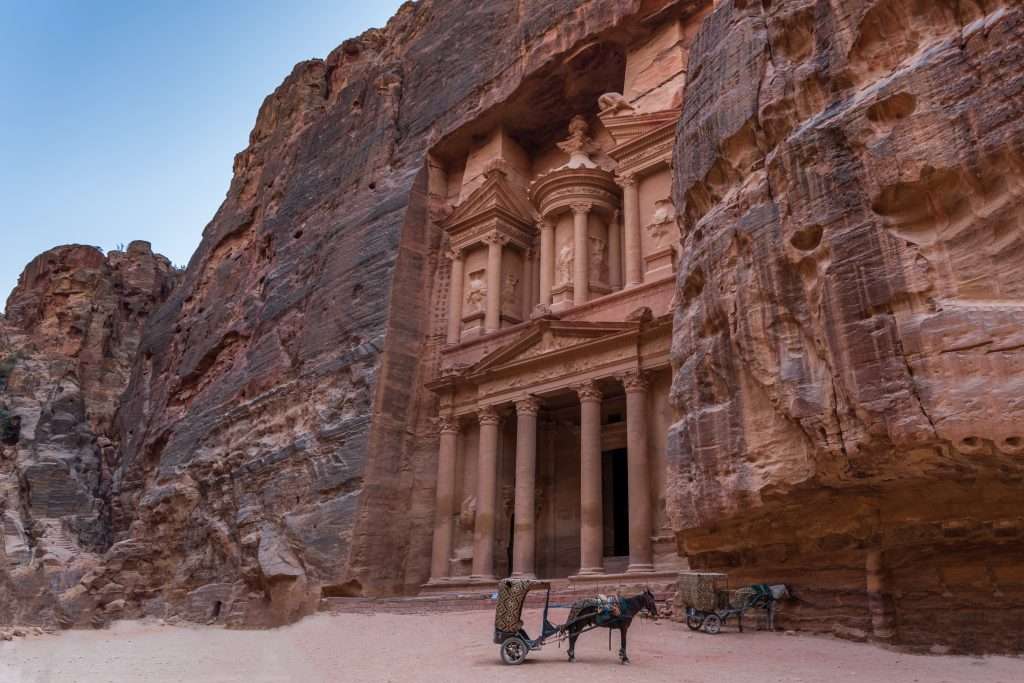 What are the visa requirements for travelling to Jordan? Should I buy the Jordan travel pass?
Indian passport holders can let out a sigh of relief here, they can obtain a Jordan tourist visa on arrival. Jordan visa on arrival is valid for 14 days and costs JD 40, it is free of charge if you have a valid Jordan pass.
You can also obtain a visa from the embassy in India, this visa is also valid for 14 days and will cost of JD 124. It will take about 4-7 days to process your visa.
To find out the details of obtaining a Jordan tourist visa, read my full blog.
Think of Jordan Pass as a unified ticket' that helps one save a lot of costs while visiting this beautiful country. It is tailor-made for all kinds of travellers and can be modified as well. The Jordan pass comes in three categories to suit all types of visits. I saved a total of 60 JD by purchasing the Jordan Pass. Read the full blog on my experience of buying the Jordan pass here.
What is the best time to visit Jordan?
I visited Jordan in February, which is regarded as the low season. The great thing is all the activities are functional, and a few art festivals take place around the same time, so you don't miss out on any experience. The weather is chilly, especially in the desert, more on this below.
Major festivals in Jordan
Aqaba Traditional Arts Festival
Held in February in the coastal town of Aqaba, the traditional arts festival celebrates Bedouin culture. Bedouins are a minority group that resides in the part of the world since the middle ages, they were formerly gipsies who wandered and lived across Wadi Musa and Wadi Rum. During this festival, Bedouins showcase their art crafts in the form of a trade fair. Perfect festival to witness their traditions.
Another reason to visit Jordan in February, this festival occurs in Azraq! You are sure to have a gala time during this festival with local music, traditional food and cultural crafts! Definitely one of the lesser-known festivals globally but no less significant!
Amman International Theatre Festival
Calling out all the theatre buffs! Held in March in the capital city of Amman, this festival is a great place to find some of the freshest theatre talents talent from all over Jordan.
The historical city of Jerash has more than a million reasons to visit! One of them being the most significant cultural celebration of Jordan. You will drown yourself in music, dance, literature, food, craft and a bunch of workshops during this festival. A treat like no other! For more details on Jerash, read my guide.
Cheapest time to visit Jordan / low season in Jordan
Jordan is a desert country, both summer and winter are extreme! Also why they are the low season and cheapest time to visit Jordan? Summer months in Jordan are June to August – this time it is exceptionally humid around the Gulf of Aqaba and endearingly hot in the desert of Wadi Rum. Winter months in Jordan are from December to February- nights are freezing and the days are relatively pleasant. I went to Jordan in February, and most of the activities are on for tourists to visit.
Best time to visit Jordan weather wise
High season:
Spring is the most visited season in Jordan, this extends from March to May. During this time the temperature is pleasant, and the skies are clear. This means this is a great time to stay over in Wadi Rum and sleep under the stars! It is also the best time to float in the dead sea and to hike to see the wildflowers. To everyone who wishes to scuba dive in Jordan, visit during the month of March to May.
Mid Season:
Autumn months in Jordan are September to early November, it is a reasonably busy touristy season. As the first rainfall hits in early October, outdoors starts to cool down, and we see a carpet of blooms. The manageable temperatures make it easy to hike in Petra and visit deserts the likes of Wadi Rum.
Low Season:
Both Summer (June to August) and Winter (December to February) are the least frequented months by travellers. Summers are definitely unbearable if you plan to take on outdoor activities. And wintertime in a desert can be really harsh, with occasional snowfall around the high-altitude regions of Wadi Musa (Petra). Though I did visit Jordan in February, and I think it is entirely doable. Bonus points for you to save a ton of your travel budget on accommodation! Nights sure can be spine-chilling in the desert (Wadi Rum) so if you plan to visit Jordan in February do carry enough winter clothing.
What to pack for Jordan
Your Jordan packing essential highly depends on the season you plan to visit Jordan in. Needless to say, you will need to pack airy/light-coloured clothing if you visit Jordan in the summer months and enough and more warm clothes for winter. Keeping basic clothes and shoes aside, I have compiled the ultimate packing list of all the essential items you need to pack for Jordan.
Essentials to Pack for Jordan
Sun Protection:
Loads of sunscreen, believe me, you never have enough sunscreen when visiting Jordan! Most of the outdoor activities will take place in a desert where the body gets dehydrated really easily. Also, if you plan to camp in one of the deserts for a couple of days, you will not have access to the necessary supplies. Carry enough sunscreen, after all, you wouldn't want sunburns in the middle of nowhere. In addition to that, carry excellent sunglass and a hat.
Waterproof bag and phone case:
Very important! Not just if you are visiting Jordan in the wet season. Carry a small 6L waterproof bag to keep all your belongings safe for your beach activities near the dead sea or Aqaba. I highly recommend my waterproof bag.
Quick-dry towel:
A super essential item if you wish to visit the dead sea on a budget. The dead sea has a free beach and a 4-star hotel, at the hotel you can a fee to use services like – changing rooms, towels, a pool, and a restaurant. Whereas the free beach doesn't have any such services. Moreover, many of the desert camps have basic to no toiletries, always right to carry a lightweight quick-dry towel.
Electric adaptor:
Jordan uses a standard European non-grounded, two-prong plug (type C) as well as a UK non-grounded, three-prong plug (type G). Buying one in Jordan will be an expensive affair, carry one from your country.
Reusable bamboo/steel straw:
Let's travel responsibly, shall we? Unlike most countries, Jordan still uses plastic. To minimalise waste, carry your own reusable bamboo/steel straws. You can buy one here.
Portable charger:
You wouldn't want your phone battery to die on you while hiking up around Petra or at night in the middle of Wadi Rum! Carry a portable charger, they are a traveller's best friend.
Filtration water bottle:
You can not drink tap water in Jordan, which means you will end up buying water bottles throughout your trip. Two words: responsible and cheap. As a traveller, it is your responsibility to keep your waste to a minimum. One way to do this is by carrying a filtration water bottle, so you can fill it as you go. Also, it is a cheaper alternative to buying plastic water bottles throughout the trip.
A sleeping bag (November to March):
Though all the places provide blankets and are equipped with aircon if you are averse to cold carry a sleeping bag for an extra layer of warmth at night.
Snacks (Wadi Rum/Desert Camp):
Wadi Rum is a protected area, with absolutely no general store or ATM. So better carry some snacks if you plan to camp out in the desert. Yes, the camp will provide you with the meals but no harm in bringing some munchies. You can easily pick some dry fruits, pita bread and hummus from the local store before heading to Wadi Rum.
Hope my list of "what to bring to Jordan" helps you pack better and ease your trip planning. Next up on the Jordan travel guide is how to access the Internet in Jordan.
How to access the internet in Jordan?
Local sim card in Jordan
If you are flying into Jordan, you will see a couple of shops in the arrival hall selling travel sim cards. Zain is the best cellular network, and it comes with a bunch of options to suit your needs.
26 USD = 15 GB – unlimited calls to Zain – 1000 min other networks – 50 minutes international calls and valid for 30 days.
32 USD = 20 GB – unlimited calls to Zain – 1000 min other networks – 50 minutes international calls and valid for 30 days.
41 USD = 50 GB – unlimited calls to Zain – 1000 min other networks – 50 minutes international calls and valid for 30 days.
Wifi in Jordan
Most public places in Jordan do not have wifi, you may find a few restaurants with wifi. And it is nearly impossible to get a cellular network let alone wifi connectivity in the middle of the desert camp. It's best to buy a local sim or have international roaming activated on your phone to stay connected through Jordan.
Where to go if you're travelling to Jordan for the first time?
If this is your first time in Jordan, my travel guide has you covered. Below are some absolute must-do for a first-time traveller in Jordan.
First time in Amman
Amman is the capital city of Jordan. If you are flying to Jordan, you will most likely start your journey in Amman. While in Amman I spent a lot of my time on Rainbow street, one of the busiest streets of Amman, lined with coffee shops, ice cream parlours and antique shops, a great place to soak in the culture of Jordan and also meet fellow travellers.
Apart from that, you have got to visit the Citadel- notable places on the site include the Temple of Hercules, a Byzantine church and the Umayyad Palace. Although archaeologists have been working on the site since the 1920s, significant parts remain unexcavated to this day. Tour the Grand Husseini Mosque and see the Roman amphitheatre. After a long day have dinner at the extremely famous and an all-vegetarian restaurant in downtown Amman -Hashem Restaurant. Amman also happens to be a great centre point to make day trips to – Madaba, Jerash, Dead Sea and a few more attractions. More on things to do in Amman coming up on the blog, stay tuned!
First time in Petra
Petra is one of the major attractions in Jordan. And naturally, I had to add it to my Jordan travel guide! It would be safe to say that all the travellers who visit Jordan have Petra on their list. To be honest, when I thought of going to Jordan, I knew of only 2 places of interest – Petra and The Dead Sea. As most of us know, the entire city was carved out of the mountains. The inhabitants had carved out Temples, a Theatre, Tombs, Churches and a Treasury. A number of these structures are well preserved to date. Petra puts forward an amalgamation of high culture, geographical, archaeological and natural features. The ancient city has a lot to offer and is best done in 3 days while many do it in 2 days. Here is the ultimate guide to everything you need to know about Petra.
First time in Wadi Rum
Wadi Rum, Nature Reserve is by far one of the most exceptional desert experiences I have ever had. Baring Jaisalmer, because of Rajasthani for life *wink wink*. Described by Lawrence of Arabia as "Vast and echoing" Wadi Rum is an outstanding desert landscape. This remarkable landscape is a protected area, it covers over 700 sq. Km. One can spend days and weeks exploring it, I was there for just 2 days and 1 night. Read about my experience and everything you should know about Wadi Rum.
First time in Jerash
The ancient city of Jerash is located 48 km North of Amman towards Syria. For centuries Jerash was hidden in the sand, its 6500 years of history was excavated in the 1800s by a German explorer. The city prospered under the rule of General Pompey, it was known as Gerasa at that time and was acknowledged as the best-preserved Roman provincial town in the world. Jerash reveals an excellent example of the grand, formal provincial Roman urbanism that is found throughout the Middle East. Comprising paved and collonaded streets, soaring hilltop temples, handsome theatres, spacious public squares and plazas, baths, fountains and city walls pierced by towers and gates. Read my detailed guide to Jerash to help you plan your Jordan trip better.
First time in Aqaba
The only coastal city of Jordan sits in the Gulf of Aqaba. The first thing that comes to me when someone talks about Jordan are camels plopping across Mars-like land, remains of ancient cities, sandboarding through the dunes and maybe a shisha or two! Aqaba is a breeze of change in the Jordanian landscape. It comes with opulent resorts, sprawling beach houses, a crazy nightlife! Primarily frequented by locals to blow off some steam by the red sea! That brings me to why I went to Aqaba- to dive in the Red Sea! Other things to do in Aqaba- take a boat trip through the gif of Aqaba, visit the historical sites, relax at one of the beach houses or attend a party at the many nightclubs.
Offbeat places to visit in Jordan
While the above, here is my list of some of the most offbeat destinations.
Mosaics of Madaba, the world's oldest map of the holy land. You can easily visit Madaba by taking a bus from Amman, I spent half a day soaking in the vibe.
River Canyons of Areedh, nestled near the dead sea. These canyons are a great stopover for adventure lovers.
Mount Nembo, is one of the most sacred sites for Christians. Mount Nebo houses the memorial of Moses. Its religious and historical importance also showcases splendid views of the valley.
The Dead Sea, did you even visit Jordan if you did not float in the dead sea? Make sure you visit during the pleasant months to be able to enjoy the experience.
How expensive is Jordan?
Jordan is not very budget-friendly, with few or no hostels your overall cost can shoot up quickly. Aside from accommodation, you will end up spending a ton of money on cabs or hiring a car to travel from one city to another. While it is challenging to travel the length and breadth of Jordan on a shoestring budget, it isn't nearly impossible! I travelled through Jordan for 8 days and spent 308 USD, which is 38.5 USD/day. This includes all of my accommodation, food, scuba dive, Jordan pass, Jordan visa, day and night pass to Petra, and entrance fee if any. In the next section of this Jordan travel guide, I'll take you through the average costs of travelling in Jordan.
The average cost of travelling in Jordan
Cost of staying in Jordan:
At one point tourism was thriving in Jordan. Still, with increasing conflict, the hospitality industry has taken a hit. As a result, you may find several hotel chains but very few BnBs and hostels. A budget room will cost you between 12 USD to 50 USD depending on the season and location. In most cases, this includes free breakfast. For 4/5 star hotels, you would end up paying 90 USD and upwards.
Cost of internal transportation in Jordan:
The best way to travel around the inter-city is by public bus. Amman (the capital city of Jordan) has excellent connectivity to go to nearby towns of Jerash and Madaba. There are two bus stations – North and South – and everything is written in Arabic. I asked the hotel reception for the right bus station, and also ask them to write your destination's name in Arabic and English. This is faster than google translate. Also, you can always show that at the ticket counter, and the rep will guide you well.
Jordan travel tip: public smoking is allowed in Jordan, avoid taking the bus if you can't bear the smell of a cigarette.

Another option to travel is to hire a cab, both the bus stations are lined with them. Cab drivers will crowd you and start convincing you to take one. It is an excellent option if you are travelling in a group and definitely much faster. But if you are travelling solo or as a couple a cab will eat up your daily budget.

A short-distance bus would cost you up to 3 USD (one way), and a long-distance Volvo bus ride will cost you 23 USD (one way). A cab, on the other hand, really depends on your negotiation skills! They will start anywhere from 20 USD (one way) for a short trip (Amman to Jerash), and a long ride (Amman to Petra) will hit your budget by 100 USD.
Cost of food and drinks in Jordan:
The cost of eating out in Jordan can be minimal if you pick restaurants carefully and stick to local dishes. A falafel sandwich or a Shawarma would cost you about 1 USD to 1.5 USD in most places, while at a touristy place like Petra that cost shoots to 5 USD to 8 USD. Tea at most locations is priced at 0.7 USD, and Turkish coffee ranges from 2 USD to 3 USD. Bustling cities like that Amman and Aqaba have many Western food joints – Starbucks, MC-Donalds, Burger King, Costa Coffee, Dominoes and more. Prices there is pretty much the same standard as are in India.
Travel tips for experiencing Jordan on a budget
A unified ticket to all the major attractions of Jordan, including Petra! I saved over 60 USD by purchasing the pass. The pass comes in 3 variants depending on how many days of visits you wish to do so for Petra. The pass doesn't cover Petra by night. Read more on Jordan's pass here.
Eat Local:
Eating out in Jordan isn't very expensive if you stick to local dishes. A meal for one will cost only about 3 USD to 6 USD! Whereas if you eat Western cuisine, you will end up spending 10 USD on a meal. Fast-food chains are cheap, but c'mon you didn't travel halfway across the globe to eat an undercooked burger that won't decay now, did you?
Free activities:
There are several activities in Jordan that you can do for free! A few museums are free, visit a beach, snorkelling by the shore, walking around the old quarters.
Use a student ID card
If you are a student, use your ID card to get discounts at various attractions.
How to survive as a vegetarian in Jordan?
Jordan, a predominantly Arabic country, has a lot to offer to a real food lover. Right from succulent kebabs to wholesome maqluba, Jordanians love their meat. Still, Vegetables and pulses do find their way on Jordanian platters. Most of these are in the form of dips, sides and salads, and there are very little or no main course vegetarian options. The average cost of a vegetarian meal is 3 JD. I have a detailed guide of what to order as a vegetarian in Jordan, along with a list of my favourite vegetarian eateries in Jordan.
Diving in Jordan
Jordan is a diver's paradise, thanks to the Red Sea! Yes, many would say Egypt's side of the Red Sea is far better to dive in, but hey! A true diver won't dis any water. Spring (March till May) is the best season to go diving in Jordan. The temperature is pleasant, the skies are clear and the visibility of the water is much better. Moreover, several dive shops shut business during the winter months (October till early February) as a result of which you won't find a lot of options.
I dived with Aqaba adventure divers.1 shore dive would cost you around 50 USD to 100 USD and a whole day on a boat with 1 dive will cost you 100 USD and 2 dives will cost you 155 USD.
So that was it from my side! Hope this answers most of your questions about visiting Jordan. What more would you like me to add to my guide to Jordan? Do tell me in the comments below!
Pin this Jordan Travel Guide