Estimated reading time: 11 minutes
Vietnam is one of the crowning jewels of the famous banana pancake trail of Southeast Asia. While you can spend months exploring Vietnam, you can still see the best of Vietnam in just one week! All that on a shoestring budget.
This Southeast Asian gem offers stunning landscapes, rich culture, and delicious food at prices that won't empty your wallet. In this blog, I'll take you on a 7-day journey through Vietnam's most iconic destinations, all while sticking to a budget that won't leave you penniless.
My Vietnam itinerary is perfect for backpackers and travellers who want to experience the country's vibrant culture and breathtaking scenery without breaking the bank. I'll show you how to make the most of your Vietnam budget travel, from exploring bustling cities to relaxing on pristine beaches. Whether you're a first-time visitor or a seasoned traveller, thi Vietnam 1-week itinerary has something for everyone.
Get ready to taste mouth-watering street food, meet friendly locals, and explore fascinating historical sites on this Vietnam budget itinerary. You'll start in the vibrant city of Ho Chi Minh and make your way to the charming town of Hoi An, the historic city of Hue, and the bustling capital of Hanoi. Along the way, we'll share tips on how to save money, where to find the best local cuisine, and how to immerse yourself in Vietnam's fascinating culture. Wonder how? Let's dive right into it my ultimate 7 days Vietnam itinerary on a budget.
So pack your bags and get ready for an adventure of a lifetime. Our Vietnam itinerary will take you on a journey that you'll never forget.
Vietnam itinerary 7 days
Day 1: Ho Chi Minh City (Saigon)
Start your day by visiting sites of historical importance in Ho Chi Minh City (Saigon). Start as early as 08:00 AM and visit the Cu Chi tunnels, an extremely important sight showcasing the warfare used during the American war. If you plan to use public transportation, start by taking Bus nº 13 from 23-9 Park (located near Pham Ngu Lao, the backpacker area) to Cu Chi bus station. From there, transfer to Bus nº 79 which will take you to Ben Duoc. While this is the most economical option, remember that the entire journey may take around two and a half hours. To return to HCMC, take Bus nº 79. Alternatively, book a tour of Cu Chi tunnels that includes pick-up and drop. You can visit these tunnels to go back in time, but if you are claustrophobic avoid going inside the tunnels. There aren't many vegan options around the site, so carry some fruits and snacks for the journey.
Head back to the city and grab lunch at Hum, Café & Restaurant an all-vegetarian restaurant with a brilliant atmosphere. Walk over to the War Remnant Museum, which exhibits the timeline, statistics and weaponry used during the French & American Wars. Continuing on the history lesson visit the Saigon central post office, built by the great architect, Gustave Eiffel, who also built the Eiffel Tower. Set in gothic-style architecture, this post office is a piece of art! You can even send some postcards while here. There are also brilliant walking tours that take you through these cultural aspects.
Grab a USD1 coffee from a street shop before heading for dinner. End your day with a hearty hot pot for dinner at Vegan Family Restaurant in District 1. You have another early start to the day.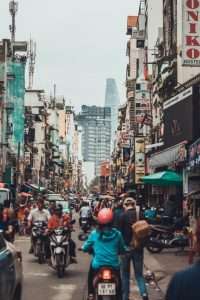 Day 2: Mekong Delta
Get up as early as 07:30 to visit the Mekong Delta & the surrounding islands. While you can do it yourself, I recommend booking a tour, that makes it much easier to traverse around. Lunch is included in all the tours, but do specify your dietary needs before booking. Here you get a taste of the cultural side of Vietnam. You'll come across the beautiful floating market of Cai Be, some small-scale cottage industries that make traditional Vietnamese sweets & savouries, a fruit market selling the most exotic of fruits and a host of other experiences. You'll be filled with awe simply walking in the bylanes of the villages. You'll be back in Ho Chi Minh City by 18:00 or so.
After coming bach, take a break and let yourself loose in Saigon's nightlife. Grab an inexpensive dinner at Veggie Saigon Restaurant and then walk around for drinks in any of the bars in District 1. Saigon really comes alive at night and you'll see a whole new world, go bar hopping or enjoy the street food there's something for everyone.
Day 3: Hoi An
Time to visit the ancient town of Hoi An, you can take an overnight train from Ho Chi Minh City to Hoi An. Or take a flight from Ho Chi Minh City to Da Nang and another taxi ride to Hoi An – this is much quicker and will take just about 1.5 hours.
Take the day to walk around the Old Town, a UNESCO world heritage site, and marvel at the gorgeous building of the yesteryears. It is amazing how the town is so well preserved after going through terrible wars. Shop for handicrafts, and souvenirs or get a suit made for yourself! This one is a must when planning your Vietnam itinerary. Two of my favourite places to eat in Hoi An are: The Fisherman and Nhat Da

Day 3: Hoi An
Start your day by visiting the Silk Village of Hoi An, located in the Quang Nam Province which is just about a kilometre from the city centre. Here you'll witness the artisans making beautiful objects using silk, you can even try your hands on it. In addition to that, the Silk Village is a great place to view traditional Vietnamese homes & interact with locals. Continue the cultural expedition and visit the Hoi An museum & Tan Ky family house. If you wish to go off the beaten track take a day trip to My Son- a temple complex built over the 4th to 13th century, it is also a UNESCO world heritage site. Or if you wish to unwind head to An Bang Beach.
Day 5: Hanoi
Today head up north to Hanoi, the quickest way is to get on a flight from Da Nang to Hanoi. It is only a 20-minute flight and will cost between $30 to $70 depending on when you book.
Downtown is where everything is happening, so try and stay around here to avoid taking a cab for everything. Explore the old quarters and grab a coffee near Hoan Kiem Lake. Later visit the Ngoc Son Temple & watch a water puppet show. Grab dinner at Vegan Bánh mì call it an early night because you have an early start of the day tomorrow.
Day 6: Halong Bay
Today you start your day at 8:00 AM to visit the famous UNESCO heritage site of Halong Bay. Most tours are 11 hours long, where you start by driving through the countryside and then sail in a junk boat throughout the trip. Get the adrenaline rushing by visiting the limestone caves around the bay or kayaking in the bay. Lunch is included in the tours, do specify your dietary needs. It's a good idea to book a full-day tour of Halong Bay from Hanoi. If you have the time you can also stay overnight, and book a 2-day Halong Bay tour.
If you choose to come back to Hanoi unwind with Hanoi's nightlife. The best way is to walk around downtown and grab a stool at any one of the restaurants on Bia Street. Most eateries will happily make vegan food even if they don't have a vegan menu.
Day 7: Flight Back Home
Today is the last day in Vietnam, before flying out to shop for your heart's content in Hanoi's French quarters. Also, visit the Vietnamese Women's Museum before saying bye to Vietnam.
And we come to the end of our 7 days Vietnam itinerary. If you are looking for more here's an extensive list of things to do in Ho Chi Minh City in just 2 days.
You may also like to read:
Cost of internal transport in Vietnam
When travelling across Vietnam taking the road is the cheapest mode of transport but also the most time-consuming. A slightly more expensive yet quick way is to take flights wherever possible, cost of flying is highly dynamic & can range between $45 to $70 so keep an eye out and book as early as possible. To move around in a city you can use local metered taxes, GRAB or a bike taxi – expect to pay between $4 to $7 depending on the distance travelled. If you are living in the downtown area it's best to walk around & explore the streets to find new gems.
Cost of food & drinks in Vietnam
When in Vietnam you'll be spoilt for choices, the food culture has something for all budgets. A coffee at the street side cafe will cost you only $ 1 while the same at an upscale cafe like a Starbucks or Trung Nguyên would start at $ 3 and upwards. Like its neighbours, Vietnam has a rich street-food culture and one you must give a try! You can garb fried rice or noodles for $3 & a bowl of Pho for $2 at a roadside stall. A sit-down dinner at a restaurant establishment will cost anywhere upwards of $5. You'll have to buy water here and a big bottle costs $1.4 at the supermarket. When it comes to alcohol, the Vietnamese love their beer (called Bia) the local beer costs a little less than $1 while imported ones start at $3 and above.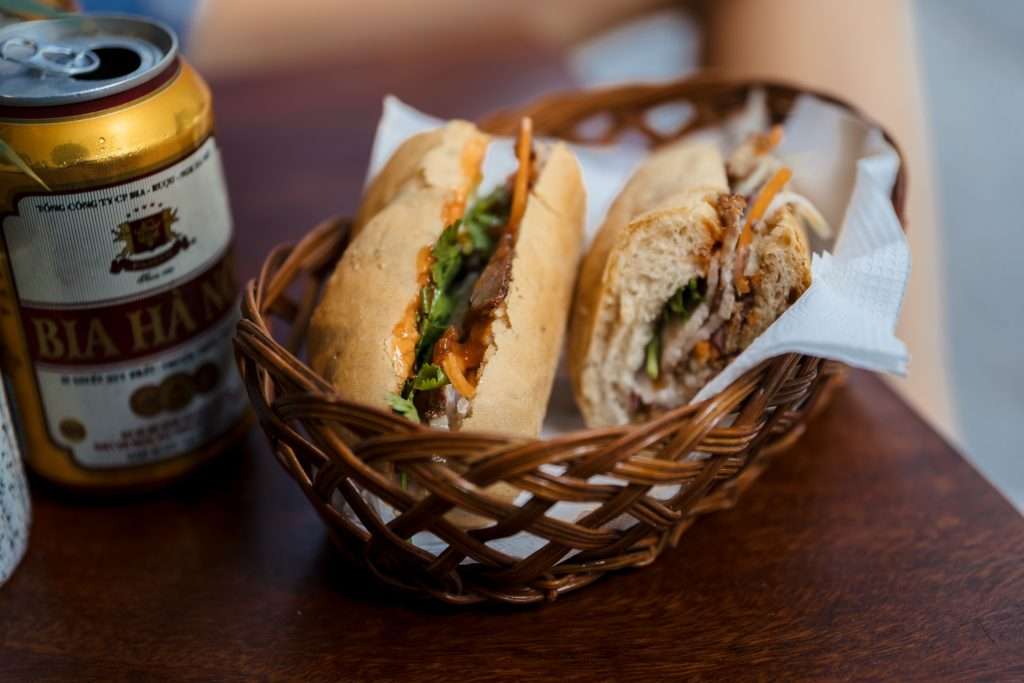 Cost of budget accommodation in Vietnam
Being a backpacker's paradise Vietnam has no shortage of comfortable & affordable accommodations. For your budget holiday in Vietnam stick to staying at hostels, you can book dorms or even a private room, which would still be cheaper than a budget hotel. A bed in a dorm starts from $5 and can go up to $10 depending on the facilities and the location of the hostel. A room at a budget hotel starts at $15 a night the same at a midrange hotel starts from $30 a night
Cost of other activities in Vietnam
Most of the sites are free to visit in Vietnam like- Saigon Central Post Office, Notre Dame Cathedral & the Pagodas. To visit Museums you'll end up paying a ticket free of about $2 to $4. A guided tour to the Mekon Delta will cost $14 from a local operator. A day trip to Halong Bay could cost around $30 or more depending on the facilities and operator.
The total cost of 6 Nights & 7 Days long trip was $245 this includes accommodation, food, entry fee, local transport, internal flights & excursion fees. That averages out to be $35 a day! Start planning your Vietnam trip now! If the Maldives has been on your list, here's my guide to visiting the Maldives on a budget.
Pin this 7 days Vietnam Itinerary