Ahoy! We're about to take you on a wild and offbeat adventure down the Turkish Riviera – the road less travelled when planning a trip to Turkey. Forget the beaten paths and the clichéd tourist spots; this is where the true magic lies! Move over, French Riviera – we've got a lesser-known gem up our sleeves, and it's calling all adventurous souls! So, ditch the tourist crowds and let's go Sailing the Turkish Riviera
Ready, set, sail!
What are the best sailing destinations along the Turkish Riviera?
Exploring the Turkish Riviera by sailboat is an absolute delight! You're in for a treat with its stunning coastline, azure waters, and charming coastal towns. Let's set sail and discover the best sailing destinations this enchanting region has to offer!
Bodrum
Known as the "Saint Tropez of Turkey," Bodrum is a sailor's paradise. The bustling harbour, ancient ruins, and vibrant nightlife make it a must-visit destination.
Marmaris
A sailor's dream comes true, Marmaris boasts picturesque bays, clear waters, and a lively marina. It's perfect for both seasoned sailors and beginners.
Fethiye
Nestled in a breathtaking bay, Fethiye offers a blend of ancient history and natural wonders. Sail to the mesmerizing Butterfly Valley and the serene Oludeniz lagoon.
Gocek
This charming town is a hidden gem with its secluded coves and lush green surroundings. It's a peaceful retreat for those seeking tranquillity at sea.
Kemer
Surrounded by the Taurus Mountains, Kemer provides a unique sailing experience. The marina is the gateway to the turquoise waters of the Mediterranean.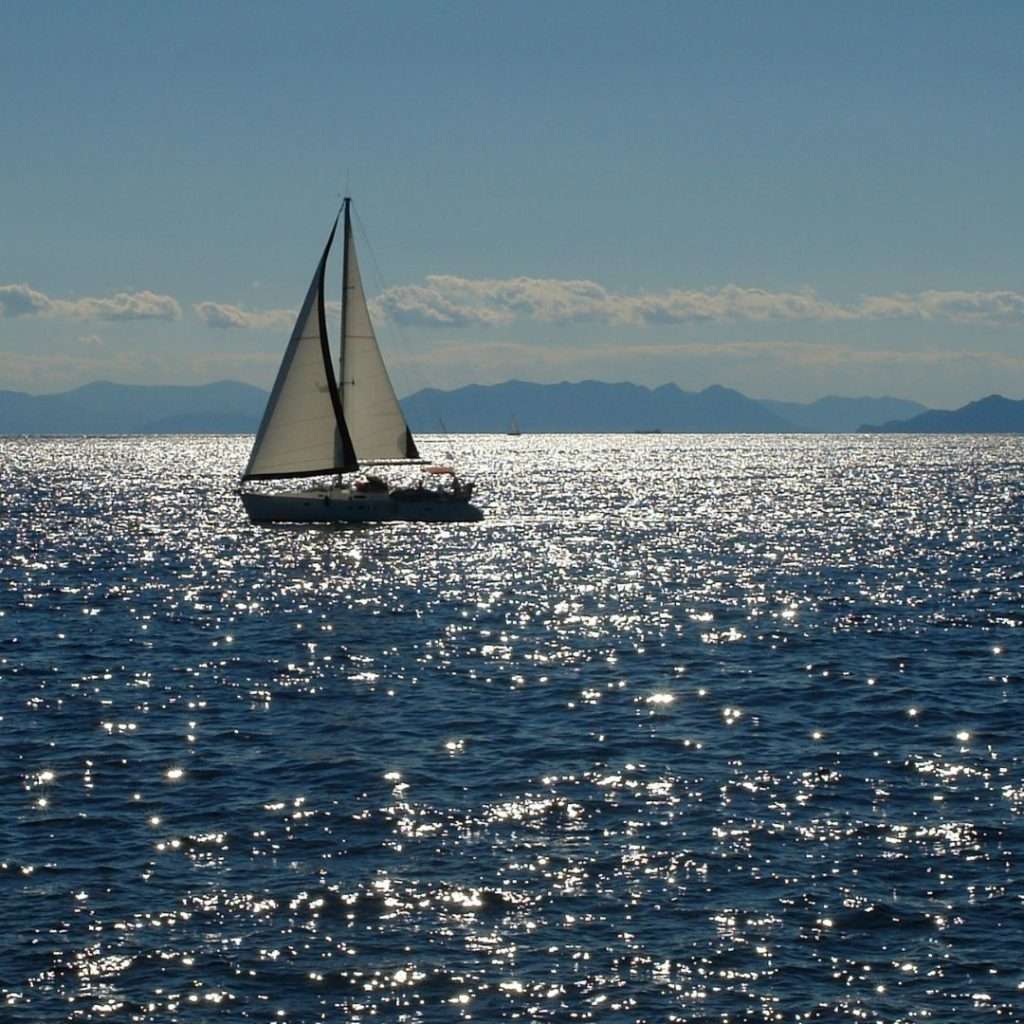 What are the must-visit islands and coastal towns while sailing the Turkish Riviera?
When sailing along the Turkish Riviera, you'll be spoiled for choice with a number of islands and coastal towns to explore. Here are some must-visit destinations along the Turkish Riviera that will make your sailing journey even better!
Gemiler Island: This hidden gem offers a fascinating glimpse into history with its ancient ruins and Byzantine churches. The serene atmosphere and picturesque anchorages make it a perfect stop for relaxation.
Simena (Kaleköy): Nestled along the Lycian coast, Simena is a charming coastal town dominated by a well-preserved medieval castle. You can't miss the panoramic views from the top!
Bozburun: A tranquil coastal village renowned for its shipbuilding heritage. Sailing here will give you a chance to witness skilled craftsmen at work and enjoy the unspoiled beauty of the region.
Kekova: An extraordinary spot where history and nature intertwine. Sail over the submerged ancient city of Dolchiste and take in the sight of the partially submerged ruins.
Datça: Known for its idyllic beaches, crystal-clear waters, and lush greenery, Datça is a delightful stop for nature lovers and sun-seekers.
Knidos: This ancient harbour city showcases remarkable archaeological remains, including a well-preserved amphitheatre. Its location at the tip of the Datça Peninsula offers stunning vistas.
Çeşme: A vibrant coastal town known for its vibrant nightlife and chic beach clubs. You'll find plenty of opportunities for water sports and relaxation.
Patara: Famous for its 18-kilometre-long golden beach, Patara is a natural wonder and an essential stop for beach lovers.
Kaş: A charming coastal town with a bohemian vibe, Kaş offers an abundance of water activities, lively cafes, and boutique shopping.
Bozcaada: This charming Aegean island boasts beautiful beaches, vineyards, and a picturesque old town. It's a unique blend of history and laid-back island life.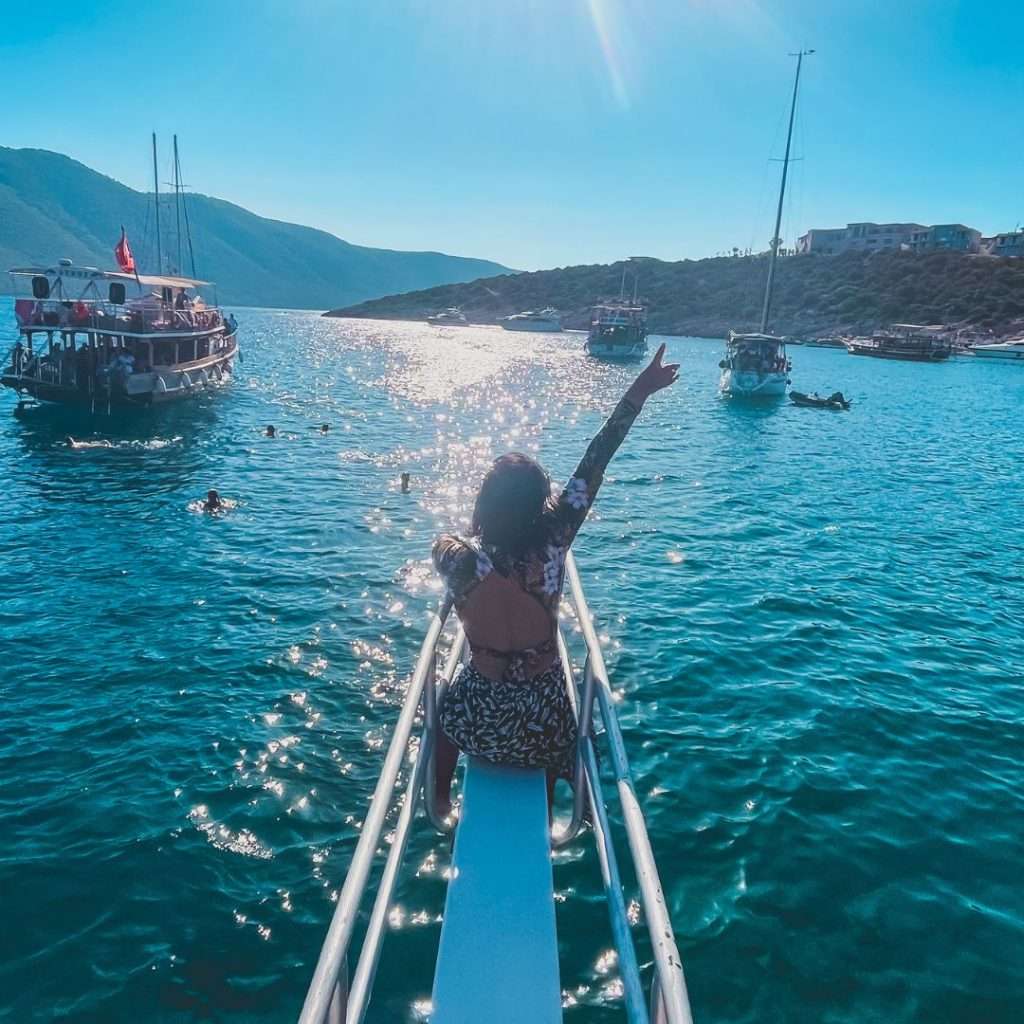 When is the best time of year to go sailing the Turkish Riviera?
The best time of year to go sailing the Turkish Riviera is during the spring and autumn months. This period, often referred to as the shoulder season, offers the most pleasant weather and ideal sailing conditions. Here's a breakdown of the seasons and what to expect:
Spring (April to June)
Springtime is a fantastic time to set sail on the Turkish Riviera. The weather starts to warm up, and the landscapes burst into vibrant colours. The sea is generally calm, and the region is not yet crowded with tourists. You can enjoy comfortable temperatures, with daytime highs ranging from 20°C to 25°C (68°F to 77°F).
Autumn (September to November)
Another great time for sailing, autumn offers warm days and cooler evenings. The sea is still warm from the summer months, making it perfect for swimming and snorkelling. The tourist crowds begin to thin out, allowing you to explore the islands and coastal towns in a more relaxed atmosphere.
Summer (July to August)
While summer is the peak tourist season in the Turkish Riviera, it's also the hottest and busiest time of the year. Daytime temperatures can soar above 30°C (86°F), and the coastal towns can get crowded with vacationers. If you plan to sail during summer, consider starting your trips early in the morning to avoid the midday heat and secure a good anchorage.
Winter (December to March)
Winter is the off-season for sailing in the Turkish Riviera. The weather can be quite cool and rainy, and some tourist facilities may be closed. While it's possible to sail during this time, it's not the most favourable season for a sailing adventure.
To make the most of your sailing experience, I suggest consider planning your trip in the shoulder seasons of spring or autumn. You'll enjoy milder temperatures, fewer crowds, and optimal sailing conditions, making it the perfect time to explore the beauty of the Turkish Riviera by sea.
You may also like to read: 10 Best Places to Visit in Turkey, Beyond Istanbul
How much does it cost to rent a sailboat in the Turkish Riviera?
The cost of renting a sailboat in the Turkish Riviera can vary based on several factors, including the type and size of the sailboat, the duration of the rental, the season, and the level of amenities and services provided.
As a rough estimate, the daily rental cost for a basic monohull sailboat in the Turkish Riviera during the high season can start from around $150 to $300 USD. For luxury catamarans or yachts with more amenities, the prices can range from $400 to $1,500 USD per day or even higher.
For longer-term rentals, the weekly cost of a monohull sailboat can range from $1,000 to $3,000 USD, while luxury catamarans and yachts can cost anywhere from $4,000 to $15,000 USD per week, depending on the boat's size and specifications.
Keep in mind that these are approximate price ranges, and actual costs may vary depending on the specific sailboat, rental company, and prevailing market conditions. It's essential to get quotes from multiple charter companies and inquire about any additional fees or charges to get a more accurate idea of the total cost. Also, don't forget to read reviews and choose a reputable charter company that provides transparent pricing and excellent service.
What are the top sailing routes and itineraries in the Turkish Riviera?
On the Turkish Riviera, you'll find a variety of captivating sailing routes and itineraries that cater to different preferences and interests. Here are some of the top sailing routes to consider for your adventure:
Blue Cruise Route
This classic route is one of the most popular and iconic sailing itineraries in Turkey. It typically starts from Bodrum or Marmaris and takes you along the southwestern coast, showcasing enchanting destinations like Fethiye, Göcek, and the Twelve Islands. The route is known for its stunning turquoise waters and lush green landscapes.
Lycian Coast Route
Following the ancient Lycian coast, this sailing route offers a mix of rich history and natural beauty. You'll sail past ancient ruins, such as the sunken city of Kekova, and visit charming coastal towns like Kaş and Kalkan.
North Aegean Route
Starting from Çeşme or Kuşadası, this route explores the northern part of the Aegean Sea. It includes stops at islands like Samos (Greece) and scenic coastal towns like Ayvalık and Aliağa.
Bodrum Peninsula Route
Focusing on the Bodrum region, this itinerary takes you to the picturesque bays of the Bodrum Peninsula, including spots like Gümüşlük, Yalıkavak, and Türkbükü. You'll have the chance to indulge in excellent dining and vibrant nightlife.
Gökova Bay Route
Departing from Bodrum, this route sails along the stunning Gökova Bay, known for its crystal-clear waters and pristine beaches. It includes stops at popular spots like Akyaka and Cleopatra Island.
Rhodes and Symi Island Route
For a bit of island hopping, you can sail from Turkey to Greece. Starting from Marmaris or Datça, this route takes you to the charming island of Symi and the vibrant town of Rhodes.
Datça Peninsula Route
Exploring the rugged beauty of the Datça Peninsula, this itinerary includes visits to Datça town, Knidos, and the tranquil bays of the peninsula.
Are there any sailing tours available on the Turkish Riviera?
Yes, absolutely! Sailnstay & TourRadar offer a bunch of sailing tours in Turkey. These tours range from 4 days to 8 days. Head over to their websites and book one of your liking.