Estimated reading time: 15 minutes
Thailand is the Backpacker's Mecca, Bachelor Party's dream destination, Honeymooner's go-to place and a great place to unwind! Thailand is everyone's dream destination and if this is your first time planning a trip to Thailand, you are at the right place! This travel guide to Thailand will answer all your questions and help you plan your trip better.
How to score a Thailand tourist visa on an Indian passport?
It is always a relief to know that the visa rules of a country aren't too rigid. Thailand is one of the very few countries which allow Indians to get a visa on arrival. Indian passport holders with an intended stay of 15 days in Thailand can obtain a visa on arrival.
One can obtain a visa on arrival from the following airports:
Phuket International Airport
Don Muang Airport, Bangkok
Suvarnabhumi International Airport
Samui Airport, Surat Thani
Chiangmai International Airport
Hatyai International Airport, Songkla
An Indian passport holder will need the following documents ready to obtain a visa on arrival at any of the airports mentioned above:
• Airline Boarding Pass
• A passport that is valid for at least six months following your departure date with at least two remaining unused pages for any necessary entry and exit stamps that may be issued
• A completed visa application form available at Immigration checkpoints in Thailand
• One recent photograph of a 4 x 6 centimetres headshot not older than six months
• A confirmed airline ticket showing the departure from Thailand within 15 days of the date of entry. Land exit from Thailand will disqualify you from Visa on Arrival.
• A completed Arrival-Departure card, which the airline staff will distribute before landing in Thailand
• The travellers will need to carry 20,000 TBH or 500 USD in cash per person as proof of means of living in Thailand.
• Visa on the Arrival application fee
You can also apply for a visa in advance, especially if you intend to travel for more than 30 days. This visa application can either be done individually at the Royal Thai Embassy at – New Delhi, Kolkata or Chennai. Or via an agency such as VFS Global.
Do check the latest updates on the official website of the Thai embassy.
When is the best time to go to Thailand?
Most travel guides to Thailand advise against going in the Summer months I ended up in Thailand for the Thai New Year, also known as Songkran, by far the most celebrated festival in Thailand. Thai have a unique of celebrating Songkran, which starts from April 13th till April 15th. The weather isn't the most favourable, but if you want to experience the festival you must visit Thailand during Songkran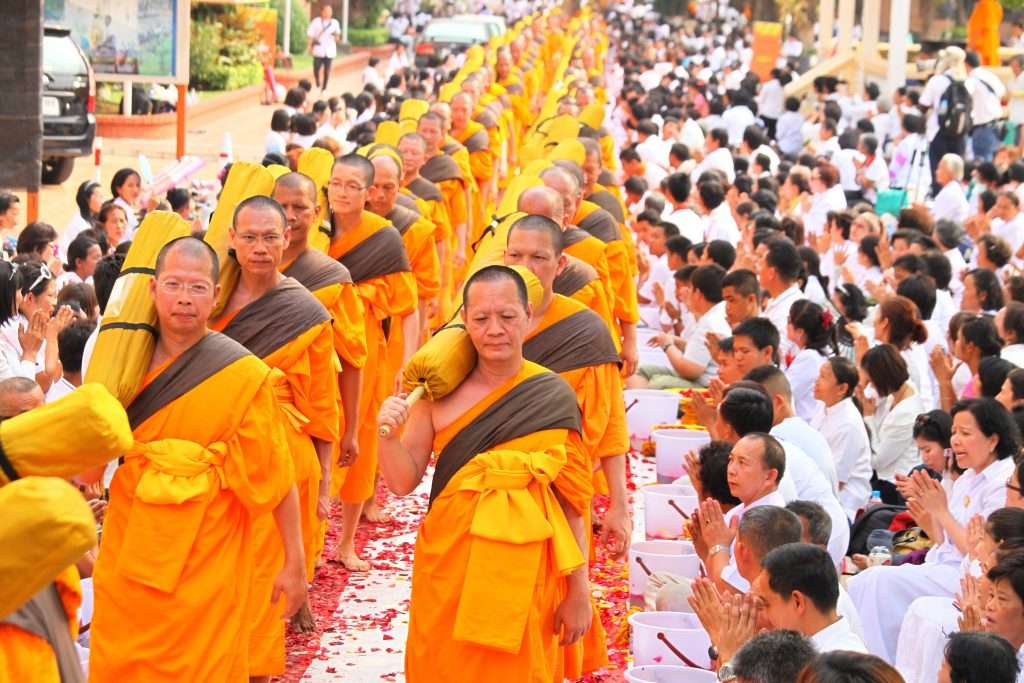 Major festivals in Thailand
Thailand can be a great cultural escapade! Thailand is home to several ethnic groups – Thai, Indian, Chinese, and Malay, just to name some. As a result of this every province has a bunch of festivals, here is a list of Thai festivals, that I highly recommend, to plan your trip around.
Songkran (Water Festival) April 13th to April 15th
Phi Ta Khon (Ghost Festival) date depends on the moon.
Chinese New Year January 25th
Yi Peng (Lantern Festival) November
Phuket Vegetarian Festival October 16th to October 25th
Cheapest time to visit Thailand / low season in Thailand
Thailand experiences a low tourist season between March to September. This period is its hottest and wettest months. Accommodation is exceptionally cheap during this time, and so are the flights. Though you may not see a lot of activity on the coast and there will be lesser ferry services from March to October.
Best time to visit Thailand weather wise
High Season: November to February is the best time to visit Thailand. These are the driest months, and the skies are clear with little or no showers. It is also the most expensive time of the year to visit Thailand. Tourists flock to the country around this time since all the activities are in full swing. Moreover, November to February is a great time to dive in Thailand.
Low Season: March to September, this is when Thailand experiences the lowest tourist influx due to being the hottest and wettest months. Accommodation is exceptionally cheap during this time, and so are the flights. Though you may not see a lot of activity on the coast and there will be lesser ferry services from March to October.
What to Pack for Thailand
Thailand is a tropical country and no matter what time of the year you visit Thailand, you must pack well to avoid any mishappenings. A generic Travel guide to Thailand won't specify these! These come from my personal learnings. You will carry the right clothing, footwear and toiletries I will not cover that. Here is my list of essential items to pack for your Thailand trip:
Sunscreen: Loads of sunscreen, believe me, you never have enough sunscreen when visiting Thailand. Always try and buy reef-safe sunscreen, especially if you plan on visiting the beach. Many popular brands are very harmful to marine life.
A raincoat: I visited Thailand in April, and though it is supposed to be summer I experienced a few light showers. Moreover, a raincoat can easily double up as a protective waterproof cover for your backpack.
Waterproof bag and phone case: Very important! Not just if you are visiting Thailand in the wet season. Carry a small 6L waterproof bag to keep all your belongings safe for your beach activities. I bought mine from Decathlon.
Mosquito repellant: Another essential item when you visit Thailand. Get one which you can spray and keep handy so that you can re-apply whenever necessary. Try to avoid buying these from hawkers in Thailand; chances are they will sell you hoax products.
Quick-dry towel: A super essential item when visiting Thailand. It will especially come in handy for your beach trips. I bought mine at Decathlon, and I love it!
Money pouch: This should ideally be on the top of my list! I always carry my stealth money pouch. You can wear it around your waist; it is seamless! Unfortunately, I didn't carry it to Thailand and ended up losing over 300 USD! Better safe than sorry!
Travel charger: Most of the power outlets are the kinds in the US and Canada, although in some places I encountered Type C outlets as well. It is always helpful to carry a universal power adapter when you visit Thailand.
Reusable bamboo/steel straw: Let's travel responsibly, shall we? Unlike most countries, Thailand still uses plastic. To minimalise waste, carry your own reusable bamboo/steel straws. You can buy one here.
Portable charger: Another essential from the lesson I learnt! Some shops charge you an hourly fee to charge your phone! Yes, you read it right! Carrying an excellent portable charger is a great travel hack, I use Duracell portable charger.
Hope my list of essentials to pack for Thailand helps you pack better and ease your trip planning.
How to access the internet in Thailand?
Data is critical when you are travelling to Thailand. I was in Thailand for ten days and ended up buying a sim card for internet access and generally to stay connected. You can either buy a sim or activate international roaming on your local telephone number.
Local sim card in Thailand:
The two big providers are AIS and Dtac. If you are flying into Thailand, you will find many booths lined up to purchase a SIM card; the rep will activate it and give it to you. Now, buying a SIM card at Thailand international airports comes with a price! So if you are not in a hurry, purchase a sim card from the market to avoid the convenience fee.
The AIS packages include an 8-day version for 299 baht (~$9) with 15GB of high-speed data and a 15-day package with 30GB of data for 599 baht (~$18). You'll get 15 THB call and text credit with either SIM, access to the AIS Wi-Fi network, and cheaper calls to several international destinations.
You can also use websites like Klook to pre-purchase your SIM card and then simply pick it up at Thailand airport.
Wi-Fi in Thailand
All hostels in Thailand have Wi-Fi, and most eateries/cafes do too. Though not all malls and public markets provide free Wi-Fi, so it is always best to have your phone connected with data.
Where to go if you're travelling to Thailand for the first time?
Thailand – the land of smiles, backpackers' mecca and in most cases entry point if you are on the banana pancake trail. I went on a 10-day journey through Thailand. From a travel guide to Thailand, I found out that Thailand is primarily divided into two -North Thailand and South Thailand. South Thailand, for most of us, is a bubbling pot of infamous parties, breathtaking islands, and quirky marketplaces. North Thailand, on the other hand, is mostly unexplored showcasing magnificent Wats, indigenous and refugee tribes, and the vistas. Extremely confused as to how should I spend my holiday, I started from the North and went down South.
First time in North Thailand- Chiang Mai, Chiang Rai and Pai:
I planned to visit the three main regions in the North of Thailand. Chiang Mai turned out to be the perfect starting point to explore Northern Thailand, mainly due to its excellent connectivity. Chiang Mai is the ideal place to slow down, visit Wats and perhaps go on a jungle safari. The weather here is dry, the skies are clear, and the sun is not too harsh- so cherish it before you go near the coast. Public buses are readily available to visit Pai and Chiang Rai. Pai is not a part of the touristy circuit. The number of tourists visiting Pai is increasing slowly. Chiang Rai is a small town in Thailand; it also houses a very famous white temple. You can make a day trip to Chiang Rai if in a hurry, or choose to stay there.
First time in South Thailand – Bangkok and Koh Phi Phi
When visiting southern Thailand, the first thing that comes to my mind is island hopping and the parties in Bangkok. Though my reason to visit the coast was to Scuba Dive. With so many beautiful islands and so much to see it can get confusing to zero in on one! I ended up visiting Koh Phi Phi, a pristine island brimming with honeymooners, backpackers and divers alike. Bangkok was rather disappointing to me. Many backpackers end up staying near or on Khao San Road (the party hub). I recommend the opposite! Sukhumvit is a much better neighbourhood in Bangkok. Visit the many markets of Bangkok while you are here, you will be amazed at the variety of products sold.
Offbeat Places to Visit in Thailand
Ayutthaya is 80 km to the north of Bangkok. It is also known as the Angkor Wat of Thailand.
Kanchanaburi can be reached via road/rail from Bangkok. Explore the Erawan national park and the floating market while in Kanchanaburi.
Rai Leh can be reached from Krabi international airport. Visit the hidden lagoons, and the crazy nightlife and not forget the bizarre penis carvings!
White temple in Chian Rai. All I am going to say is that the White Temple is a masterpiece!
How expensive is Thailand?
Thailand isn't called the backpackers' mecca for anything! My 10-day solo budget trip to Thailand cost me USD 300- this includes the accommodation, food, entrance fee if any, and scuba diving fee. So roughly USD 30/day- isn't that amazing? The most significant chunk of my budget went into the scuba dive – USD 100. So if you don't wish to do that the cost can come down considerably, and you can add a bunch of other activities. Below are some tips for travelling to Thailand on a budget.
The average cost of travelling in Thailand
Cost of staying in Thailand: Thailand is frequented by all kinds of travellers, right from honeymooners to solo backpackers. So you will be greeted with a plethora of options when it comes to accommodation in Thailand. A dorm room will cost you between USD 8 to USD 15 depending on the season and location. In most cases, this includes free breakfast. A budget hotel is USD 20 to USD 50 a night, and an apartment will be around the same. For 4/ 5 star hotels, you would end up paying USD 80 and upwards.
Cost of internal transportation in Thailand: The best way to travel around the city is via a tuk-tuk. They are economical and readily available, and also a great way to experience Thailand. In most cases, you will have to haggle with the drivers. Another great idea is to use cab services like Grab.
Cost of food and drinks in Thailand: When in Thailand eat street food! Yep, that's right! Street food is the best way to experience Thai food and also the most economical way. If you are vegan/vegetarian enquire before you order anything, as most dishes contain fish sauce. A large bottle of beer will cost you USD 3 at Khao San Road, and the same would be about USD 1.44 at 7Eleven. Standard coffee will cost you USD 0.80, whereas speciality coffee costs USD 2.65. You can grab noodles/fried rice at as less as USD 1 from a street food vendor. Meal at a budget restaurant will be about USD 3 whereas a meal at a fancy place will be anywhere from USD 10 and upwards.
Travel tips to experience Thailand on a budget
Take a free walking tour: It helps you know the city better. You can always come back to the monuments that interest you and spend more time there. Guides of such tours give out local recommendations, places that do not have "tourist prices". I had booked one with FreeTour.
Cook your meal: Most of the hostels have a well-equipped kitchen, which always helpss save the cost. The cost of 1 week of groceries in Thailand would be an average of USD 10.
Go to Free museums/activities: There are several things in Thailand that you can do for free! A few museums are free, visit a beach, snorkelling by the shore, walking around the old quarters and some temples.
Use student ID card: If you are a student use your ID card to get discounts at various attractions.
How to survive as a vegetarian/vegan in Thailand?
Thai cuisine has a variety of seafood, poultry, reptiles and a lot more! You all must have seen people eating scorpions, crisp rats and even a whole barbeque alligator! All these images make most vegetarians and vegans take Thailand off their radar or carry their food. Believe me; it is effortless to survive as a vegetarian in Thailand! Thai cuisine is filled with a bunch of fresh produce, and with changing dietary needs have adapted most of the traditional dishes to be vegetarian/vegan friendly. I use the HappyCow app to find vegetarian/vegan restaurants.
Here are some words that you need to avoid if you are looking for vegetarian/vegan food in Thailand:
ไก่ = gai = chicken
ไข่ = kai = egg
นม / น้ำนม = nam nom (or just nom) = milk
เนย = nooei = butter
เนื้อสัตว์ = nuua sat = meat
เนื้อ = nuua = meat (beef)
หมู = moo = pork
ลูกแกะ = look gae = lamb
กุ้ง = goong = shrimp
กะปิ = gapi = shrimp paste
ปลา = plaa = fish
น้ำปลา = nam plaa = fish sauce
ปลาร้า = plaa raa = fermented fish paste
ซอสหอยนางรม = sot hooi naang rom = oyster sauce
Most street food vendors are happy to brew up a vegetarian/vegan version of noodle soup if you ask them to. A word of caution: even some vegetarian dishes contain fish sauce, do specify if you aren't okay with that. A detailed blog on being a vegetarian in Thailand will be up on the blog real soon!
Diving in Thailand
Is this your first time visiting Thailand? You got to go diving! Thailand, in its real sense, is a scuba diving hub in southeast Asia! For starters, it is cheap! You can do an Open Water Course in Koh Tao for just about USD 100! Though I ended up diving in Koh Phi Phi with the Adventure Club Phi Phi, paid the same money for three fun dives. The visibility of the water was a good 20 meters, I ended up swimming with four reef sharks and a turtle along with a bunch of other beautiful marine life.
Useful application when travelling to Thailand
Here is a list of some useful applications when visiting Thailand:
Grab, a taxi booking service in Thailand. It makes it super convenient to travel around. More expensive than a tuk-tuk, if you are on a very tight budget, skip it!
HappyCow is my go-to app to find vegetarian/vegan restaurants in Thailand.
Google Translate, comes in handy if you don't know the right translation from Thai to your native language. Especially great to read signboards and product information when buying from a supermarket.
Bookings.com, this app lists the best accommodation deals. You can book them in advance and have your itinerary in one place. Or, book as you go.
Google Maps, is great to manoeuvre around. Also, you can save offline maps to use in case you don't have a cellular range.
I hope all this information helps you plan your trip to Thailand better! Do comment below and let me know what more would you like to know about Thailand.
If you are looking for more destinations in South East Asia, read my Vietnam journey here and Sri Lank travel adventures here. Here is the ultimate guide to Singapore , you should also check out the best 10 day Bali Itinerary
Pin this travel guide to Thailand!