Estimated reading time: 14 minutes
Japan has been on my travel list for a while now. I often dismissed the idea because I thought the cost of travel in Japan is extremely high. Which, in all fairness, is higher than many other countries. But after much planning (and saving) I managed a 2-week trip to Japan on a comfortable budget. I found there were a lot of ways that I could reduce my cost of travelling to Japan. I talk about many of these tips in the blog ahead. Needless to say, there was a tonne of learnings while in Japan, as to how I can save costs while in Japan.
I've tried to answer all the questions that came to my mind, or I heard from travellers who reached out to me to plan their Japan itinerary. I hope this guide on the average cost of travel in Japan helps you set a budget for your Japan trip.
Japan Travel Cost
How expensive is accommodation in Japan?
The cost of accommodation in Japan can be diverse. Ranging from traditional ryokans (Japanese inns) to modern hotels, cosy guesthouses, and even unique capsule hotels. Prices can vary depending on the city you're visiting, the type of accommodation you choose, and the time of year.
Let's start with the budget-friendly options. If you're a solo traveller or don't mind sharing facilities, guesthouses and hostels are your go-to choices. In major cities like Tokyo and Osaka, you can find dormitory-style accommodations for around ¥3,000 to ¥6,000 per night. These places often provide a common area equipped with a microwave, hot water and coffee.
For those seeking a touch of traditional Japanese culture, ryokans are a wonderful option. These charming inns offer a unique experience with tatami-matted rooms, futon beds, and hot spring baths. Keep in mind that ryokans tend to be more expensive, especially if you opt for one in a popular tourist destination like Kyoto or Hakone. Most of them start at ¥30,000 per night per person and include a meal. Note that ryokan meals are traditional Japanese meals, and may not have too many vegetarian/vegan options. There's always an option to opt out of the meal and just pay for the stay. There are a few affordable, almost hostel-style ryokans that can be booked in the range of ¥5,000 – ¥8,000 per night, these don't include meals.
In metropolitan areas, you'll find both luxury and mid-range hotels that offer comfortable rooms and convenient amenities. Prices start at ¥14000 per night for a decent hotel room in major cities. Of course, the prices can vary depending on the location and the time of year you visit. For example in Tokyo hotel prices are extremely high in areas like Gion, Shinjuku, and Shibuya but the prices are slightly affordable in Asakusa. So in big cities like Tokyo choose the area of accommodation wisely.
Are there any affordable alternatives for accommodations in Japan?
Capsule hotels are a brilliant alternative for affordable accommodation in Japan. I stayed in one during my time travel in Tokyo, and absolutely vouch for them. If you're travelling solo or on a tight budget, capsule hotels are worth considering. These unique accommodations offer compact sleeping pods that provide the essentials for a good night's sleep.
The idea of sleeping in a capsule was scary to me at first, but the capsule hotel I stayed in was an absolute delight. Prices for capsule hotels typically range from ¥3,000 to ¥6,000 per night. Many provide basic equipment like a microwave and hot water for an instant meal. I strongly feel that this alternative can help save a lot on your Japan travel costs.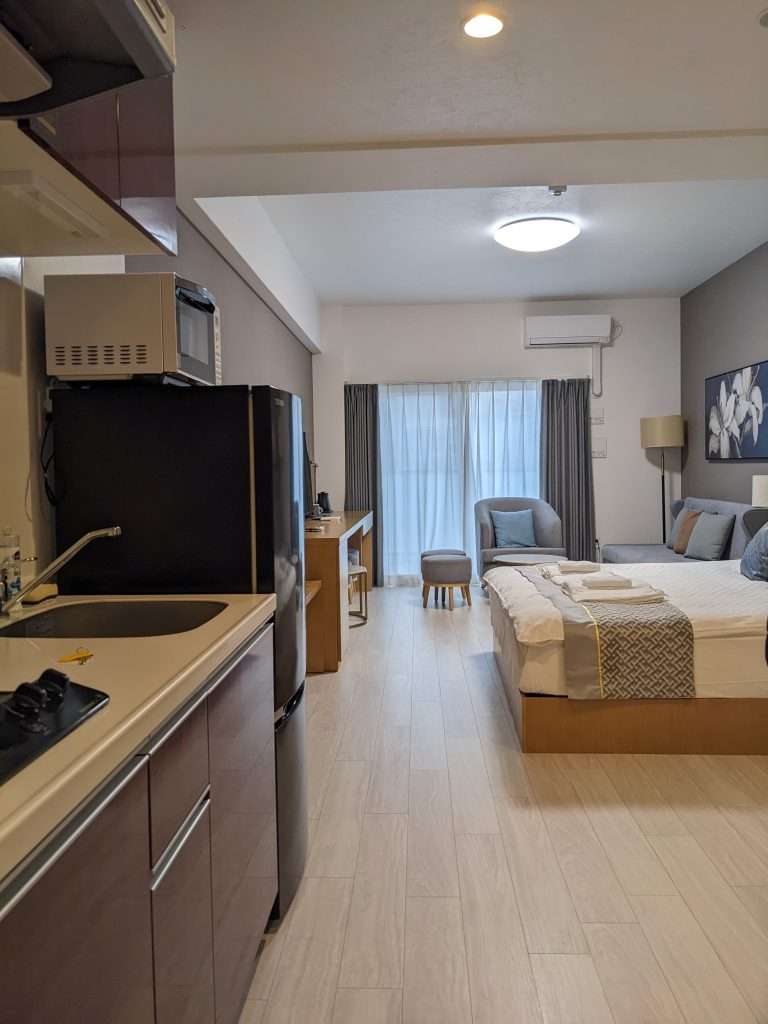 What are the transportation costs within Japan?
Trains
When you think of Japanese trains the first thing that comes to mind are Bullet trains or Shinkansen. These are superfast and convenient. Train fares are typically based on the distance travelled and the type of train you take. As an estimate, a one-way ticket on the Shinkansen between Tokyo and Osaka is approximately ¥14,720. Many times you'll find local trains between cities that would be a tad bit slower but must lighter on the pocket. For example, a shinkansen between Osaka and Kyoto takes 15 mins and is ¥2,870. The same on a local train is 23 mins and only ¥580.
Buses
Buses are another popular and often more economical mode of transportation in Japan, especially for shorter distances or in rural areas where train services may be limited. City buses typically charge a flat fare of around ¥200 to ¥400 per ride, depending on the city. For longer intercity bus journeys, prices can vary but are generally cheaper than train fares. You can expect to pay around ¥2,000 to ¥5,000 for a bus trip between major cities. The only drawback I had here was the traffic! Yes, the traffic in Japan can be painful, especially when travelling during peak hours. It took me over 4 hours to complete a trip back to Tokyo which would have ideally taken just 2.5 hours.
Subways
Japan's major cities, such as Tokyo, Osaka, and Kyoto, have extensive subway systems that provide convenient transportation within urban areas. Subway fares are typically based on distance, with prices ranging from around ¥200 to ¥400 per ride. You can either use a 24-48-72 hr subway passes or rechargeable IC cards (like Suica or Pasmo) that can provide discounted fares for frequent subway travellers. With such passes/cards, you also avoid the queue at the ticket counter/vending machine every time you wish to buy a ticket.
Taxis
If you are on a budget I'd suggest keeping this as the ultimate last option! I landed late at night in Japan and I was super confident about just taking a taxi in case the public transport stops. But the taxi fare was a whooping ¥12,000 from Haneda to Shinjuku! Lucky for me I had enough time to rush to the monorail. Taxi fares include a base fee, distance-based charges, and potential additional fees for late-night or highway tolls. As a rough estimate, a 10-minute taxi ride within a city can cost around ¥1,500 to ¥2,500.
Flights
If you're planning to travel between major cities that are far apart, domestic flights can be a convenient option. While airfare prices fluctuate based on factors like the distance and the airline, you can expect to pay around ¥10,000 to ¥30,000 for a one-way domestic flight within Japan. Many times these turn out to be cheaper than taking Shinkansen, especially when you do not have a JR Pass. During my trip, I didn't have to take a flight.
Rental Cars
Renting a car gives you the freedom to explore Japan at your own pace, especially in more rural or remote areas. Rental car costs vary depending on the type of car, rental duration, and insurance coverage. As a general guideline, small compact cars can start at around ¥4,000 to ¥6,000 per day, excluding fuel and toll fees.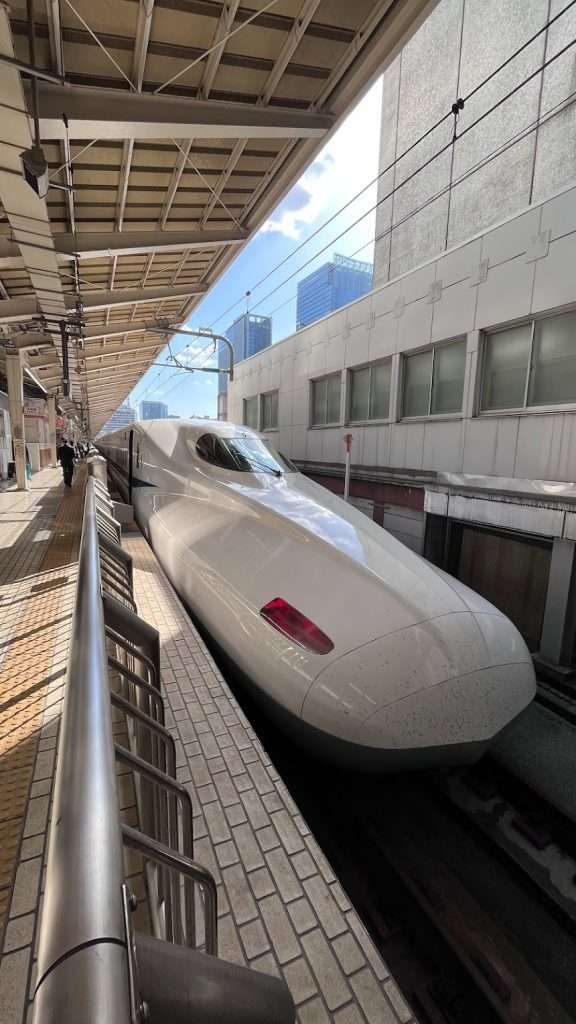 How much does it cost to eat out in Japan?
Let's talk about one of the most delightful aspects of travelling in Japan: the incredible Japanese food! Japan is renowned for its culinary delights, from sushi and ramen to tempura and takoyaki. But how much can you expect to spend when dining out? Let's dig into the costs of eating out in Japan.
Cost of Budget Meals in Japan
If you're on a tight budget, Japan has plenty of options for affordable and delicious meals. You can find inexpensive eats at casual restaurants, street food stalls, and even convenience stores. Here's a rough estimate of prices for budget meals:
Ramen: A steaming bowl of ramen typically costs around ¥700 to ¥1,200, depending on the restaurant and location. Ramen shops often have vending machines where you can purchase a meal ticket before entering.
Curry Rice: A plate of comforting curry rice with various toppings can be enjoyed for around ¥800 to ¥1,500.
Gyoza: These mouthwatering dumplings are available at many eateries and can be enjoyed for about ¥300 to ¥600 for a plate of six pieces.
Convenience Stores: Don't underestimate the quality and affordability of meals at convenience stores like FamilyMart, 7-Eleven, and Lawson. You can find a range of ready-to-eat meals, onigiri (rice balls), sandwiches, and snacks for as low as ¥200 to ¥700.

Cost of Mid-Range Meals in Japan
Japan offers a vast array of mid-range dining options where you can savour a wider variety of dishes. These restaurants often provide a comfortable atmosphere and diverse menus. Here's an approximate price range for mid-range meals:
Izakaya: These Japanese-style pubs are perfect for enjoying small plates and drinks. Prices can vary, but you can expect to spend around ¥2,000 to ¥4,000 per person, including food and drinks.
Sushi: Conveyor belt sushi restaurants (kaitenzushi) and standing sushi bars offer reasonably priced sushi options. You can enjoy a satisfying sushi meal for approximately ¥2,000 to ¥4,000 per person.
Teishoku: Traditional set meals known as teishoku offer a balanced combination of rice, miso soup, a main dish, and side dishes. Prices range from ¥1,000 to ¥3,000 depending on the type of teishoku and the restaurant.

Cost of Fine Dining in Japan
Japan has an abundance of Michelin-starred restaurants and award-winning cocktail bars. Fine dining prices can vary greatly depending on the establishment, the chef, and the menu. It's not uncommon for a multi-course kaiseki meal or omakase experience to cost upwards of ¥10,000 to ¥20,000 per person.
It's important to note that these prices are rough estimates, and they can vary depending on the location, restaurant type, and specific dishes ordered. Additionally, prices may be higher in popular tourist areas or during peak seasons.
One more tip: Keep an eye out for lunch specials and set menus, as they often offer better value for your money compared to dinner prices.
No matter what your budget don't forget to explore local markets! I've found culinary gems, including vegetarian and vegan Japanese food, in these markets.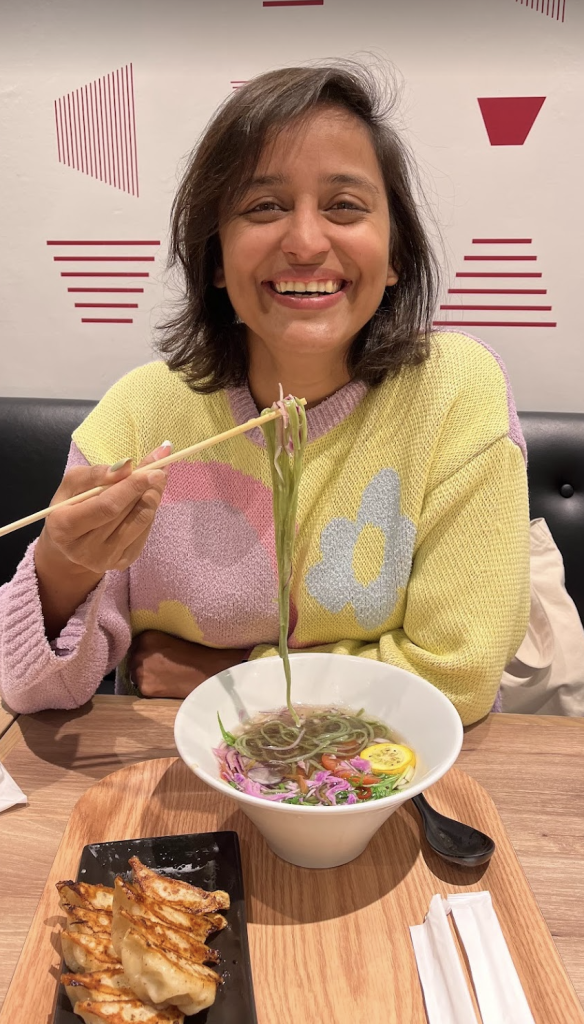 Are there any tips for saving money while travelling in Japan?
While planning my Japan travel I was wondering about ways to save money in Japan. Here's everything I learned during my trip on how to save on my Japan travel cost.
Travel during off-peak seasons: Consider visiting Japan during shoulder seasons (spring and autumn) or less busy months to take advantage of lower prices on accommodations, flights, and attractions. Avoiding major holidays and school breaks can help you secure better deals.
Use a rail pass: If you plan to travel extensively within Japan, consider purchasing a Japan Rail Pass (JR Pass) before your trip. The JR Pass offers unlimited travel on JR trains, including the Shinkansen (bullet train), and can help you save significantly on transportation costs.
Opt for budget accommodations: Look for budget-friendly accommodations such as guesthouses, hostels, or capsule hotels. These options provide affordable rates while still offering comfort and convenience. Additionally, consider staying in smaller cities or towns near major tourist destinations, as prices may be lower.
Take advantage of local transportation passes: Many cities in Japan offer discounted transportation passes that allow unlimited rides on buses, trains, or subways within a specified area. These passes are often valid for a day or multiple days and can help you save on transportation expenses while exploring the city.
Eat at local eateries: Explore local restaurants, small eateries, and street food stalls, as they tend to offer more affordable and authentic dining experiences compared to high-end establishments. Look for lunch specials, set menus, or affordable local dishes like ramen, udon, and bento boxes.
Utilize convenience stores: Convenience stores in Japan, such as FamilyMart, 7-Eleven, and Lawson, offer a wide variety of affordable food options. Grab a quick and delicious meal, snacks, or drinks from these stores at reasonable prices.
Visit free or low-cost attractions: Japan has plenty of attractions that are either free or have low admission fees. Explore public parks, gardens, temples, and shrines that offer cultural experiences without breaking the bank. Additionally, take advantage of free activities like strolling through lively neighbourhoods, visiting local markets, and attending festivals or events.
Take advantage of tax-free shopping: As a tourist, you may be eligible for tax-free shopping at participating stores. Always check the minimum spend and carry your passport to leverage this.
What is the average daily budget for a trip to Japan?
Now to answer the burning question 'How much would a trip to Japan cost?'
The average daily Japan travel cost can vary depending on your travel style, preferences, and the cities you plan to visit. I spent 2 weeks in Japan and my average daily cost was ¥16,000. All my meals were vegetarian and vegan and my accommodation was a mix of capsule hotel and appartements.
To help you plan your Japan travel expenses I've shared approximate daily budgets for Japan trips for different travel ranges.
Budget Travel

For budget-conscious travellers who prioritize cost-saving options, the average daily budget for a Japan trip can range from ¥7,000 to ¥10,000 per person.
Accommodation: Budget accommodations like guesthouses, hostels, or capsule hotels can cost around ¥2,500 to ¥5,000 per night.
Meals: Opting for affordable dining options like local eateries, street food, and convenience stores can cost around ¥1,500 to ¥3,000 per day.
Transportation: Utilizing local transportation passes and budget-friendly options like buses and subways can cost around ¥1,000 to ¥2,000 per day.
Attractions: Many attractions have affordable admission fees ranging from ¥500 to ¥1,500 per site.
Miscellaneous: Allocate some budget for small purchases, snacks, and unforeseen expenses, amounting to approximately ¥1,000 per day.

Mid-Range Travel
For travellers seeking a balance between cost and comfort, the average daily budget can range from ¥10,000 to ¥20,000 per person.
Accommodation: Mid-range hotels, budget Ryokan or Airbnb accommodations can cost around ¥6,000 to ¥12,000 per night.
Meals: Enjoying a mix of affordable local dining and occasional mid-range restaurants can cost around ¥3,000 to ¥6,000 per day.
Transportation: Depending on the distances travelled, using a combination of local transportation, occasional taxis, and possibly a regional rail pass can cost around ¥2,000 to ¥4,000 per day.
Attractions: You can visit multiple paid attractions including museums, temples and day trip to Mt. Fuji, which can range from ¥1,000 to ¥4,000 per day.
Miscellaneous: Set aside some budget for shopping, souvenirs, and additional activities, amounting to approximately ¥1,000 to ¥3,000 per day.
Luxury Travel
For those looking for a premium experience and indulging in high-end options, the average daily budget can range from ¥30,000 to ¥50,000 per person or more.
Accommodation: Luxury hotels, ryokans (traditional inns), or high-end resorts can cost around ¥20,000 to ¥40,000 or more per night.
Meals: Dining at upscale restaurants, including fine dining establishments and renowned sushi or kaiseki restaurants, can cost around ¥10,000 to ¥20,000 or more per day.
Transportation: Opting for more comfortable transportation options like taxis, private cars, or first-class train tickets can cost around ¥4,000 to ¥8,000 per day or more, depending on the distances travelled.
Attractions: Enjoying exclusive experiences, private tours, and high-end attractions can range from ¥3,000 to ¥10,000 or more per day.
Miscellaneous: Set aside a budget for luxury shopping, spa treatments, unique experiences, and other indulgences, amounting to approximately ¥3,000 to ¥10,000 or more per day.
I hope my blog helped you plan your average cost of travel in Japan. I feel with a little bit of planning you can definitely keep a check on your Japan travel expenses and easily set a comfortable budget for your Japan trip.
Pin this guide to Japan Travel Cost