Estimated reading time: 5 minutes
You read a large number of books in your lifetime. Out of that, you complete a great number. While you leave that boarding pass of a bookmark, in many others, hoping to finish that journey some other day. Never to do in some cases. Some of the books you end up reading teach you a thing or two about life. And yet there are a few gems, the books that are a whole experience. These books don't just offer a new world to get lost in, but they charge you on a deeper level. One such book, to me, was Beyond the Sky and the Earth: A Journey into Bhutan by Jamie Zeppa.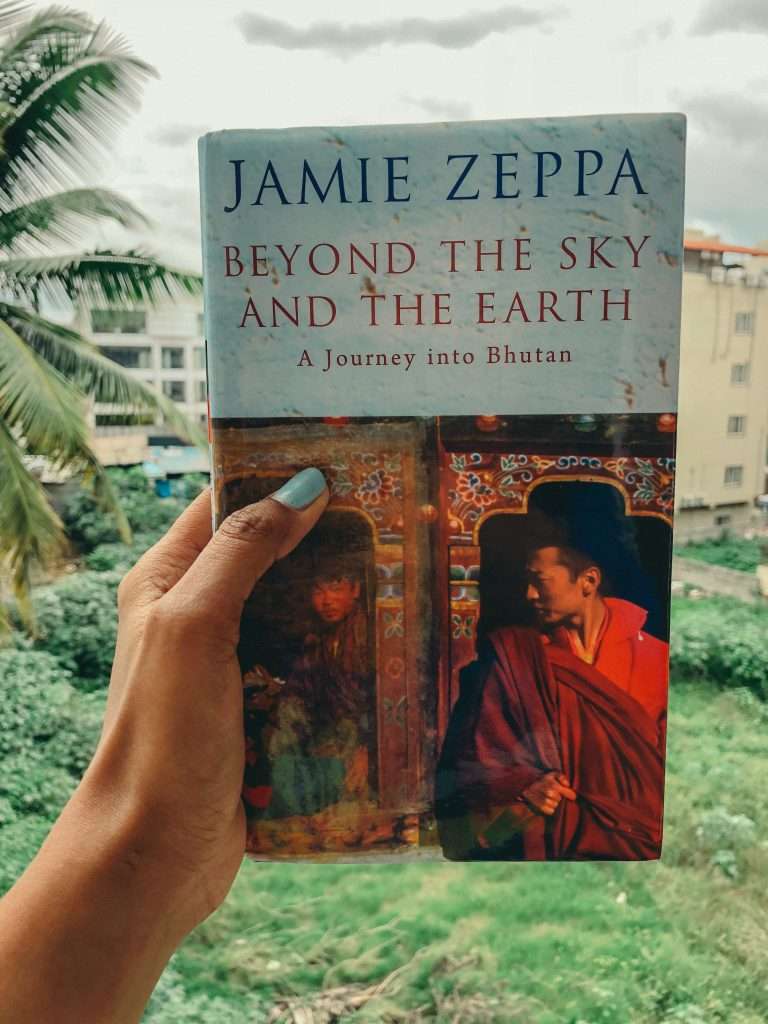 "I wanted to throw myself into an experience that was too big for me and learn in a way that cost me something" – Jamie Zeppa
I for one love the quintessential coming of age story, and our movies/books have too many of them. This right here is one such story, where the protagonist decides to go on an adventure to face her fears and ends up on a life-altering journey. Jamie has lived all her life in the luxuries of the developed world (read Canada). She comes across an opportunity to live and teach in a country about which she had only read in literature. When the idea of living in an alien country and experiencing foreign culture came to her, she did the obvious. She landed in Bhutan – the last Shangri-La! Maybe not so much of a Shangri-la for our Jamie yet.
---
"I send telegrams to my grandfather and Robert to say that I have arrived safely. What I do not say is that my body has arrived but the rest of me is lost, perhaps in transit. … I do no know where I am going: am I coming here or going home? It is more than just the altitude" – Jamie Zeppa
Jamie has a hard time adjusting in Bhutan first it was hours of travelling along the treacherous roads. Then it was the awfully remote village she was posted at. Now she wasn't just far from the luxuries of the Western world but also, farther from the bare essentials of a big city in Bhutan. The students she has to teach are the least bit cooperative. The atrocities keep piling up and Jamie just has one wish – to go back home.
At first, this constant rant was annoying to me. It almost felt like she isn't trying hard enough, heck! She isn't trying at all. But, Zeppa has done a beautiful job of expressing these issues. After a couple of chapters, I started connecting with her and her problems. To the point where with every passing chapter I was hoping she finds her way back home. And so she does.
---
"There is a difference between arrival and entrance. Arrival is physical and happens all at once. … Entering takes longer. You cross over, slowly, in bits and pieces" Jamie Zeppa
Things start to look up for our Jamie. People around Zeppa (especially her students) introduce her to their way of life and belief system. Soon Jamie starts to appreciate little things in life and question her old ways. She sheds her prejudiced cultural baggage and delves deeper into the Bhutanese way of living. She realises how everything is so much more meaningful in her Bhutan because there is less of everything here. After having spent 2 years in Bhutan she suffers from yet another cultural shock during her visit to Canada. Everyone back in Canada seems impulsive to her. Things appear "glossy and polished and unreal." She spots internalised capitalism everywhere she gazes. Even the once dear, Canadian skyline doesn't appeal to her anymore. All she needs is to wake up and gaze at the clear blue sky with a backdrop of mountains and ravens circling a chorten. Her new home.
---
Apart from Jamie's progress, this book does an exceptional job of describing the beauty of Bhutan. Jamie is extremely descriptive, it is so easy to visualise Bhutan through her eyes. So much so that, when I visited Bhutan it was as if I have been there before. As if I have seen it all through Jamie's words.
She also touches upon the political and economic situation, giving a holistic view of her life in Bhutan. Zeppas speaks volumes about the culture and religion of Bhutan, and Buddhism instantaneously draws her interest. At first, it started as a curiosity towards foreign beliefs soon this grew into Jamie's new way of life. Though her romance with Bhutan grew stronger, she unequivocally questioned the Bhutanese belief system. By converting to Buddhism she reaches a level of mindfulness, often greeted by her confusion. A love story as beautiful as that of Jamie Zeppa and her Shangrila.
Liked this book review on Beyond the Sky and the Earth: A Journey into Bhutan by Jamie Zeppa? You may also like to read 6 books to fuel your wanderlust. And if you wish to visit Bhutan, check out my Ultimate Guide to Visiting Bhutan.
Pin the book review on Beyond the Sky and the Earth