Estimated reading time: 10 minutes
If you follow me on Instagram and Twitter you know I went to Oman with my mother. It was her first-ever international trip! A lot of my friends and family questioned why did I choose to travel to Oman? Instead of the more famous counterparts when it comes to family holidays – Singapore or Dubai! To be fair, Oman wasn't my first choice. But my mother wanted to travel off the beaten path! And I took it upon myself to show her the best. Days of research later, we decided to visit the wonders of Oman in 7 days. During our Oman adventures, I often thought why on earth are people not visiting this beautiful gem on the Arabian peninsula? Well, all I can say is you don't be that! Go off the beaten path with my Oman 7-Day Itinerary.
Day 1: Arrival in Muscat
After settling into your accommodation, kick-start your exploration with a visit to the Royal Opera House, a cultural gem known for its stunning architecture and world-class performances. Continue your cultural journey at the Bait Al Zubair Museum, where you can delve into Oman's rich heritage through art, artefacts, and traditional costumes.
If you're in need of a moment to unwind, head to the Corniche, a picturesque waterfront promenade. Stroll along, savouring the sea breeze. You'll witness locals engaged in their daily routines and families enjoying leisurely picnics. Find a bench, and soak in the beauty of the coastline.
As the day winds down, treat yourself to a feast of Omani flavours at a local restaurant. Accompany your meal with refreshing mint lemonade or a cup of traditional Omani coffee served in small, handleless cups. Rest well, tomorrow your Oman road trip begins.
Day 2: Ras Al Jinz Turtle Observatory
Let your best Oman travel plans enrol! Depart for the Ras Al Jinz Turtle Observatory. En route, make pit stops at the brilliant Wadi Shab, where turquoise pools beckon for a refreshing swim. Wadi Shab is a stunning oasis located about two hours from Muscat, and it's a must-visit destination on your Oman 7-day itinerary. Pack a picnic lunch and spend the day relaxing in this picturesque spot.
If you have a little more time, try and add a few more Oman wadis to your Oman itinerary. Continue your scenic drive, taking in the salty breeze at Fins Beach, and the serene vibes of the charming coastal town, of Sur. It's known for its traditional dhow boat building industry and its beautiful beaches. Visit the Sur Maritime Museum to learn about the town's seafaring heritage, and then head to the beach to soak up the sun and swim in the turquoise waters.
From Sur, drive to Ras al Jinz, a turtle reserve. Here you can witness the nesting and hatching of endangered sea turtles. Take a guided tour to learn more about these magnificent creatures and their conservation efforts.
Day 3: Wahiba Sands
The day begins with a dolphin tour that feels straight out of a documentary. Later snorkel at this turtle paradise! As the day progresses, the wheels turn toward Bidiyah, where the golden dunes of the Wahiba Sands stretch as far as the eye can see. Stay at one of the many desert camps – I recommend Desert Nights Resort, the hospitality here was unmatched. Book a tour that will take you on a thrilling 4×4 ride through the dunes. Or ride an ATV over the golden dunes by yourself! Calm the adrenaline down by relaxing on the top of the dunes and watching a glorious sunset. With a cup of strong Omani coffee and some dates over the desert.
End the perfect Arabian night with a traditional Omani dinner under the stars, with cultural performances.
Day 4: Nizwa
As the first light of dawn touches the desert, seize the moment to explore the sunrise. You can choose to go sandboarding or camel riding in Wahbia sands. The beauty of this place is unlike any other and must be on your Oman 7-day itinerary. Later, bid farewell to the dunes as we journey to Nizwa. Nizwa is a historic city known for its impressive fort and traditional souq, where you can shop for souvenirs and local handicrafts. In addition to that, there are a number of charming villages in the region. Some of them that I recommend for your Oman itinerary are Al Hamra and Misfat al Abreeyen, Nizwa is a great site to experience Oman's historical sites.
Day 5: Jebel Shams
From Nizwa, drive to Jabal Shams, the highest peak in Oman. Take a leisurely walk through the scenic mountain trails and enjoy a picnic lunch while taking in the stunning vistas. After capturing the landscape in your heart (and your camera), trace your steps back to Muscat, with your head still in the clouds.
You are back to Muscat, and after freshening up head over to Al Mouj. An upscale seaside community blending contemporary living with traditional Omani hospitality. Dine at diverse restaurants along the vibrant marina, and explore the lively promenade's boutiques.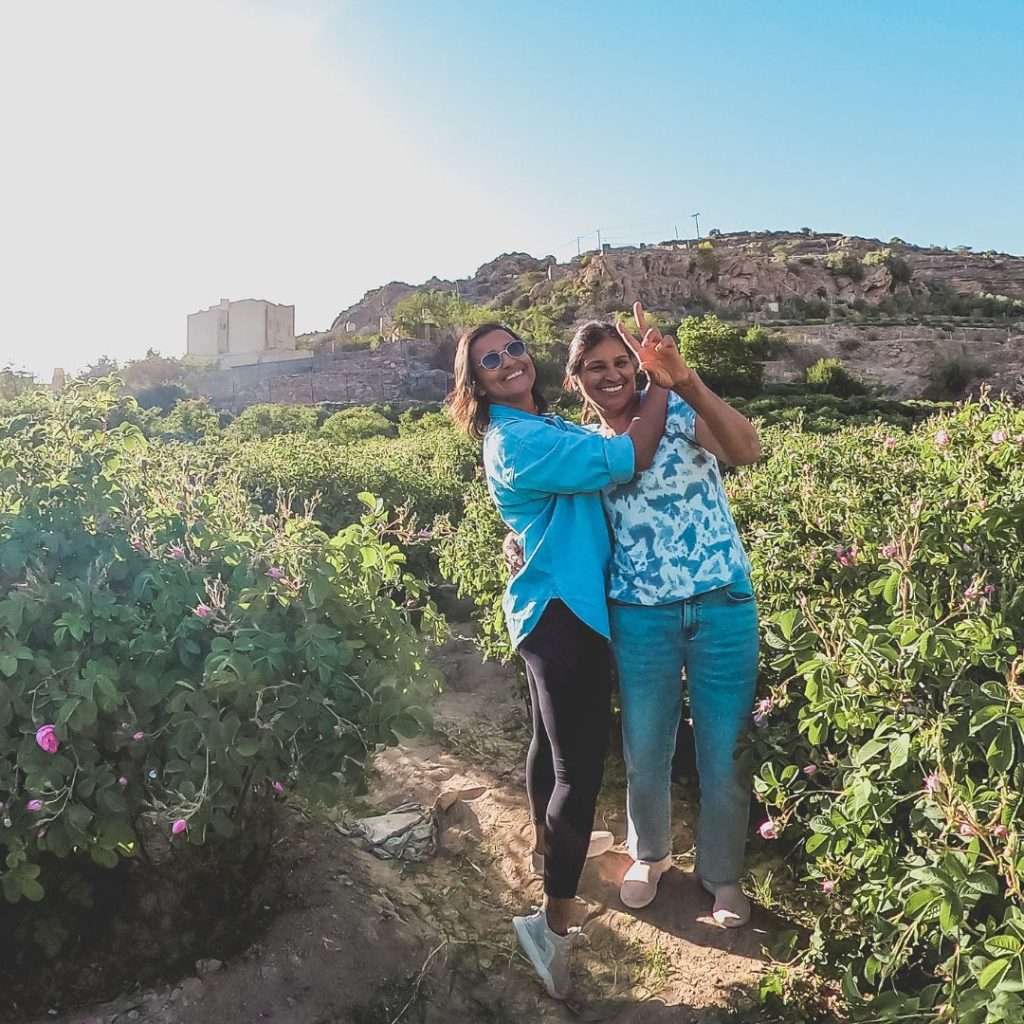 Day 6: Al Daminiyat Islands, Muscat
As the week unfolds, let's give the ocean some love. In your Oman 7-day itinerary set your compass for Al Damaniyat Islands. This is a protected nature reserve that boasts vibrant marine life and crystal-clear waters. Snorkel, swim, or simply bask in the sun – it's your day to be one with the sea. Book a perfect day trip to Al Damaniyat Island here.
In the evening head to the Muttrah Souq, one of the oldest markets in the Middle East. Here you can shop for traditional Omani souvenirs and handicrafts.
Day 7: Muscat and Departure
Start your day by visiting Sultan Qaboos Grand Mosque. A masterpiece of Islamic architecture. Spend your last day in Oman exploring any attractions you missed in Muscat, such as the National Museum of Oman or the Muscat Gate Museum. Later head to the airport for your flight home, taking with you unforgettable memories of your Oman 7-day trip.
FAQs on Oman itinerary
How many days do I need for an Oman itinerary?
Oman's 7-day itinerary is ideal for exploring Oman's major highlights, including Muscat, desert adventures, historical sites, and coastal beauty.
What are the must-visit places in Muscat?
Don't miss Sultan Qaboos Grand Mosque, Royal Opera House, and the vibrant Mutrah Souq for a taste of local culture.
What's unique about Wahiba Sands in Oman?
Wahiba Sands offer mesmerizing sand dunes, a chance to experience desert life, and thrilling activities like dune bashing and stargazing.
How do I plan a day trip to Nizwa from Muscat?
Start early from Muscat to leave for Nizwa. It's a scenic 2-hour drive from Muscat. Once in Nizwa visit the Nizwa Fort, the bustling souq, and Jabrin Castle.
Can I combine relaxation with adventure in Oman?
Absolutely yes! While you can have your fair share of adventure snorkelling, diving, wadis and sand dune bashing. For relaxation head to Al Mou by the marina in Muscat, enjoy a calming sunset on the dunes or picnic by the wadis of Oman.
What's the best way to experience Omani cuisine?
Dive into local flavours at traditional eateries in Muscat or during desert camp stays. Try dishes like shuwa and Omani halwa.
Can I go on a dolphin-watching tour in Oman?
Yes, many coastal areas, like Muscat, Raz Al Jinz and Musandam, offer dolphin-watching tours.