Estimated reading time: 12 minutes
Get ready to escape the mundane and embark on a journey to one of Vietnam's best-kept secrets – Cat Ba Island. Tucked away in the heart of Halong Bay, this island paradise is a haven for adventure-seekers, nature lovers, and anyone seeking an off-the-beaten-path travel experience. Imagine kayaking through hidden lagoons surrounded by towering cliffs, hiking to secret beaches, and soaking in the island's vibrant culture and mouth-watering cuisine. With its breathtaking landscapes and unique charm, Cat Ba Island is a destination that will leave you mesmerized and eager to return. My Cat Ba Island travel guides will help you plan your trip with ease! So, pack your bags, grab your sense of adventure, and join me as we take you on a journey to discover the wonders of Cat Ba Island, Vietnam.

Tourists often overlook this beautiful island and head to Ha Long Bay. One reason could be the exuberant high rates of the Hanoi to Cat Ba Island tour operators. Ranging anywhere from $200-$400. Believe me, you can make a 2-night 3-day trip to this beautiful island for under $60. Yes, I did it. I'm sure you can too. In my travel guide to Cat Ba Island, I'll share the detailed cost to visit this Vietnam tourist attraction. Along with that, I'll share the best things to do on Cat Ba Island.
How to reach Cat Ba Island
Reaching Cat Ba requires changing modes of transport a couple of times and there are 2 major routes by which one can reach Cat Ba from Hanoi. Either via Ha long city or Haiphong City. But you have to be very sure of the timings of all the connecting transports. The easiest and most convenient way is to simply purchase a ticket (220000 VND) from Luong Yen bus station (Hanoi). This includes a bus ride to Haiphong city (approx. 3 hours) another transfer to the port (approx. 1 hour) ferry to the island (45 minutes) and the final bus to the Cat Ba harbour (45 minutes)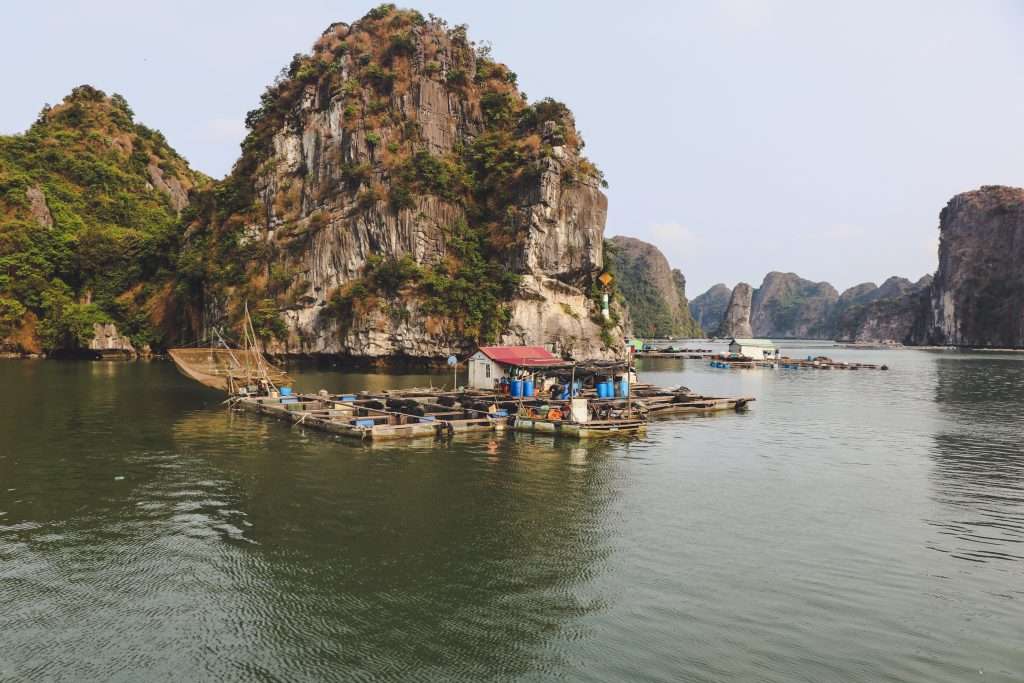 When is the best time to visit Cat Ba Island?
When to visit Cat Ba Island largely depends on your individual preferences. For those who savour the warmth of tropical summers, the best time to embark on a trip would be between June and August.
However, if you prefer milder temperatures, it's advisable to visit between October and March. It's important to note that even though Cat Ba experiences four distinct seasons, there is still a rainy season from May to September and a dry season from November to March.
Each season presents unique advantages and drawbacks, but it's generally agreed that March, April, September, and October are the optimal months to visit.
Where to stay on Cat Ba Island
The increased tourism has led to several accommodations cropping up. After arriving at the harbour we sat down at a café (with WiFi) to look for a place to stay. They are easy to locate on any of the booking platforms else just walk in and book.
A budget room for a double occupancy night can cost anywhere between $6 to $10. We stayed at the Cat Ba Backpackers Hostel. Three people in a room for $3/person. For a mid-ranged stay, you can find options between $15 to$40 per room. If there are no budget constraints, you can choose from a beach resort for $50 to a private junk for about $400.
Things to do on Cat Ba Island
Lan Ha Bay
A Cat Ba Island travel guide is incomplete with the mention of Lan Ha Bay – the hidden gem that many travellers miss out on when visiting Vietnam's Cat Ba Island! If you're looking for a quieter, less touristy alternative to the crowded Ha Long Bay, Lan Ha Bay should be at the top of your things to do in Cat Ba Island.
Located just south of Ha Long Bay, Lan Ha Bay is often overlooked by tourists, which is a shame because it's just as stunning as its more famous neighbour. With its emerald waters, towering limestone cliffs, and hidden beaches, Lan Ha Bay is a paradise.
But why choose Lan Ha Bay over Ha Long Bay? Well, for starters, Lan Ha Bay has a fraction of the tourists that Ha Long Bay has, which means you can enjoy the beauty of the bay without feeling like you're in a crowded amusement park. Plus, many of the traditional junk boats that offer overnight stays in Ha Long Bay also operate in Lan Ha Bay, so you can still experience the charm of sleeping on a boat while exploring the bay's hidden coves and fishing villages.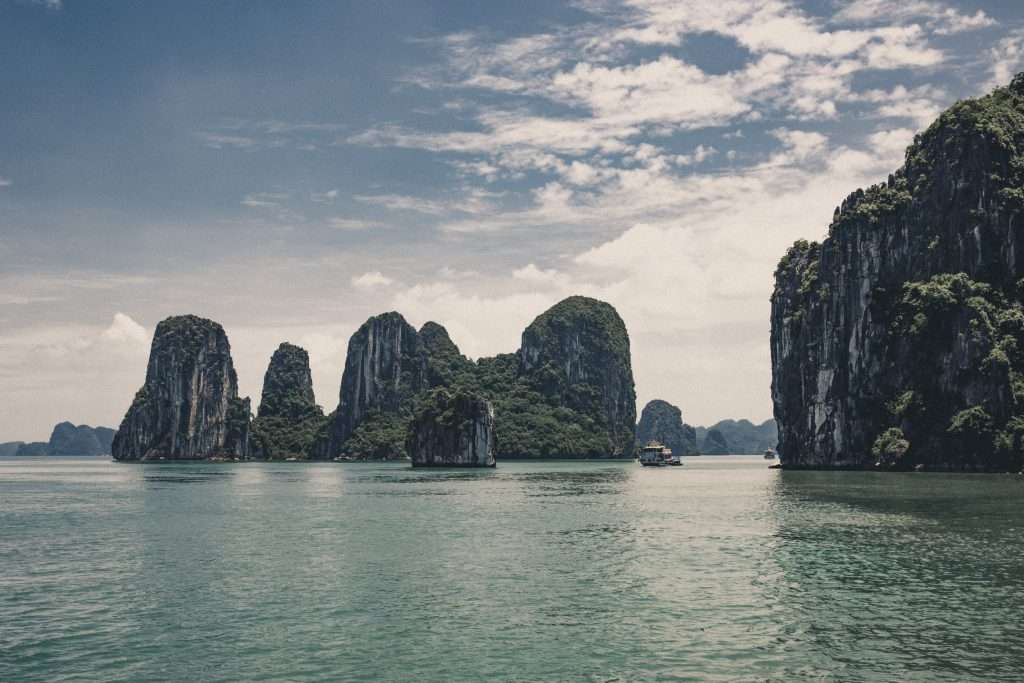 Monkey Island
Well, you simply cannot miss visiting Monkey Island, one of the most popular tourist attractions on Cat Ba Island Vietnam. Located just a short boat ride away from Cat Ba Island, Monkey Island is home to over 2,000 monkeys who roam around freely in their natural habitat. Don't worry, they are very friendly and used to visitors.
To get to Monkey Island, you can book a Cat Ba Island tour that includes a stop at this unique island. Once you arrive, you will be greeted by these adorable little creatures that are always ready to pose for some great photos. Not only can you see monkeys in their natural environment, but you can also explore the island's lush tropical vegetation and the white sandy beaches that surround it. It's an adventure that both adults and kids will surely enjoy!
If you're looking for more things to do in Cat Ba Island, there's plenty to choose from. You can go trekking in Cat Ba National Park, explore the caves, go kayaking in Lan Ha Bay, or simply relax and soak up the sun on the beaches. Don't forget to bring your camera, sunscreen, and your sense of adventure for your trip to Cat Ba Island. And be sure to include a visit to Monkey Island on your itinerary.
Hospital Caves
If you're looking for an adventure on Cat Ba Island in Vietnam, you don't want to miss the unique and fascinating Hospital Caves!
Located in the heart of the island, these caves served as a hospital and safe haven for soldiers during the Vietnam War. But don't worry, you won't need to go through any of the trauma that took place here to explore the caves today. Book a Cat Ba Island tour that will take you on a journey through the winding tunnels and chambers, where you'll see remnants of the past like the operating rooms, storage areas, and living quarters. It's truly an awe-inspiring experience to imagine the bravery and resilience of the people who used this space in a time of war.
And while it may not be the most glamorous stop on your list of things to do in Cat Ba Island, it's certainly a must-see for history buffs and anyone interested in the human spirit. So make sure to add Hospital Caves to your Vietnam itinerary when planning your trip to Cat Ba Island, and be prepared to be transported back in time to a period that shaped the country's history. The ticket price to the caves is 15000 VND.
Floating Fishing Villages of Cat Ba Island
Let's talk about one of the most unique experiences you can have on Cat Ba Island – visiting the floating fishing villages. These villages are home to the locals who have adapted to living on the water, and it's truly fascinating to see how they've built their lives around the sea.
When you take a Cat Ba Island tour, make sure to include a visit to the floating fishing villages. As you glide through the water, you'll see houses and buildings floating on rafts, and fishermen returning with their catch of the day. You can even stay overnight at one of the homestays and explore the villages up close, getting a closer look at how the locals live and work. Or kayak your way near the village and you may even have the chance to sample some of the fresh seafood they catch right in front of you!
One of the most interesting things to observe is how the villages have adapted to modern technology while still maintaining their traditional way of life. You'll see solar panels on some of the rafts, powering everything from lights to TVs, and yet the fishermen still use handcrafted nets and fishing rods to catch their fish. Visiting the floating fishing villages is truly a one-of-a-kind experience that you won't find anywhere else. So make sure to add it to your list of things to do in Cat Ba Island, Vietnam.
Kayaking & Rock Climbing
First, let's talk about Cat Ba island kayaking. There's nothing quite like exploring crystal-clear waters and hidden coves around the island from the comfort of your own kayak. Glide through the calm waters, soak up the stunning views of the surrounding cliffs, and discover the many hidden beaches and lagoons that are only accessible by kayak. And if you're lucky, you might even spot some local wildlife, like monkeys or dolphins, along the way!
But kayaking isn't the only way to get up close and personal with Cat Ba Island's stunning rock formations. If you're feeling up for a challenge, rock climbing is a must-try activity. With its jagged limestone cliffs towering high above the water, Cat Ba Island is a rock climber's paradise. Whether you're a seasoned pro or a beginner looking for a new challenge, there are plenty of climbing spots on the island that offer incredible views and heart-pumping thrills. Renting a 2-person kayak for the whole day would cost you $6 and for half a day would cost you $5.
Of course, if you're not quite ready to tackle the cliffs on your own, there are plenty of guided tours and lessons available to help you get started. Whether you're a kayaking newbie or a seasoned climber, there's an adventure waiting for you on Cat Ba Island!
So why not add kayaking and rock climbing to your list of things to do on Cat Ba Island? It's an unforgettable way to experience the island's natural beauty and get your heart pumping at the same time. Don't forget to book your Cat Ba Island tour today and get ready for an adventure you'll never forget!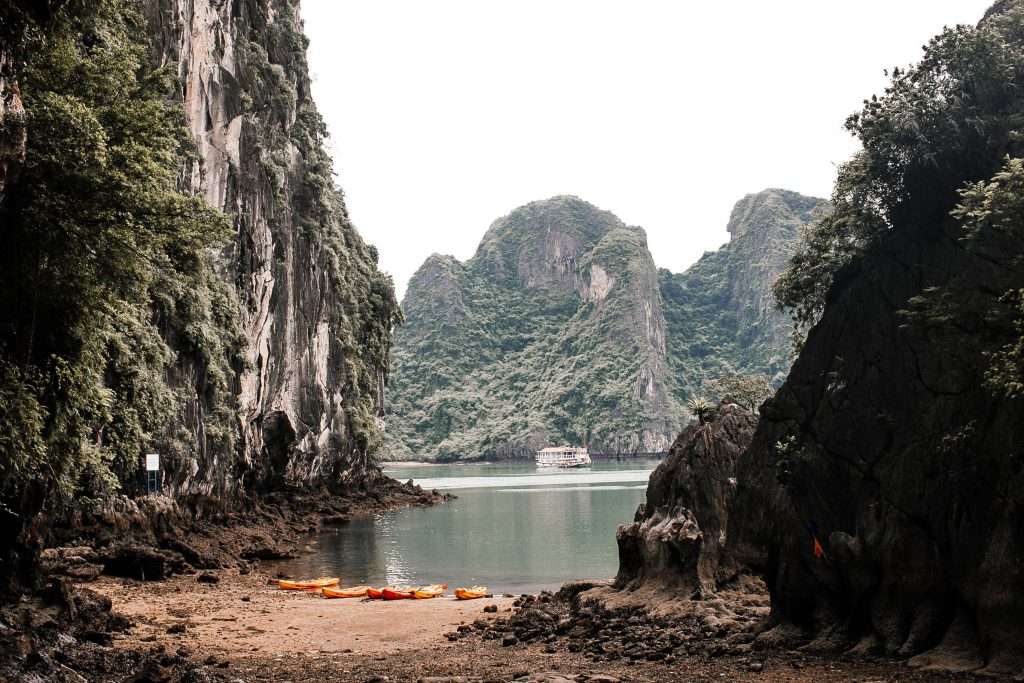 Cat Ba Island National Park
Welcome to the wild and wonderful world of Cat Ba Island National Park, a place where nature reigns supreme! Nestled in the heart of the island, this national park is a must-visit Vietnam attraction. The entrance fee to the park is 15000 VND, you can explore the park on your own or take one of the Cat Ba Island tours.
From the moment you step into the park, you'll be transported to a world of lush greenery, stunning landscapes, and rare wildlife. With its dense forests, towering limestone cliffs, and crystal-clear waters, Cat Ba Island National Park is a nature lover's paradise. The park offers a variety of activities, including hiking, trekking, and bird-watching. If you're feeling adventurous, you can even take a swim in one of the park's pristine lakes or rivers. The park's trails are well-maintained and clearly marked, making it easy to explore the area on your own.
One of the most popular attractions in the park is the Cat Ba Langur, a critically endangered species of monkey that can only be found on Cat Ba Island. With only around 60 individuals left in the wild, spotting one of these majestic creatures is a once-in-a-lifetime experience. And if you're lucky enough to be in the park during the migration season, you'll be treated to the sight of thousands of birds flying overhead. It's a truly breathtaking sight that will leave you in awe of the power of nature.
How many days should I stay on Cat Ba Island?
I recommend spending at least 2 nights and 3 days on Cat Ba Island to get a good taste of what it has to offer. During this time, you can explore the national park, go kayaking, visit floating fishing villages, and take a tour of Lan Ha Bay. However, if you're short on time, you could also consider a 1-night, 2-day trip to Cat Ba Island. This will allow you to experience some of the island's highlights but will be more rushed. If you have a bit more time, a 3-night, 4-day trip is also a great option. This will give you the chance to delve deeper into the island's culture and scenery, and perhaps take part in activities like rock climbing or visiting Monkey Island. Ultimately, it all depends on your schedule and preferences, but we hope this helps you make a decision!
You may also like to read:
Pin this Cat Ba Island Travel Guide