Estimated reading time: 10 minutes
Treasures of Turkey's Overlooked Black Sea Coast
The Turkish Black Sea coast – where stunning beauty meets the best-kept secret of Turkey! While tourists flock to the usual suspects, this coastal gem remains a hidden paradise, blissfully underrated.
Turkey's black sea coast has stunning beaches, towering mountains and charming fishing villages where time plays a leisurely tune. It's like a symphony of nature and culture, harmonizing in ways that make your heart sing. Yet, the Black Sea coast holds its secrets close, ensuring that only those who seek to find the rewards of their quest.
For the longest, I knew of the must-do things in Istanbul and the ever so Instagram-friendly Cappadocia and the mystical Pamukkale. But when I started planning my trip to Turkey, I came across the hidden gem of Turkey's black sea coast. And I had to write all about it. Sadly I couldn't visit all of them, but this list has the 10 best places to visit on Turkey's black sea coast.
So, why settle for the ordinary when the extraordinary lies in wait? The hidden gems of the Turkish Black Sea coast await, let's plan an epic trip to Turkey beyond the usual.
Trabzon – Where History Embraces Modernity
A city where ancient tales meet contemporary vibes! Trabzon, nestled along the Black Sea, is a mesmerizing blend of history and modern life. Marvel at the Hagia Sophia of Trabzon, a centuries-old gem, and then hop into a bustling bazaar where merchants have perfected the art of haggling. Tour the former residence of Ataturk, the founder of modern Turkey, and admire its beautiful gardens and panoramic views of the city. Explore this ancient Greek Orthodox monastery nestled in the cliffs of Altındere National Park, surrounded by breathtaking natural beauty. Don't forget to sip on traditional tea while gazing at the sea. For adventure seekers, a trek up Boztepe Hill offers a panoramic reward that's worth every step. Visit this picturesque lake surrounded by dense forests and mountains, offering various outdoor activities like hiking, boating, and enjoying local cuisine.
Ideal stay: 3-4 days.
Best time to visit Trabzon: May to September
Sumela Monastery – A Spiritual Retreat Amidst Nature
Seeking serenity? Look no further than Sumela Monastery, perched on the edge of a cliff amidst lush greenery on Turkey's Black Sea Coast. This spiritual haven will teleport you to a world of calmness and awe. The hike to the monastery might get your heart pumping, but trust me, the breathtaking view is a workout well-earned. The centuries-old frescoes and tranquil surroundings make it a must-visit spot in Turkey for history buffs and nature lovers alike.
Ideal stay: 2 days.
Best time to visit Trabzon: April to September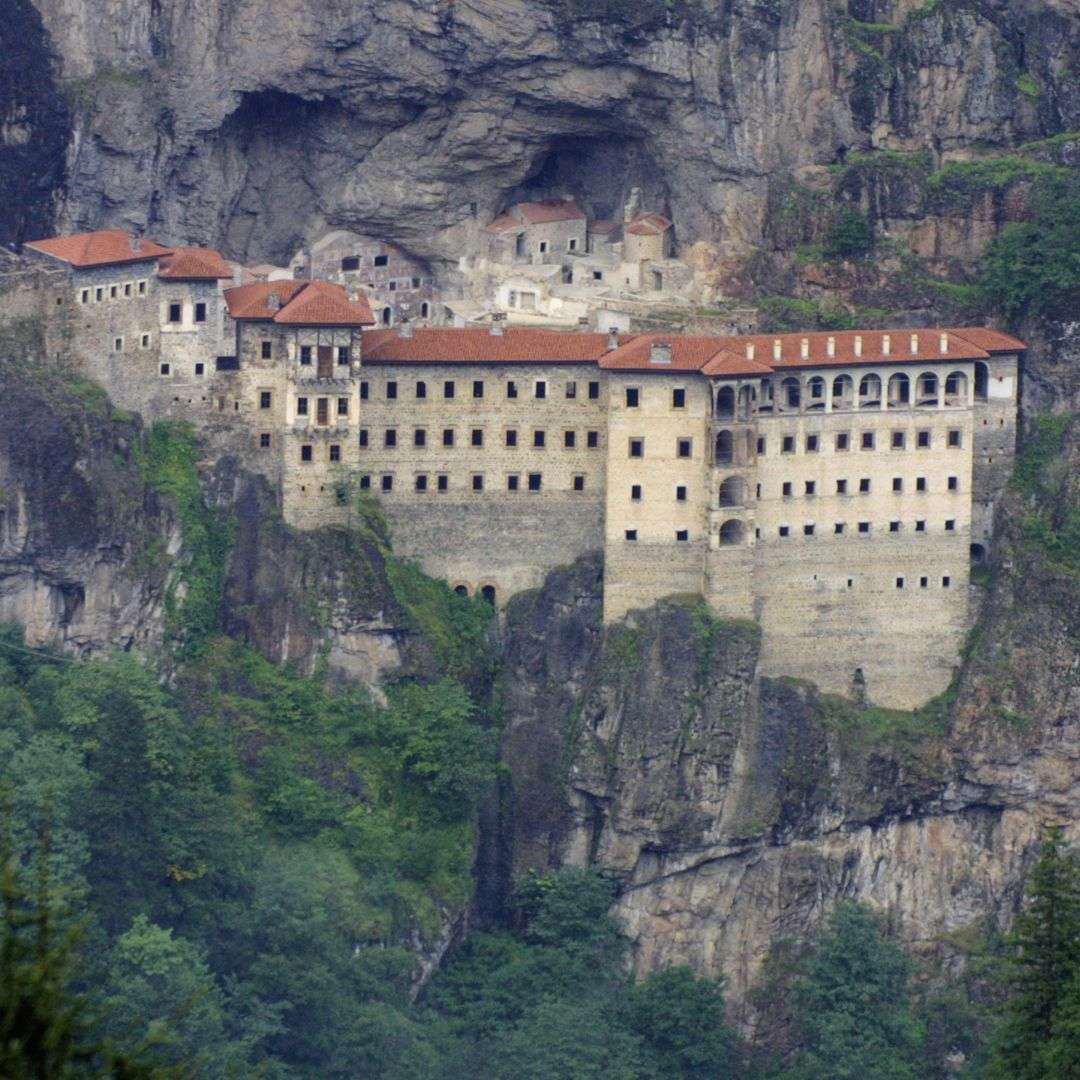 Amasra – A Coastal Haven of Beauty
Imagine strolling along cobbled streets that lead you to charming cafes, golden beaches, and stunning sea views. That's Amasra for you – a coastal escape that'll have you falling head over flip-flops in love. Delight in fresh seafood, soak up the sun on sandy shores, and let the town's authentic ambience embrace you. The Amasra Castle is like a slice of history overlooking the sea, a perfect spot to channel your inner daydreamer. Explore the well-preserved Amasra Castle, which offers beautiful views of the sea and the town. The castle also houses a museum where you can learn about the region's history. Enjoy a scenic picnic at Kuşkayası, a picturesque spot known for its rock formations and stunning views over the sea. Visit this smaller Güzelcehisar castle that overlooks the harbour, offering panoramic views and a glimpse into the town's history. Relax at one of Amasra's beaches, such as Buyuk Liman Beach or Small Liman Beach, and enjoy the sun, sand, and clear waters of the Black Sea.
Ideal stay: 3-4 days.
Best time to visit Trabzon: May to August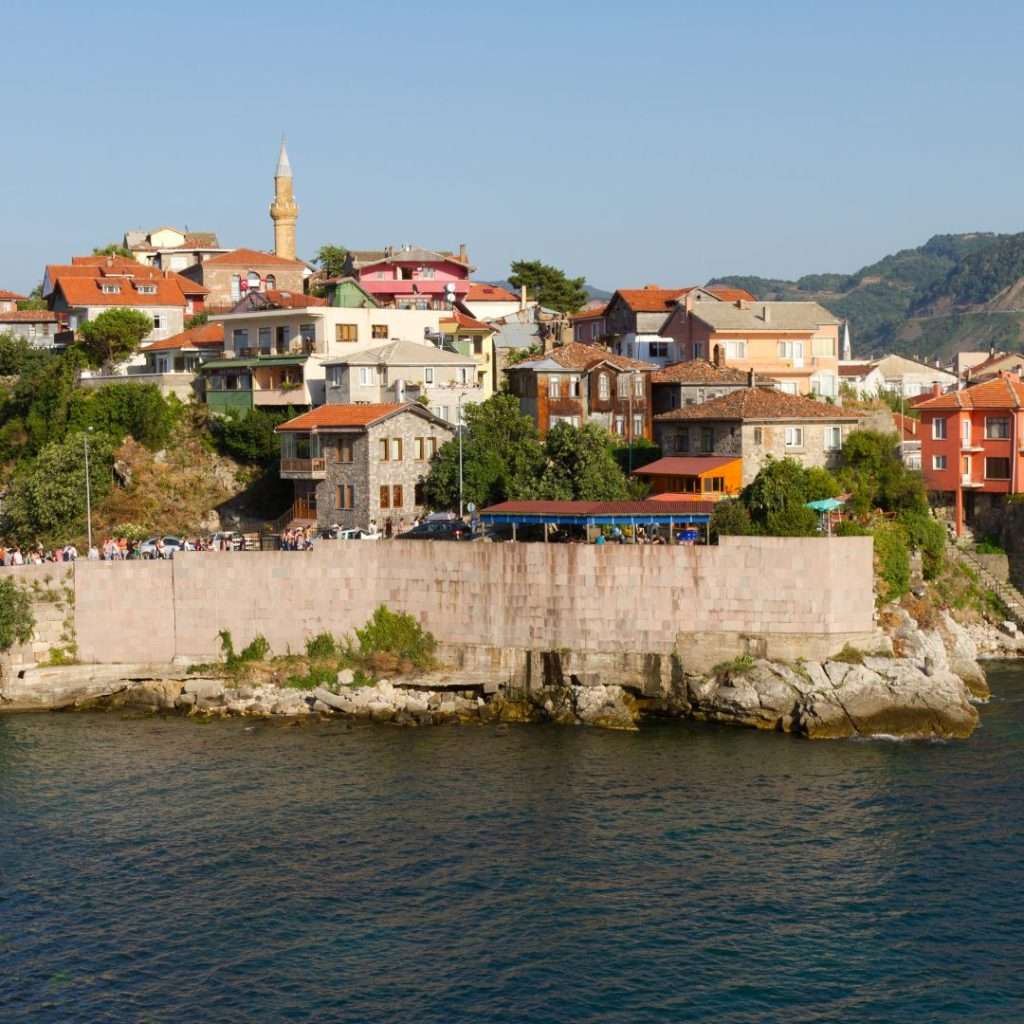 Firtina Valley – Nature's Playground for Adventure
Calling all thrill-seekers! Firtina Valley is a playground for adventurers of all ages. If you're looking to trade skyscrapers for tree canopies, you've found your spot. Fırtına River offers thrilling opportunities for rafting and other water activities. Local tour operators offer guided rafting trips suitable for different experience levels. Visit Zil Castle (Zilkale) historical castle perched on a hillside overlooking the valley. Explore the fortress and take in the panoramic views of the surroundings. Explore the traditional villages in the valley, such as Çamlıhemşin and Ardeşen. Experience the local culture, interact with residents, and taste traditional foods.
Ideal stay: 2-3 days.
Best time to visit Trabzon: April to August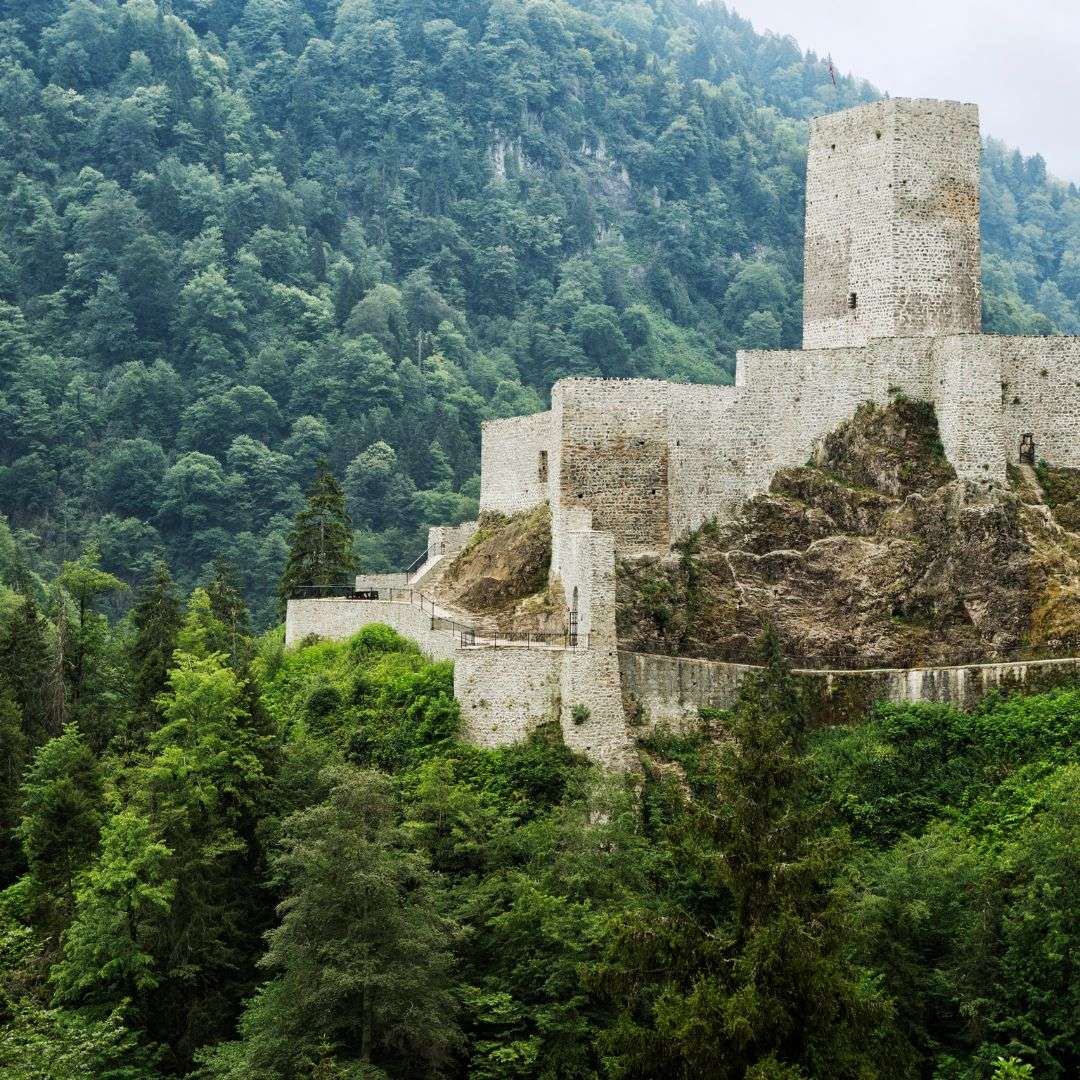 Safranbolu – Stepping into Ottoman Elegance
Ever wished you could time travel to the Ottoman Empire? Safranbolu is your ticket to that dream in Turkey's Black Sea Coast. Cobblestone streets, well-preserved architecture, and a dash of colourful blooms make this town a living museum. Stroll through the Old Bazaar, where history whispers through every corner, and stay in charming Ottoman-style houses turned boutique hotels. Explore and visit the iconic Ottoman houses, some of which are open to the public as museums, showcasing the lifestyle and architecture of the period. Experience a traditional Turkish bath (hamam) at this historic bathhouse, which has been in operation for centuries. Visit this Hıdırlık Tepesi offering panoramic views of Safranbolu. It's a great spot for capturing photos of the town and its surroundings. Visit to this UNESCO World Heritage Site is like living in a historical romance novel.
Ideal stay: 2-3 days.
Best time to visit Trabzon: May to September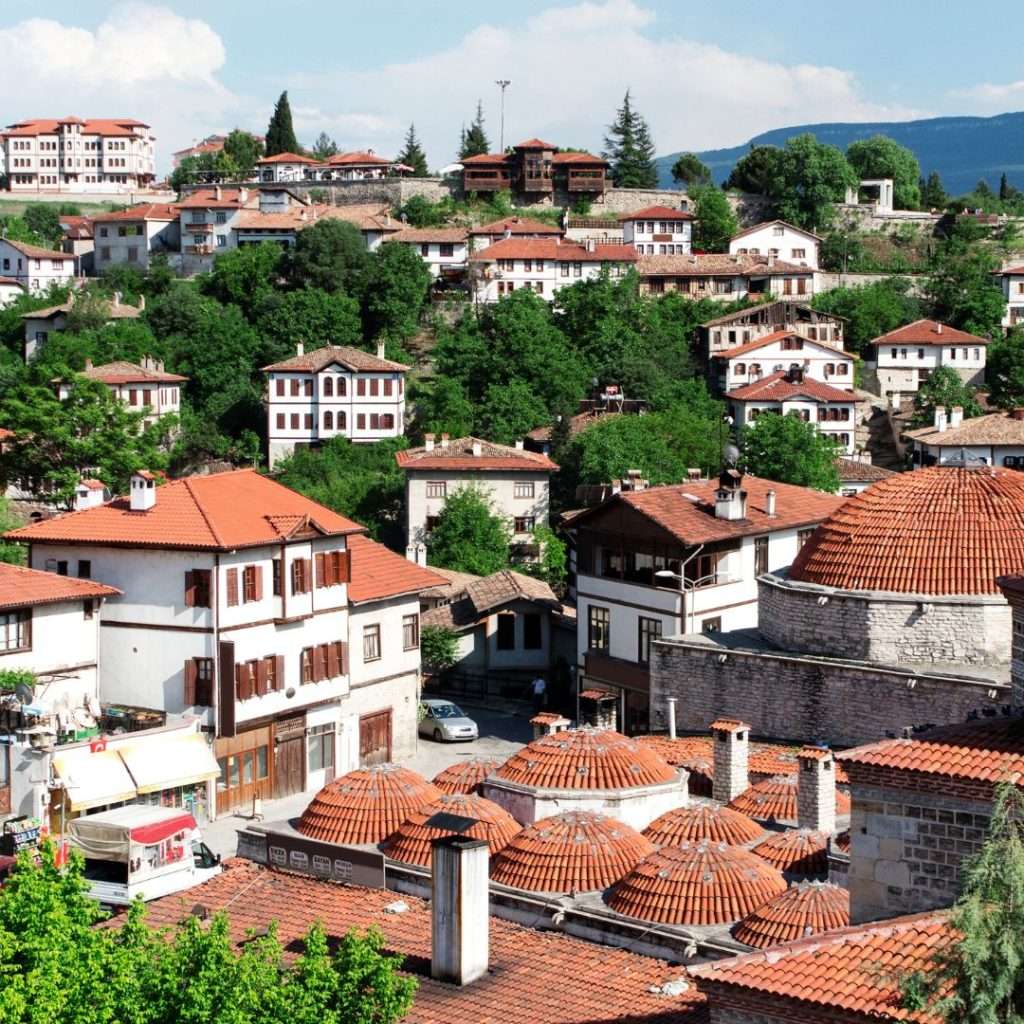 Uzungol – Serenity Amidst Nature
Prepare for a tranquil escape surrounded by awe-inspiring landscapes at Uzungol. Nestled amidst lush green hills and a picturesque lake, this place is the definition of serenity. Spend time at the heart of the town, Uzungol Lake, surrounded by stunning natural beauty. You can take a peaceful stroll along the lakeside or rent a boat to paddle on the calm waters. Explore the hiking trails around Uzungol, offering breathtaking views of the lake, the forests, and the mountains. Trails cater to various difficulty levels, making it accessible for different hikers. Visit the nearby Sera Lake for another serene and beautiful natural spot. The lake is less crowded than Uzungol and offers a peaceful atmosphere. Take a trip to the Gölyanı Plateau, where you can enjoy the splendid views of the surrounding landscapes and take part in outdoor activities like trekking or picnicking. explore the nearby town of Çaykara, which is home to beautiful natural attractions and traditional villages. You can learn more about the local way of life in this region.
Ideal stay: 3-4 days.
Best time to visit Trabzon: June to September
Kiyikoy – A Coastal Retreat of History
For history buffs craving a coastal escape, Kiyikoy is a hidden gem in Turkey's Black Sea Coast waiting to be discovered. Feel the charm of centuries-old ruins, Ottoman architecture, and narrow alleys whispering stories of the past. Explore the picturesque harbour area, watch local fishermen, and enjoy the calming atmosphere by the sea. It's a lovely spot to take leisurely walks. Visit the historical Kıyıköy Castle, which dates back to ancient times, and enjoy panoramic views of the town and the sea from the castle's vantage point. Explore the ruins of this Byzantine monastery, situated on a nearby island. You can take a boat tour to visit and learn about its historical significance. Relax and unwind at the town's beaches, soaking up the sun and enjoying the calm waters of the Black Sea.
Ideal stay: 2-3 days.
Best time to visit Trabzon: May to September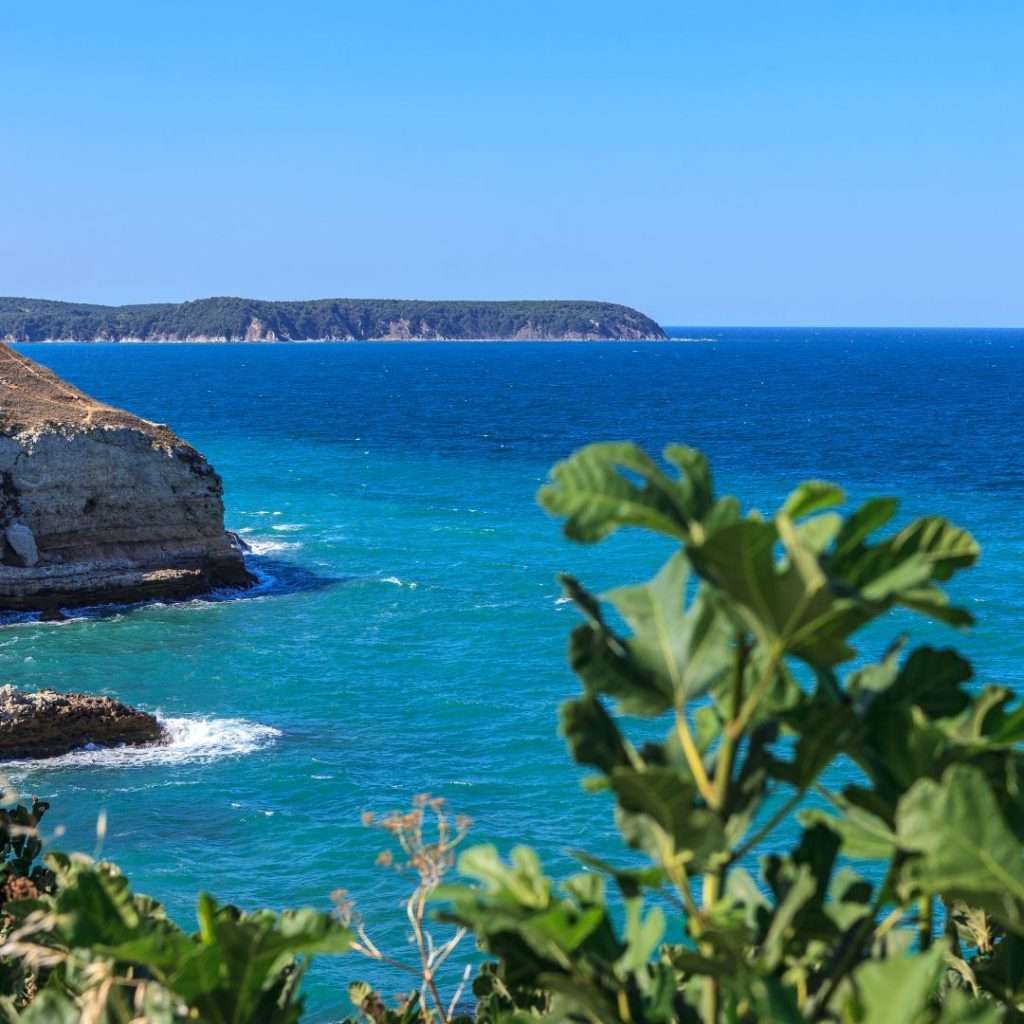 Gokcebey – Nature's Abode of Peace
Need a break from the hustle and bustle? Gokcebey is nature's sanctuary, where peace and quiet reign supreme. Visit the Gökçebey Dam and Lake, offering scenic views and opportunities for picnics, fishing, and enjoying the surrounding nature. Embrace the soothing ambience of dense forests, crystal-clear streams, and rolling hills. Explore the town's historical mosques and shrines, such as the Gökçebey Ulu Mosque, and learn about their architectural and cultural significance. Discover the natural beauty of the area by taking walks along designated trails or exploring the surrounding forests and landscapes.
Ideal stay: 2-3 days.
Best time to visit Trabzon: April to November
Inebolu – A Photographer's Dreamland
Calling all shutterbugs to Turkey's Black Sea Coast! Inebolu is a paradise for photography enthusiasts, where every frame is a masterpiece waiting to happen. Capture the essence of traditional Turkish life against a backdrop of stunning mountains and sea. Wander through the narrow streets, photograph charming wooden houses, and don't miss the breathtaking views from the hilltops. Visit the picturesque port area and stroll along the waterfront. Enjoy views of the Black Sea, watch local fishermen, and experience the coastal ambience. Relax at the town's beaches, like Cide-i Bala Beach, and enjoy swimming in the clear waters of the Black Sea.
Ideal stay: 2-3 days.
Best time to visit Trabzon: May to September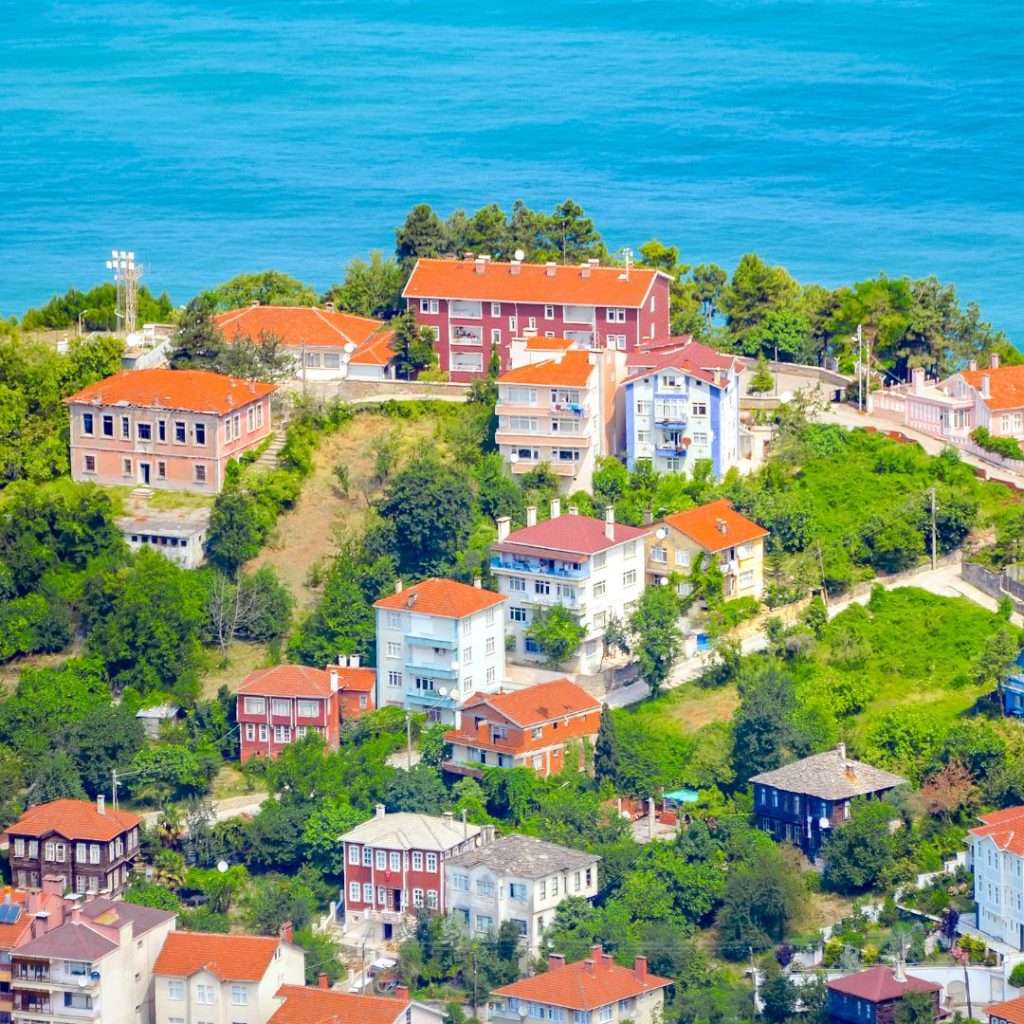 Akcakoca – A Coastal Escape of Tranquility
If you're yearning for the crown of Turkey's Black Sea Coast Akcakoca is the answer to your desires. This idyllic fishing town offers a serene escape from the city's chaos, with its relaxed vibe and peaceful beaches. Relax and enjoy the sandy beaches along the Black Sea coast. The town is known for its beautiful beaches, offering a range of water activities and sunbathing. Visit Süleyman Paşa Kervansaray a historical caravanserai, an ancient roadside inn used by merchants and travelers. It now serves as a cultural centre and occasionally hosts events. Explore the ruins of the historic Akcakoca Castle, which overlooks the town and provides panoramic views of the sea and the surrounding area. Take boat tours along the Black Sea coast or engage in activities such as fishing, jet-skiing, or water skiing.
Ideal stay: 2-3 days.
Best time to visit Trabzon: June to September
Planning a trip to Turkey? Read also
10 Best Places to Visit in Turkey, Beyond Istanbul
FAQs on Turkey's Black Sea Coast
What's so special about Turkey's Black Sea coast?
It's an unexplored gem of breathtaking beaches, lush mountains, and charming fishing villages, blending nature's beauty with rich history and culture.
When's the best time to visit?
Late spring to early autumn (May to September) ensures pleasant weather, vibrant landscapes, and optimal beach experiences.
Which towns should I not miss?
Trabzon for historical allure, Amasra for coastal charm, Safranbolu for Ottoman elegance, Rize for tea paradise, and Sinop for seaside delight.
Is the Black Sea coast suitable for adventure seekers?
Absolutely! Firtina Valley offers thrilling outdoor activities, and exploring nature's wonders in Rize and Artvin satisfies any adventurer's appetite.