Estimated reading time: 14 minutes
Are you ready for an adventure in Hanoi? This vibrant city has a lot to offer, from mouth-watering street food to stunning historical landmarks. And the best part? You can experience all of it on a budget! I bring to you the 10 things to do in Hanoi on a budget.
Get ready to explore the must-visit Hanoi attractions that won't break the bank. Wondering what to do in Hanoi? I've got you covered with our list of the top 10 Hanoi must-see sights that you just can't miss.
From the serene beauty of Hoan Kiem Lake to the fascinating history of Hoa Lo Prison, there are plenty of Hanoi things to see that will leave you in awe. Get ready to make the Hanoi itinerary of your dreams! Join me on a journey through this charming city and get ready to experience some of the most amazing things to do in Hanoi.
Hanoi free walking tour
If you are on a budget, the first thing to do in Hanoi is to look for a free walking tour. I feel a walking tour is the best way to explore any city. And to get to know the hidden gems from a local. Even if you aren't backpacking in Vietnam I urge you to take a walking tour.
Hanoi has a rich history and unique culture, and a walking tour lets you immerse in it. You'll have the opportunity to learn about the city's past, experience its present, and even get insider tips on where to find the best local food.
The best part? There are plenty of free walking tours in Hanoi, so you can save some money while still having a memorable experience. All the hostels I stayed in offered free tours. If you aren't sure which one to book, check with your hotel staff.
Every walking tour takes a different route. But, you can expect to see some of Hanoi's must-see attractions, such as the Temple of Literature, Ho Chi Minh Mausoleum, and the Hanoi Old Quarter. Your guide will also likely take you to hidden gems and local hotspots that you might not have discovered on your own.
If you're a foodie, be sure to look for a Hanoi food tour. These tours offer a delicious way to explore the city's culinary scene and try some of its most iconic dishes. Do mention your dietary restriction before signing up for a Hanoi food tour.
So lace up your walking shoes, join a tour, and get ready to discover the best of Hanoi!
Hoàn Kiếm
Hoàn Kiếm, also known as Turtle Lake, is a must-visit spot in Hanoi and one of the most popular attractions in the city. During my trip to Hanoi, I found myself coming here either for a quick stroll or a stop at night before heading back to the hostel.
Legend has it that a giant turtle stole a magical sword from a Vietnamese king and swam away to Turtle Lake, where the sword was returned to its rightful owner. The lake is named after this legend, which is an important part of Vietnamese folklore.
There are plenty of things to do in Hanoi around Hoàn Kiếm. Take a leisurely stroll around the lake and enjoy the tranquil scenery. You can also visit the Ngoc Son Temple, which is located on an island in the middle of the lake and is connected by a red bridge. The temple is dedicated to a legendary Vietnamese hero and is home to many beautiful artefacts.
Hoàn Kiếm Lake is one of the most popular Hanoi points of interest for locals and tourists alike. There are also many street vendors and food stalls around the lake, selling traditional Vietnamese snacks and drinks. You can also take a Hanoi free walking tour around the lake and learn more about its history and significance.
Visiting Hoàn Kiếm is a must-do on any Hanoi itinerary. It's a beautiful spot that combines history, legend, and natural beauty. And it costs absolutely nothing! So be sure to add it to your list of what to do in Hanoi.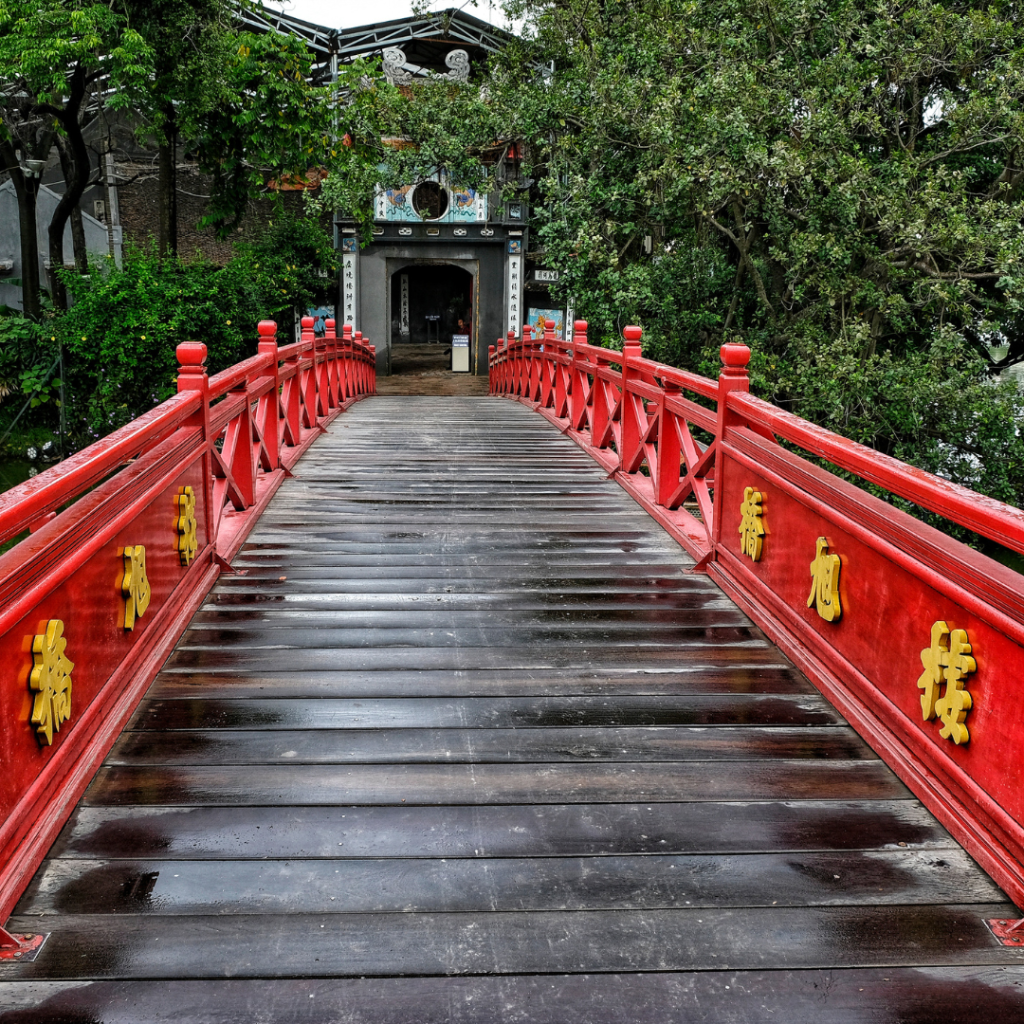 Water puppet show at Thang Long Theatre
If you're looking for Hanoi tourist attractions that offer a taste of the city's unique culture, the Water Puppet Show at Thang Long Theatre should definitely be on your list of things to do in Hanoi. This traditional art form has been a must-see for tourists and locals alike for generations, and it's not hard to see why.
The show takes place on a small pool of water, with the puppeteers manipulating the puppets from behind a screen. The puppets are made of wood and are incredibly detailed, with intricate carvings and brightly coloured paints. The stories are typically based on local legends and folklore, and the accompanying music and singing are performed live.
The Thang Long Theatre is one of the best places to catch a water puppet show in Hanoi, and it's conveniently located in the city centre. The shows are held several times a day, and tickets are affordable and can be bought on the spot. Make sure to arrive early to get the best seats, as the theatre can fill up quickly.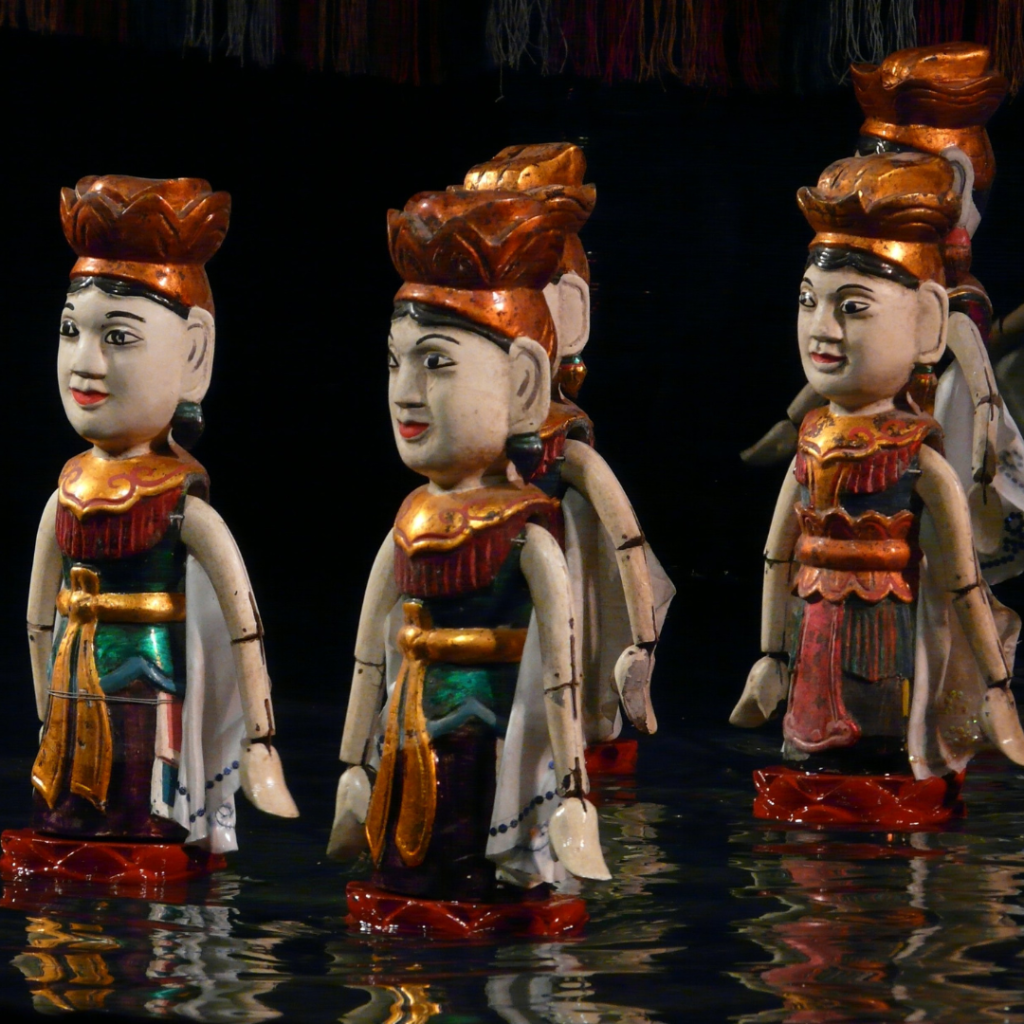 Dong Xuan market
Looking for an authentic shopping experience in Hanoi? Look no further than Dong Xuan Market! This bustling market is the largest indoor market in the city and offers visitors a taste of local life.
Located in the heart of the Old Quarter, Dong Xuan Market has been a Hanoi institution since it was built in 1889. Here, you can find a wide variety of goods, including fresh produce, clothing, souvenirs, and electronics, all at reasonable prices.
Navigating the market can be a bit overwhelming at first, with narrow aisles and vendors calling out to potential customers. But with a bit of patience and a spirit of adventure, visitors can uncover hidden gems and unique finds. Don't be afraid to bargain with the vendors – it's all part of the experience!
Apart from shopping, Dong Xuan Market is also a great spot to sample some of Hanoi's famous street food. Local specialities like bun cha (grilled pork with noodles) and banh mi (Vietnamese sandwich) can be found here, along with a variety of other dishes.
A visit to Dong Xuan Market is a must for anyone looking to experience the hustle and bustle of Hanoi. It's a true taste of local life and a great opportunity to pick up some unique souvenirs to take home with you. So why not add it to your list of things to do in Hanoi?
Vietnamese coffee and Bia hoi
Looking for something unique to do in Hanoi? Why not try the local speciality – bia hoi, or Vietnamese coffee?
Bia hoi is a type of light beer that is brewed daily and sold in small streetside establishments called bia hoi corners. It's a popular after-work spot for locals to gather and enjoy a cold glass of beer in the heat of the day. And the best part? It's incredibly cheap – a glass of bia hoi usually costs less than a dollar. So, pull up a plastic chair, order a cold one, and soak in the local atmosphere.
For those who prefer something a bit stronger, Vietnamese coffee is a must-try. Known for its rich, bold flavour and strong caffeine kick, it's usually brewed with a traditional metal filter and served with sweetened condensed milk. And if you're feeling adventurous, try egg coffee – a unique Hanoi speciality that blends egg yolk and condensed milk with strong coffee for a creamy, decadent treat.
Both bia hoi and Vietnamese coffee is quintessential Hanoi experiences that you won't want to miss. So, add them to your list of things to do in Hanoi and experience the local flavours for yourself.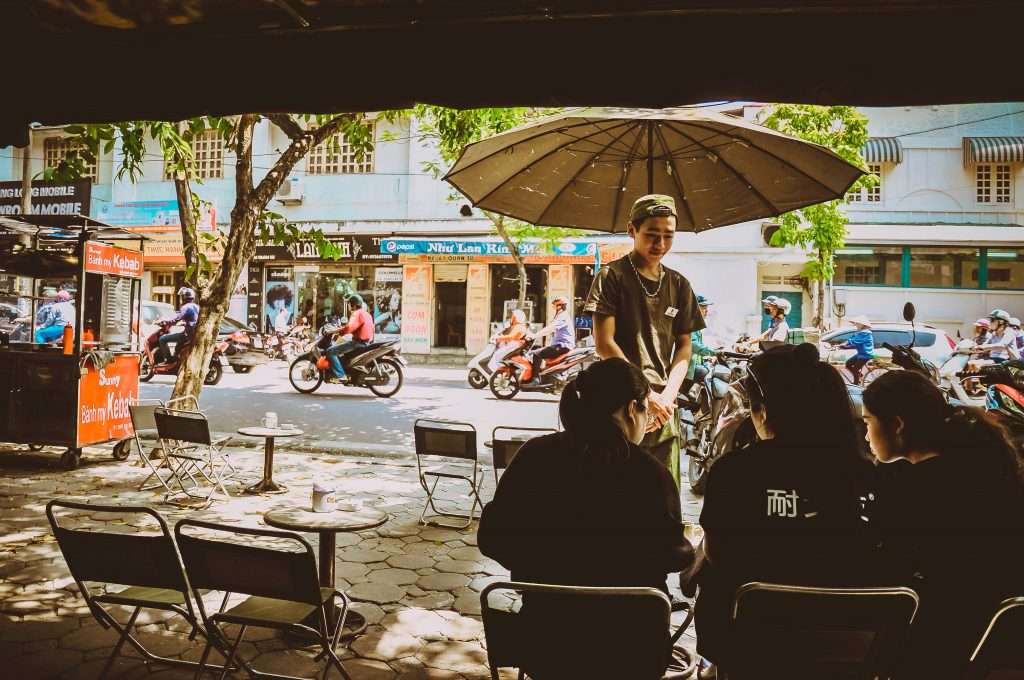 Train street Hanoi
Train Street is a narrow alley located in the Old Quarter of Hanoi, where a train passes through twice a day. It has become one of the most popular destinations in Hanoi. After some videos went viral on Instagram.
Walking down Train Street, you can feel the rush of adrenaline as you wait for the train to pass by. The buildings on either side of the track are so close that you can almost touch them. As the train approaches, the sound of the horn echoes through the alley, and you can feel the ground shaking beneath your feet. It's an experience unlike any other.
The best time to visit Train Street is in the late afternoon when the sun is setting and the lighting is perfect for capturing the moment on camera. You can also sit at one of the many cafes along the street and enjoy a cold beer while waiting for the train to pass.
However, it's important to note that Train Street has become a victim of its own success, and local authorities have restricted access to the area in order to ensure safety. Nevertheless, there are still ways to experience this unique attraction, and it's definitely worth adding to your list of things to do in Hanoi.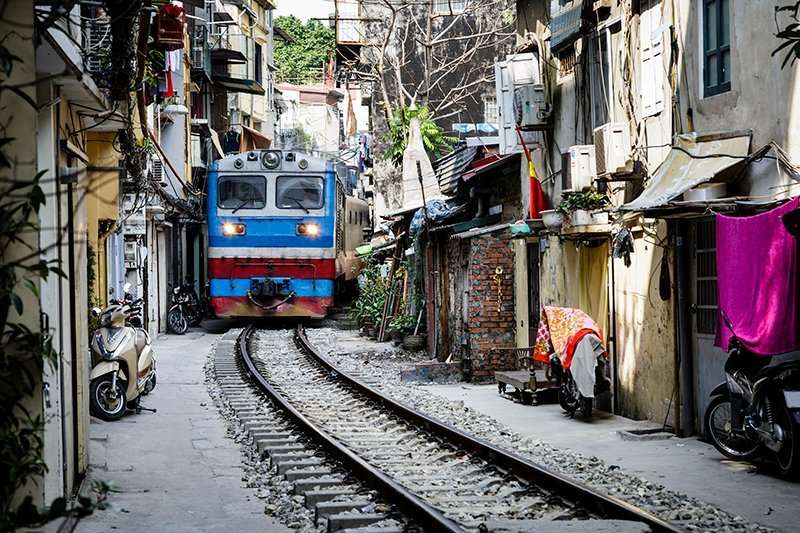 Hanoi weekend night market
Head over to the Hanoi Weekend Night Market, where the streets come alive with colourful stalls and vibrant energy that is sure to leave you feeling invigorated.
Located in the heart of the city's Old Quarter, this bustling night market is the perfect place to explore and discover local treasures. From traditional handicrafts to trendy streetwear, there's something for everyone here.
Make sure to bring your appetite too, as the food stalls are a major highlight of the market. Sample local delicacies like banh mi, pho, and spring rolls, or try out more exotic treats like grilled snails and fried quail eggs.
The market is open every Friday, Saturday, and Sunday evening, and is a popular spot for both locals and tourists alike. So grab your friends and soak up the lively atmosphere as you shop, eat, and experience the best of Hanoi's weekend nightlife.
If you're looking for things to do in Hanoi or searching for what to do in Hanoi, the Hanoi Weekend Night Market is a must-see attraction that should definitely be on your list. So don't miss out on this unique and exciting cultural experience!
Vietnamese cooking class
Looking to experience the local culture in Hanoi? Why not try a Vietnamese cooking class? Not only will you learn how to whip up delicious dishes, but you'll also get a glimpse into the culinary traditions of Vietnam.
There are plenty of cooking classes available in Hanoi, ranging from beginner-level classes to more advanced courses for experienced cooks. Many classes even include a trip to the local market to pick out fresh ingredients, giving you the chance to learn more about the different types of the produce used in Vietnamese cuisine.
During the class, you'll learn how to make classic Vietnamese dishes like pho, banh mi, and spring rolls, as well as other lesser-known specialities. You'll also learn about the key ingredients used in Vietnamese cooking, such as fish sauce, rice noodles, and fresh herbs.
The best part? Once you've finished cooking, you get to sit down and enjoy your meal with your fellow classmates. It's a great way to meet new people and share in the joy of delicious food.
So, whether you're a foodie or just looking for a unique experience in Hanoi, a Vietnamese cooking class is definitely worth checking out. Who knows, you might even pick up a new hobby!
Day trip to Ha long bay
Are you ready for an adventure outside of Hanoi? Look no further than a day trip to Ha Long Bay, a UNESCO World Heritage site known for its stunning natural beauty. If you aren't on a tight budget you can choose to stay overnight at Ha Long Bay.
Hop on a boat and cruise through the emerald waters, surrounded by towering limestone cliffs and hidden caves. Take in the fresh sea breeze and marvel at the unique rock formations that jut out from the water.
But the fun doesn't stop there. You can also go kayaking to explore the bay's hidden nooks and crannies. Or, for a more relaxed activity, try your hand at squid fishing as the sun sets. And let's not forget about the delicious local food. While the area is known for its seafood if you tell in advance the tours can provide vegan or vegetarian options.
A day trip to Ha Long Bay is a perfect break from the hustle and bustle of Hanoi. So why not add it to your list of things to do in Hanoi and make it a part of your Hanoi day trip itinerary? You won't be disappointed!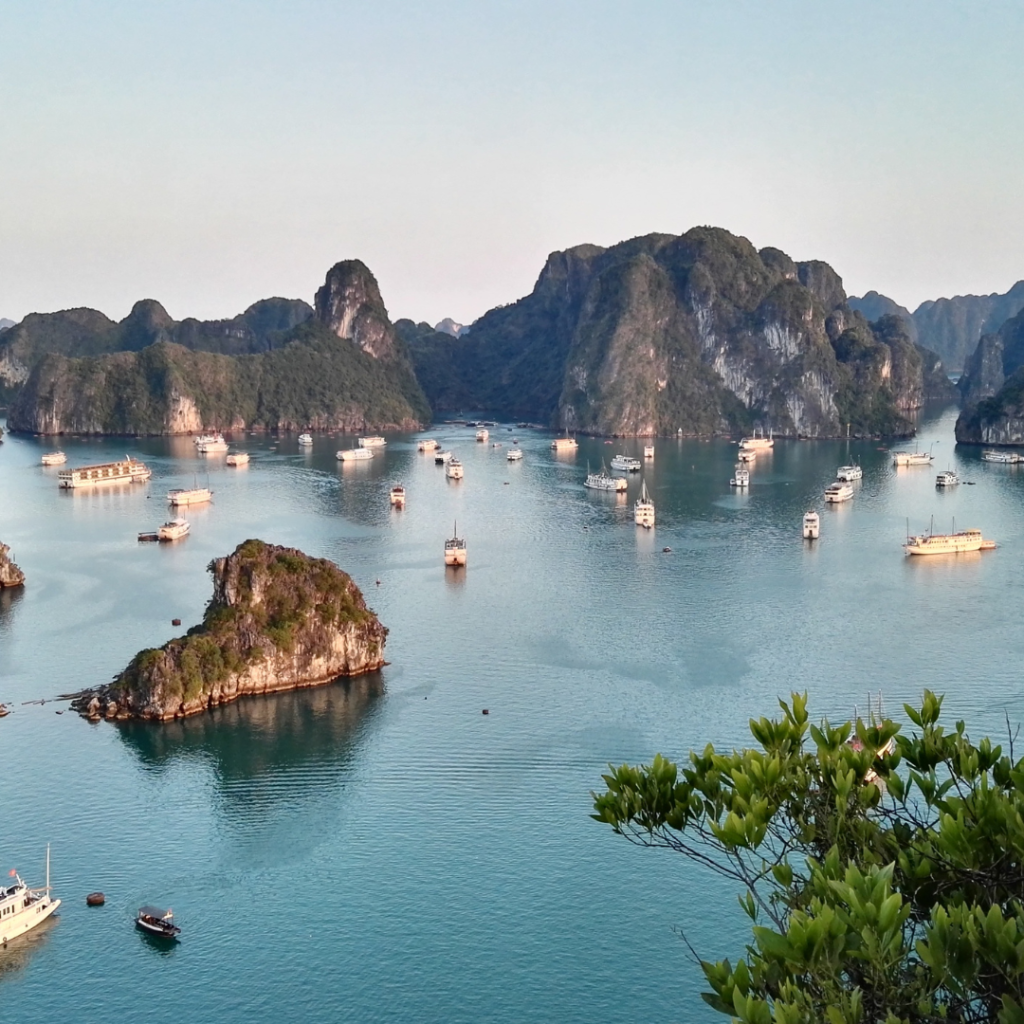 Quang Phu Cau Incense Village
Are you in the mood for a sensory journey? Look no further than the Quang Phu Cau Incense Village! This unique and delightful attraction is a must-see for any traveller looking to explore the cultural gems of Hanoi. With its rich history and beautiful craftsmanship, this village is a feast for the senses.
To get there, take a taxi or hop on a motorbike and head towards the southwest of Hanoi. It's about a 30-minute ride, but trust us, it's worth it. As you approach the village, the sweet and spicy aroma of incense will fill the air, and you'll know you've arrived at the right place.
Stroll around the village and watch as skilled artisans create intricate incense sticks by hand. You'll have the opportunity to try your hand at making your own incense sticks, and even bring home a few as souvenirs. Make sure to sample some of the local snacks and tea while you're there.
Visit to Quang Phu Cau Incense Village is a unique and memorable experience that you won't want to miss. So come and explore this charming village and let your senses be delighted.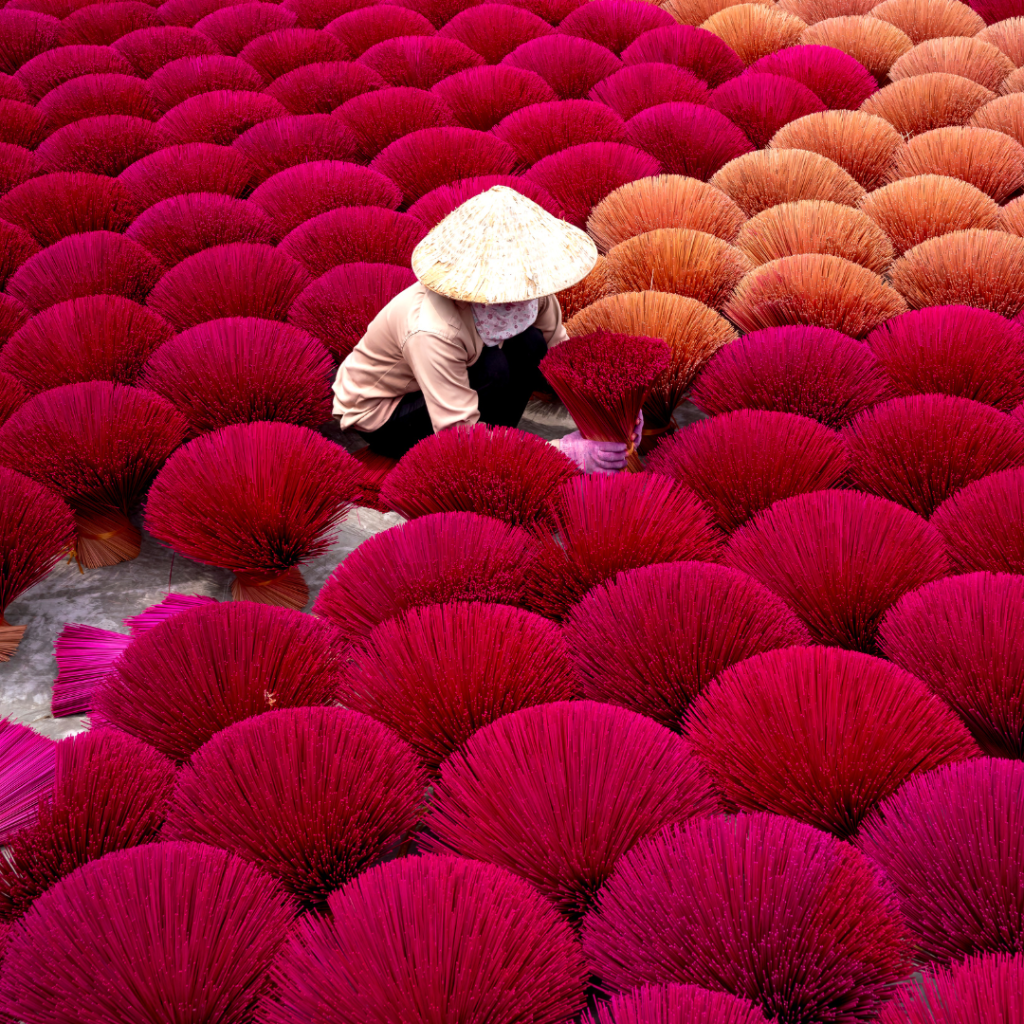 Pin 10 things to do in Hanoi on a Budget
We've come to the end of our journey through Hanoi's top attractions! I hope you enjoyed learning about the 10 things to do in Hanoi on a budget. Whether you're wandering the narrow streets of the Old Quarter, sipping bia hoi on a busy corner, or marvelling at the centuries-old Temple of Literature, Hanoi has a little something for everyone.
So next time you find yourself in Vietnam's capital city, make sure to add these experiences to your itinerary. And who knows, maybe you'll discover a few hidden gems of your own along the way! Until then, happy travels and keep exploring!