Estimated reading time: 9 minutes
The travel and tourism industry is one of the most significant contributors to the global economy with a record of 2.9 trillion USD in 2019, and it is only here to grow. With every travel enthusiast seeking to hop on their next big adventure right from swimming with sharks in South Africa to trekking the highest points of the Himalayas, the wander bug-bitten heart yearns for more and more. As they say, everything comes with a price. But who pays the price in case of travel? The answer is, we all do! Yes as the number of travellers grows, so does mindless travelling. Most of us travellers aren't aware of our responsibility as a traveller. Now you must be thinking "Of course I do! I am supposed to have fun while on vacation." You sure have to have fun, but responsibly. As we grow as a traveller, we should also grow to become responsible travellers.
Before I jump on how to be a responsible traveller, I am going to take this space to further explain what I mean by responsible travel.
What does it mean to be a Responsible Traveller?
You must have heard of the latest buzzwords in the travel sector: Ethical Travel, Sustainable Travel, and Responsible Travel. They all are necessarily the same. They all will probe you to ask yourself:
When was the last time I packed my suitcase keeping environmental issues in mind? Perhaps researched the culture of the country that I am visiting? Evaluated all the options to stay and thought beyond that 5-star hotel chain. And more!
A responsible traveller is someone mindful of the effects of his/her travels on the destination – both positive and negative effects.
Now a responsible holiday is no different from your usual holiday. It gives you the thrill, adventure, rest and rejuvenation – and everything else you seek from your travel plans. Along with the contentment that your intentions have had a minimal ill effect on the world
It also doesn't require you to make drastic changes, or the need to change the way you planned to experience the country. If anything, it enriches your experience and also gives back to the world.
10 Incredibly easy ways to Be a Responsible Traveller
When you take a responsible holiday, you make sure that your carbon footprint is reduced. You respect the sentiments of the local community and give back to them instead of giving more to big multinationals. Responsible travel ensures we create sustainable places to live and visit.
I agree this appears to be a daunting task at first, I mean to change the way we perceived our holiday! But, take baby steps! You don't really have to change everything about the way you travel. I have tried to make a comprehensive list of easy ways to be a responsible traveller.
Pack a green backpack:
As the name suggests, think green! Carry reusable alternatives for every single-use plastic item. I always carry a bamboo straw with me, to make sure I don't keep using plastic straws where ever I go. Another classic example is the number of plastic water bottles that we add to the ocean dump! On my trip to Sri Lanka, I ended up purchasing a total of 45 bottles! This was an eye-opener for me, after which I started carrying a water filter bottle everywhere. Another essential item is a reusable cloth bag; they are a great alternative to plastic bags that most shopkeepers give. Here are some incredibly easy tips for creating your travel checklist!
Minimise your waste
In today's world, we consume mindlessly and waste even more! Most of your travel waste can be minimised by merely packing green (see point 1). If you use hotel toiletries, you will end up wasting a ton of tiny plastic bottles. In most cases, they aren't reused! Carry your own toiletries instead of using the ones available in the hotel. At all costs avoid buying shampoo/soap pouches, these items are never recycled and end up polluting our ocean. When travelling I never take out, for starters, the best way to experience a country is to eat local! Take in the entire experience by eating out! And, this creates one less plastic container in the ocean bed.
Study the culture of the destination
Respect the cultural sentiments and the traditions of the country you are visiting. Always research the destination thoroughly. Be wary of the right dress code and the right body language, the last thing you'd want to do is offend a local unknowingly. Learn a few phrases in their language, it always puts a smile on their face to see the tourists try!
Be respectable to Animals.
Not just when you travel, but you should be respectful to animals every single day! It saddens me to see how animals have been used as a form of entertainment. This has only increased as the travel industry booms! Almost every country has exploited animals and continues to use them as a tourist trap. The tiger temple in Thailand, swimming with the whale sharks in the Philippines, riding elephants in India and the Luwak coffee in Indonesia. These are only a few activities, but the world is filled with so many more! Always do your research well before throwing money at such inhumane acts.
Also, you must know just because religion/culture promotes animal cruelty doesn't mean you indulge in such sadistic acts! Be mindful of your actions.
Stay local
Most of us seldom look beyond famous hotel chains. But with just a little bit of research, you will find there are a bunch of other accommodation options. And in most cases, they provide a far more enriching experience than your average hotel chain. When booking your next vacation, look for a homestay or bread and breakfast, this way you will pay the local community instead of funding the ultra-rich hotel chains.
Moreover, homestay is such a beautiful experience, they let you in their homes and trust you as their own! You won't be able to see a destination as wholly as this. Several hostels work towards the development of local communities, arts and employee locals. Staying at such hostels will indirectly benefit the community. Now isn't that a great bargain? You get an enriching experience and also give back to the community!
Eat Local
Just like staying with the local community is an enriching experience, so is eating local food. In my opinion, one has never truly experienced a foreign land until he/she has tried local food. Also, western food is in most cases, either fast food or expensive or both! Now, why would you want to pay extra for something that is unhealthy? Also, if you are someone who carries their own food, eating local will lighten your luggage and even brighten your experience – take my word for it! By eating local food, you will help fund the locals and indirectly give them an avenue to earn an extra income.
Bunos! If you eat locally, it also reduces your carbon footprint. As you will not be feeding the transport of frozen goods to chains like McDonald'sMcDonald's, BurgerKings etc.
I understand some of you may have special dietary needs. I turned vegetarian and am now a vegan. But I have never had any issues finding vegetarian/vegan food in any country that I travelled to. With the growing demand, most places have a separate vegetarian/vegan menu. Also, I have politely asked local street food vendors to try and make a vegetarian version for me. Till now, each of them has presented me with the best local dish!
Prepare your home
While you are away, you may unknowingly waste energy and resources back home. The basic is to unplug all the devices that aren't in use. In case you are going on an extended holiday, do empty your fridge to save power. Cancel or pause your newspaper subscription since you are anyway not going to read an old newspaper, why waste the resources right?
Shop Local
This is my second favourite way of being a responsible traveller. The first is – to eat locally (point 5). The reason it is my favourite is that it pushed me to look beyond the airport souvenir stores! And oh boy, I have found some gems of a souvenir.
Look for a locally owned crafts shop for some unique gift ideas. After all, why would you take home the same old, always made in China, a souvenir that everyone else is? I generally visit local flea markets, and art and craft shops to find these gems. The front desk of the hostel or your host from the homestay is the best place to find these shops. Just by doing this, you will cut down on your carbon footprint, support the local economy and have a positive impact on the planet.
Responsible Tour Company
An increase in tourism has seen an increase in tour operators. And with the growing need to support our planet, a number of these tour operators are working towards sustainable travel. They either provide employment opportunities to the locals or promote a local business or simply contribute a part of their funds to the development of the local communities and the destination in general. A simple Google search will give you a list of responsible tour companies to choose from.
Bonus tip: Educate others!
This is the most underrated and yet the most important of them all! Once you are aware that your actions have consequences -both positive and negative. You start taking decisions mindfully, but it shouldn't stop there. Now the onus is on you to share your learning and tips with the rest of the world. So that we all be responsible travellers one traveller at a time! You can start by sharing this easy guide on how to be a responsible traveller.
In the past, we have seen the effects of global warming. Distressed wildlife due to deforestation, developing economies not being very well benefited by more prominent players, increasing pollution and drastic impact on some of the world's magnificent sites due to high inflow of irresponsible tourists. It is the need of the hour to travel more responsibly, together let us pledge to make this world a better place one country at a time. Share this badge on your social media, if you are a responsible traveller or are ready to take steps towards it!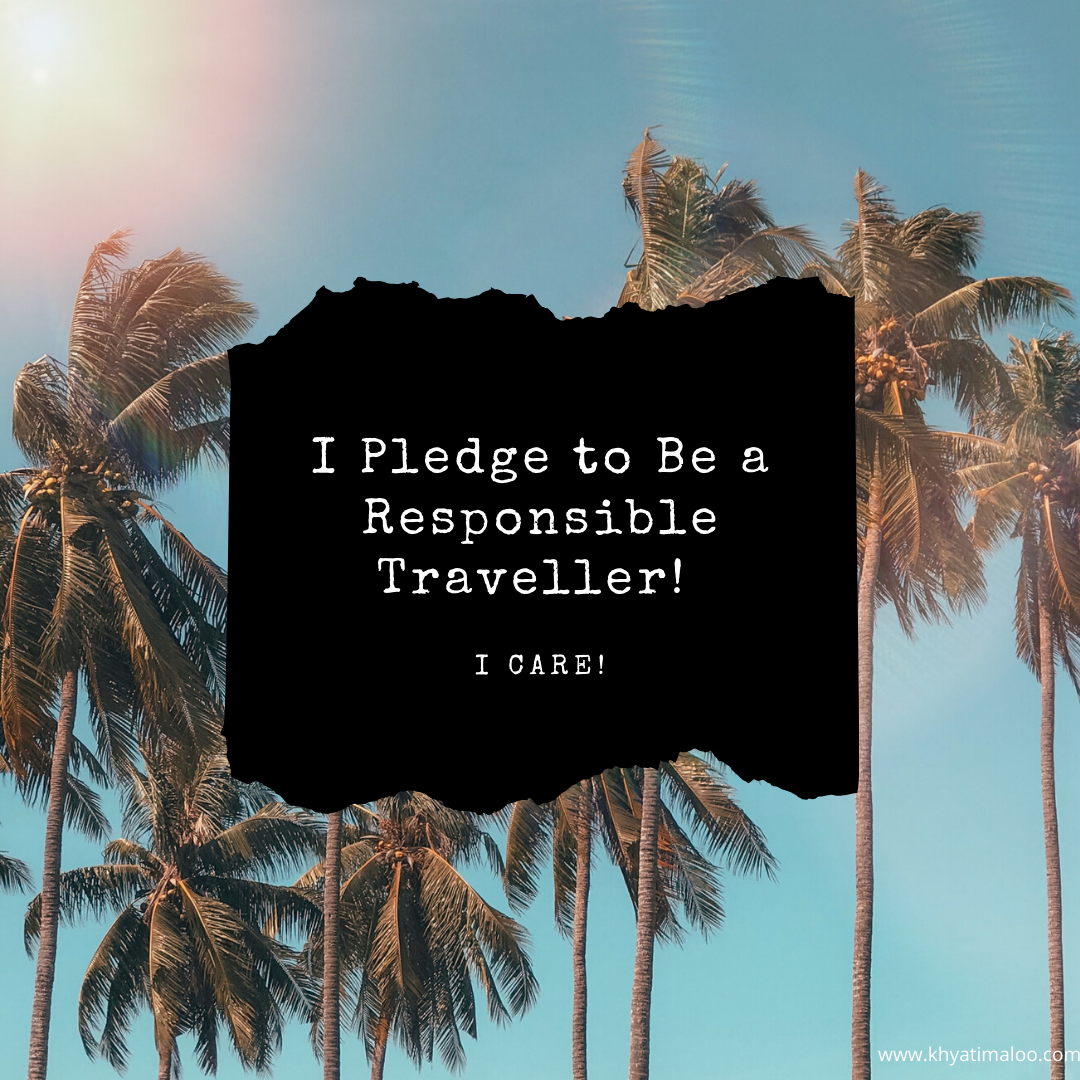 Here is another bonus tip on how to travel more and save money at the same time!
Comment below and share some more ways in which one can be a responsible traveller!
Pin this Responsible Traveller Guide!