Estimated reading time: 12 minutes
Those of you who know me, know that I fell in love with Prague. Right from the cobbled bath to the breathtaking architecture. All that beer and cherry on the cake? Prague is a paradise for vegans and vegetarians! You will easily find vegan restaurants in Prague serving delicious Czech cuisine.
In this vegan food guide to Prague, I'll share my favourite vegan restaurants in Prague. Needless to say, all these are great options in case you are looking for vegetarian restaurants in Prague, as well.
What is the vegetarian food scene like in Prague?
Are you curious about what the vegetarian food scene is like in Prague? Well, you're in for a treat! Prague has plenty of vegetarian restaurants Prague and vegan restaurants Prague that are just waiting to be discovered.
If you're a vegetarian or vegan, then you'll be happy to know that Prague has a diverse range of vegetarian food Prague and vegan food Prague options. You'll be able to try out everything from tasty tofu dishes to delicious plant-based burgers.
In the blog, I'll talk more about the vegan food tours in Prague and where to find the best vegan pizza in Prague! Read on to find out more about Vegetarian restaurants in Prague.
What are the best Vegan restaurants in Prague?
Loving Hut
This cozy little eatery offers a variety of vegan dishes that will tantalize your taste buds. What sets Loving Hut apart is that they are part of a worldwide chain of vegan restaurants. Their mission is to serve healthy vegan food to people around the world, and they've been doing a great job at it for over a decade.
At Loving Hut, you can indulge in vegan versions of classic comfort foods like burgers, hot dogs, and fries. Or, you can opt for a lighter option like a refreshing salad or a tasty soup. They also have a great selection of desserts like cakes and muffins, all of which are vegan-friendly.
The atmosphere at Loving Hut is warm and inviting, making it the perfect spot for a casual lunch or dinner with friends. So, if you're looking for a guilt-free and tasty meal, head over to Loving Hut and join the vegan revolution!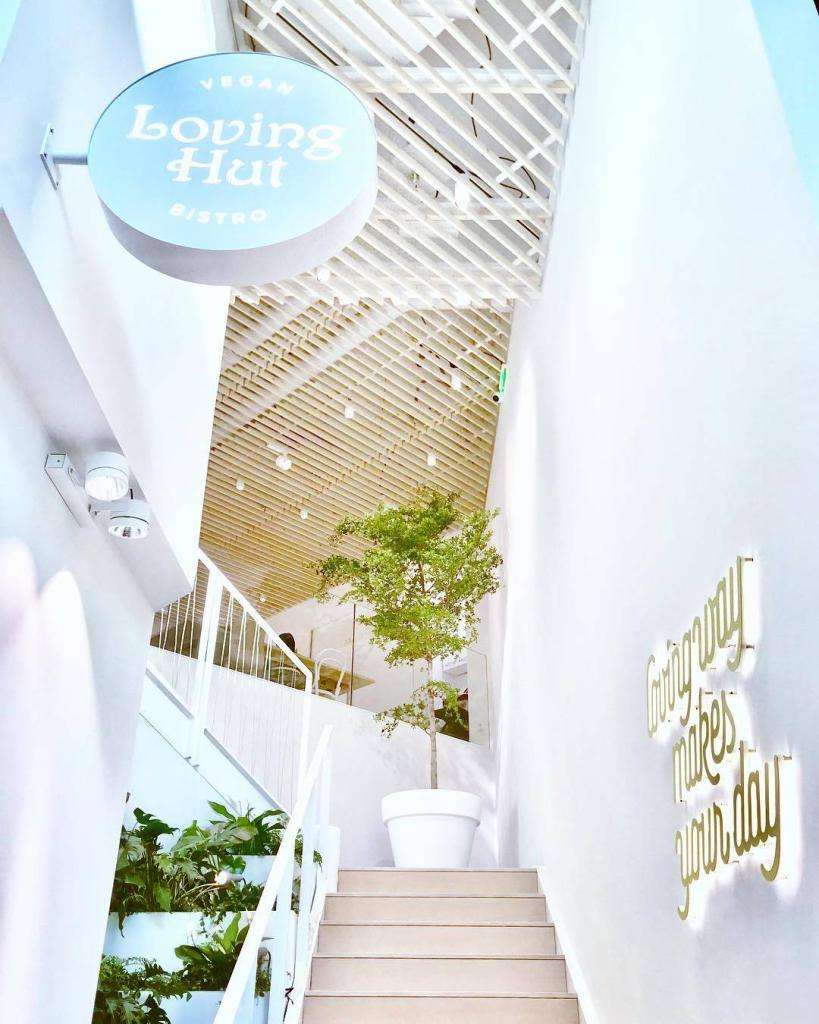 Linh's Vegan Corner
If you're in Prague and craving some Vietnamese-inspired vegan food, Linh's Vegan Corner is the place to be. This cozy little eatery is tucked away on a quiet street and offers an impressive selection of dishes. From spring rolls and pho to noodle bowls and banh mi sandwiches, there's something for everyone.
The menu is 100% vegan, so you don't have to worry about any hidden animal products. And the prices are very reasonable, so you won't break the bank either. One thing to note is that the seating area is limited, so you might have to wait for a table during peak hours.
Palo Verde
Palo Verde Vegan Restaurant in Prague is a must-visit spot for all the vegan foodies out there. This restaurant offers an extensive menu of homemade pasta dishes, delicious desserts, and more. Everything on their menu is 100% vegan and free of any animal products.
If you're in the mood for something sweet, try their famous waffles or one of their homemade cakes. For dinner, they offer an amazing selection of fresh pasta dishes such as Beyond Beef ravioli and bolognese lasagna. Don't forget to try their tapas plate for two, which comes with an assortment of delicious bites like arancini, chickn poppers, Spanish crouquettes sin jamon, hummus, olives, and bread.
With a beautiful garden at the back perfect for outdoor dining on a sunny day. Plus, their coffee and tea selection is top-notch, making it the perfect spot for a midday break or a catch-up with friends.
Forrest Bistro
Looking for a unique vegan dining experience in Prague? Look no further than Forrest Bistro! This quirky restaurant combines delicious vegan cuisine with a whimsical forest theme, complete with hanging vines and a treehouse seating area.
Forrest Bistro's menu features a range of vegan dishes, including burgers, wraps, salads, and soups. One must-try item is their vegan chicken nuggets – crispy on the outside, tender on the inside, and bursting with flavor. Another standout dish is their signature Forrest Burger, made with a juicy vegan patty and topped with mushrooms, caramelized onions, vegan cheddar, and a special Forrest sauce.
But it's not just the food that makes Forrest Bistro special – the atmosphere is truly one-of-a-kind. With its lush greenery and fairy lights, the restaurant feels like a magical woodland hideaway in the heart of the city. So next time you're in Prague and craving some vegan comfort food, head to Forrest Bistro and immerse yourself in a forest wonderland.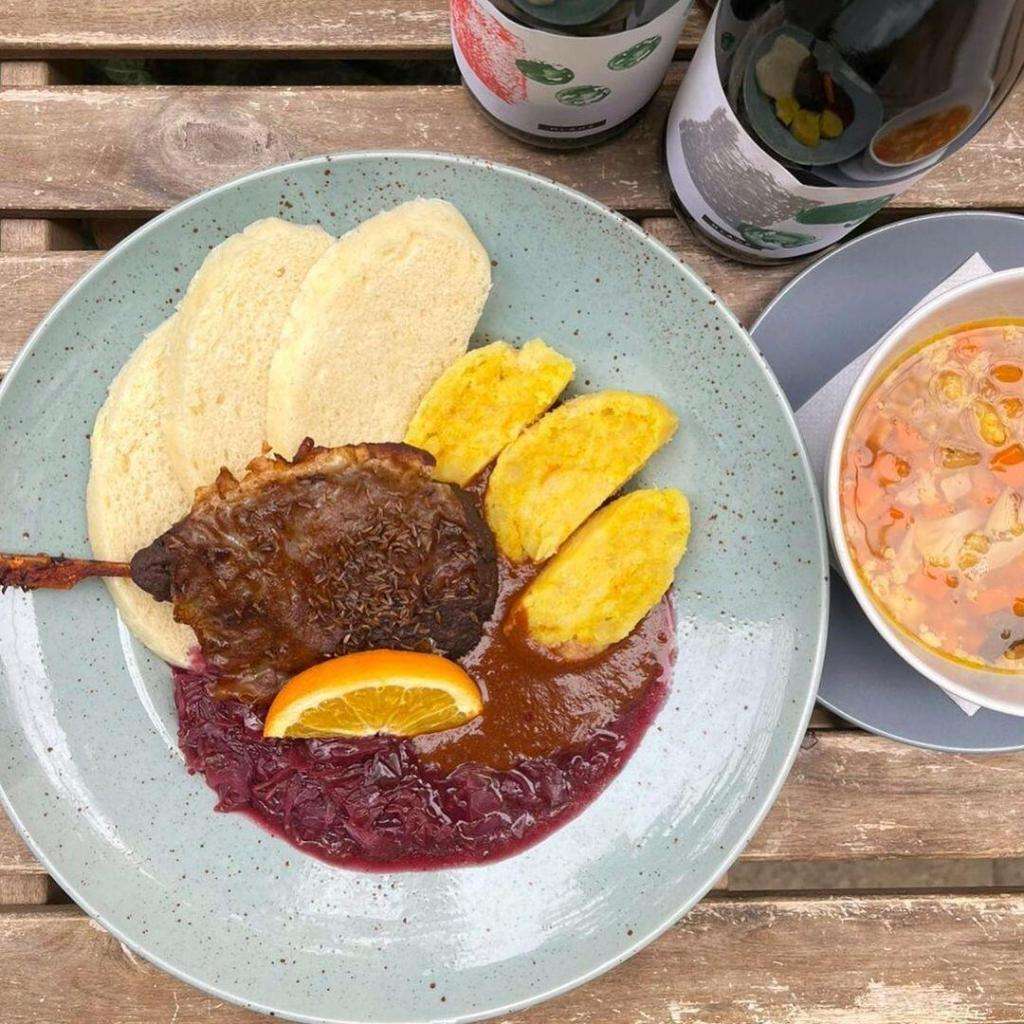 Plevel
Plevel is a vegan restaurant in the heart of Prague that offers delicious and healthy plant-based dishes. The restaurant prides itself on using fresh and locally sourced ingredients to create its menu. One of the must-try dishes at Plevel is their lentil burger, which comes with homemade ketchup, vegan mayo, and roasted potatoes on the side. It's a hearty and satisfying option that will leave you feeling full and energized. Another popular dish is the vegan "chicken" schnitzel, made with seitan and served with mashed potatoes and a refreshing cucumber salad. Plevel makes for the perfect spot for a relaxing lunch or dinner with friends.
You may also like to read:
Moment
Moment is a 100% vegan restaurant. Yep, you read that right. So whether you're vegan, vegetarian, or just looking for some tasty plant-based options, this place has got you covered.
Now let's talk about the food. They have an impressive menu with plenty of options to choose from. Their starters include things like the "Moment Plate" with veggie pâté, hummus, olives, and more. And don't even get me started on their mains. From the "Spicy Cabbage and Seitan Stir Fry" to the "Baked Sweet Potato with Quinoa and Chickpeas," everything is bursting with flavor.
Oh, and did I mention that they have a daily lunch menu? That's right, you can get a main dish and soup for a pretty reasonable price. And if you're in the mood for something sweet, their desserts are pretty drool-worthy too.
The vibe of the restaurant is super chill and cozy, with a cute little terrace where you can enjoy your meal al fresco. The staff is friendly and knowledgeable, and they're always happy to give recommendations or answer any questions you might have.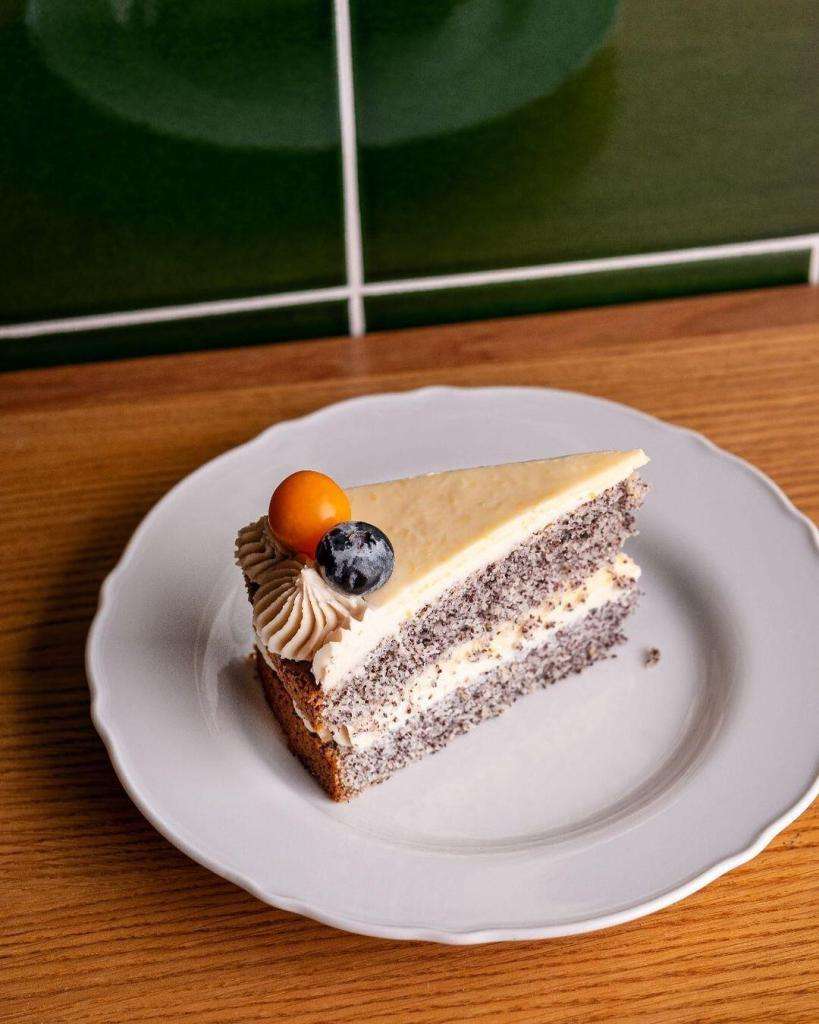 Maitrea
Maitrea is a vegan restaurant in Prague that is sure to knock your socks off (in the best way possible). As soon as you walk in, you'll be greeted by the warm and welcoming atmosphere, complete with colorful decor and friendly staff. But the real star of the show is the food.
Their menu features an eclectic mix of vegan dishes that will leave your taste buds dancing with joy. Start off with their delicious vegan sushi or homemade hummus with crispy flatbread. For the main course, try the Thai green curry or the gluten-free gnocchi with mushroom sauce. And don't forget about dessert – their vegan cheesecake is to die for.
Maitrea is the perfect spot for a romantic date night or a fun dinner with friends. And if you're feeling adventurous, check out their weekly live music events or sign up for a yoga class in their studio upstairs.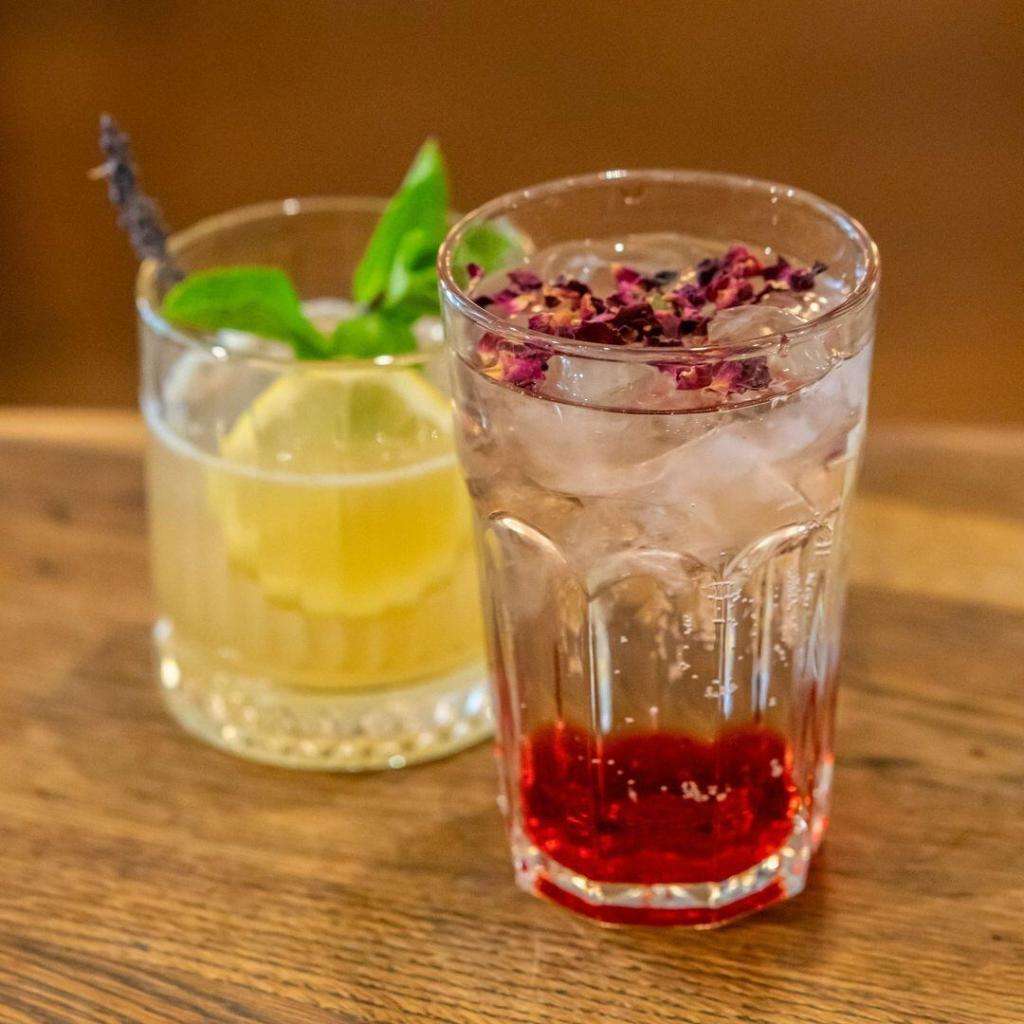 What vegan street food options are available in Prague?
Sometimes after a long day of walking, all I need is a quick snack to fuel me. I was surprised to see a few vegan street food options in Prague. Here's a list of what I found, along with the cost of vegan street food in Prague:
Trdelnik – a traditional Czech pastry that can easily be made vegan. You can find them at street vendors all over the city, and they come in a variety of flavors like cinnamon sugar, chocolate, and even savory options like vegan cheese and pesto. Average cost: 60 CZK.
Chlebicek – an open-faced sandwich that can be easily customized with vegan toppings like avocado, grilled veggies, and hummus. You can find these at street food stalls throughout Prague, and they make for a quick and delicious lunch or snack. Average cost: 50-70 CZK.
Falafel – served in a pita or wrap with hummus, veggies, and a variety of sauces, falafel is a filling and flavorful option that's perfect for when you're on the go. You can find falafel stands all over the city, and prices typically range from 70-120 CZK.
Langos – a deep-fried dough topped with garlic, cheese, and other savoury toppings. While traditionally made with dairy products, it's possible to find vegan versions of this street food favourite in Prague. Average cost: 60-80 CZK.
Vegan burgers – there are several food trucks and stalls that offer vegan burgers made with plant-based patties, veggies, and a variety of toppings. Average cost: 100-150 CZK.
Vegan hot dogs – another classic street food item that can be made vegan, hot dogs are often served with toppings like sauerkraut, onions, and mustard. You can find them at various food stalls and trucks around the city, with prices typically ranging from 60-100 CZK.
What vegan bakeries are there in Prague?
Get your sweet tooth ready because Prague has some of the best vegan bakeries in town! Here are five vegan bakeries you must visit when in Prague:
Puro Gelato & Caffè: Famous for its vegan gelato, this bakery also serves delicious vegan cakes, croissants, and muffins. Average cost: 60-100 CZK.
Mamacoffee: Known for its Fair Trade coffee and vegan pastries, Mamacoffee is a cosy spot for a coffee break. Try their vegan cinnamon rolls or lemon poppy seed muffins. Average cost: 40-70 CZK.
Sweet Secret of Raw: For those who love raw and gluten-free desserts, this bakery is a must-visit. Their vegan cheesecake and raw brownies are heavenly. Average cost: 100-150 CZK.
Kavárna Liberál: A bookstore and café in one, Kavárna Liberál also serves vegan desserts like their famous apple pie and chocolate cake. Average cost: 60-100 CZK.
Moment: Vegan Bakery and Bistro: Famous for its vegan croissants, Moment also offers delicious cakes, muffins, and sandwiches. Average cost: 50-100 CZK.
Indulge in these sweet treats guilt-free and have a sugar-filled adventure in Prague!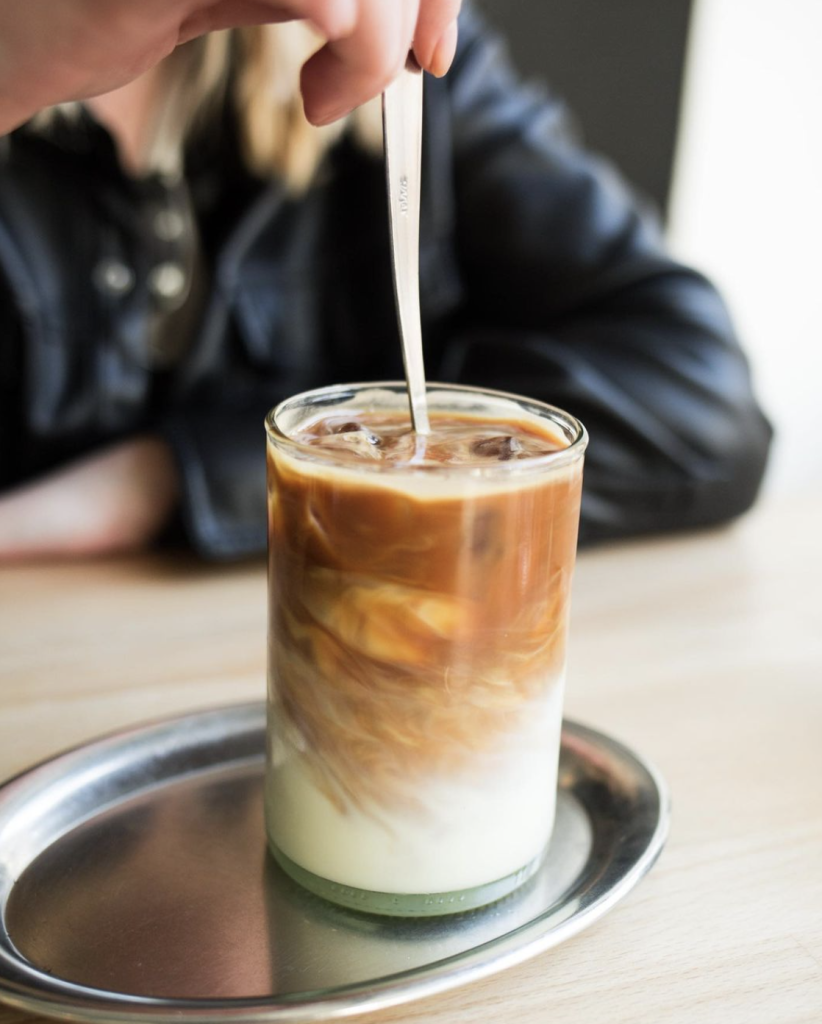 FAQs about Vegan restaurants in Prague
Are there any vegan restaurants in Prague?
To find more vegan restaurants in Prague or vegetarian restaurants in Prague use the app happy cow.
Where can I find the best vegetarian pizza in Prague?
One great spot to check out is Pizza Letna. This popular pizzeria offers a variety of vegetarian and vegan pizza options, with creative toppings like roasted pumpkin, smoked tofu, and vegan cheese. Their dough is made fresh daily and their sauce is made from San Marzano tomatoes imported from Italy, so you know you're getting a quality pie.
Another option to consider is Pizzeria Kmotra, which offers an extensive vegetarian menu with over 15 different vegetarian pizza options. Their pizzas are made in a traditional wood-fired oven, giving them that authentic Italian taste. And if you're in the mood for something a little different, they also offer a vegan pizza with tofu and veggies.
What vegan delivery options are available in Prague?
Many popular vegan restaurants and cafes in Prague offer delivery services through various platforms like Wolt, Dáme Jídlo, and Uber Eats. Some of the popular vegan delivery options include Veganland, Bejzment, The Vurger, Loving Hut, and Moment.
Is there a vegetarian food festival in Prague?
Yes, there is a vegetarian food festival in Prague called Veggie Naplavka. It is an annual event that takes place in the summer months, usually in June or July, at the Naplavka Farmers' Market located on the banks of the Vltava River.
To find more vegan restaurants around the world use the app happy cow. Happy feasting!
Pin Guide to Vegan Restaurants in Prague