Estimated reading time: 16 minutes
Ah, Nara, the land of peace, culture, and sacred deer. This little gem of a city is tucked away in the Kansai region of Japan, just a hop, skip, and a deer leap away from Kyoto and Osaka. In my Nara travel guide, I'll take you through all the essentials of planning your Nara trip.
With over 1,200 freely roaming sacred deer, Nara is not your typical travel destination. But that's what makes it so special. The deer are friendly and not afraid to get up close and personal with humans, which makes for some great selfies (just don't feed them anything that's not meant for them).
Sure, Nara is popular for day trips, but if you really want to immerse yourself in the city's charm, you've got to stay for at least a night or two. Trust me, there are plenty of things to do in Nara that will keep you entertained. From impressive temples like the Todaiji Temple and Kasuga-Taisha Shrine to beautiful parks like Nara Park and Yoshikien Garden, there's something here for everyone.
No matter what you choose to do. My advice is to take your time and explore this peaceful and welcoming city. Don't rush through it like a deer in headlights. Stay awhile and let Nara work its magic on you. And don't forget to say hello to the deer for me!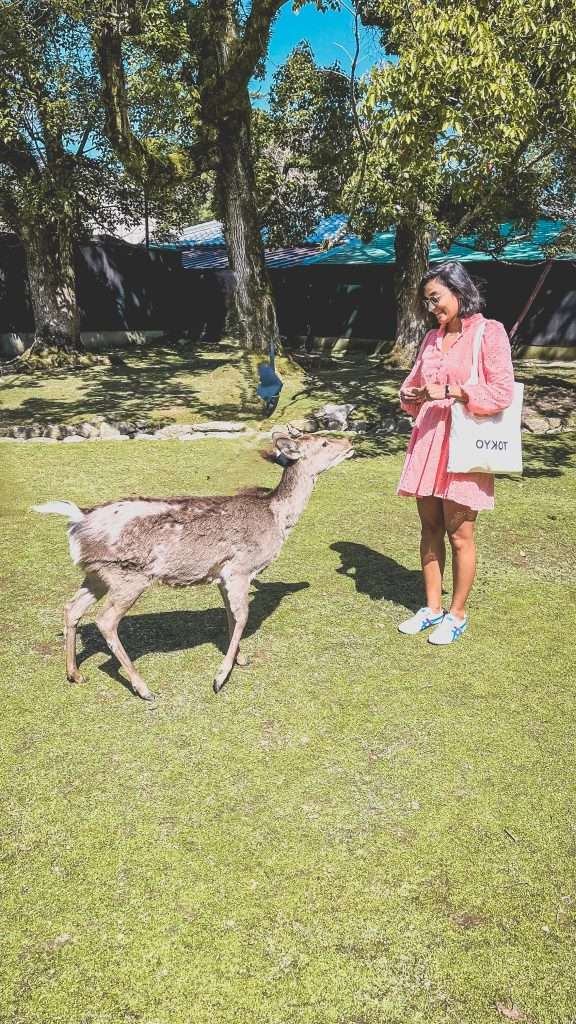 Brief History of Nara
Nara is a city steeped in history and culture, with roots that go back over a thousand years. It was the capital of Japan from 710 to 784, during the Nara period, and it was during this time that many of the city's most important cultural sites were established.
One of the most significant landmarks of Nara's cultural heritage is the Todaiji Temple, which was completed in 752 and is home to the largest bronze Buddha statue in the world. The temple is a UNESCO World Heritage Site and attracts visitors from all over the world. My Nara travel guide covers this later in the blog.
Another important cultural site in Nara is the Kasuga-Taisha Shrine, which was founded in 768 and is dedicated to the deity of the Kasuga area. The shrine is famous for its thousands of bronze and stone lanterns, which are lit twice a year during the Lantern Festival.
Nara's rich cultural heritage can also be seen in its art and architecture, which are heavily influenced by Chinese and Korean styles. The city's many museums and galleries showcase a wide range of art, including traditional Japanese paintings, calligraphy, and sculpture.
Today, Nara remains an important cultural centre in Japan, and it is many historical sites and cultural landmarks attract visitors from all over the world. If you're planning a trip to Japan, be sure to add Nara to your list of things to do. It's a must-visit destination for anyone interested in history, culture, and the arts
Best Time to Visit Nara
If you're thinking of visiting Nara, you might be wondering what time of year is best to go. Well, the good news is that this city is a year-round destination, with each season bringing its own unique delights.
Spring is a particularly stunning time to visit, with the cherry blossoms in full bloom, usually towards the end of March or the beginning of April. This is when the city explodes into a beautiful sea of pink and white, but be aware that it can get pretty crowded during this period.
If you'd rather avoid the throngs of tourists, then May is a great alternative. The temperatures are warm and the scenery is lush and green, making it the perfect time to explore the city without the hustle and bustle.
June sees the rainy season arrive, which might put some visitors off, but it's worth bearing in mind that the rainfall isn't too heavy and it can actually reduce the crowds. Summer in Nara is hot and humid, but it's also festival season, so there's always something to see and do. Autumn arrives in mid-September, bringing with it cooler temperatures and a riot of colours as the leaves change.
However, autumn is also a popular time to visit, so if you want to avoid the crowds, it's best to steer clear of November when the fall foliage is at its peak.
Finally, winter can be chilly, but it's usually dry and bright, so it's still a good time to explore the city. Just be aware that some attractions may have reduced opening hours during the winter months.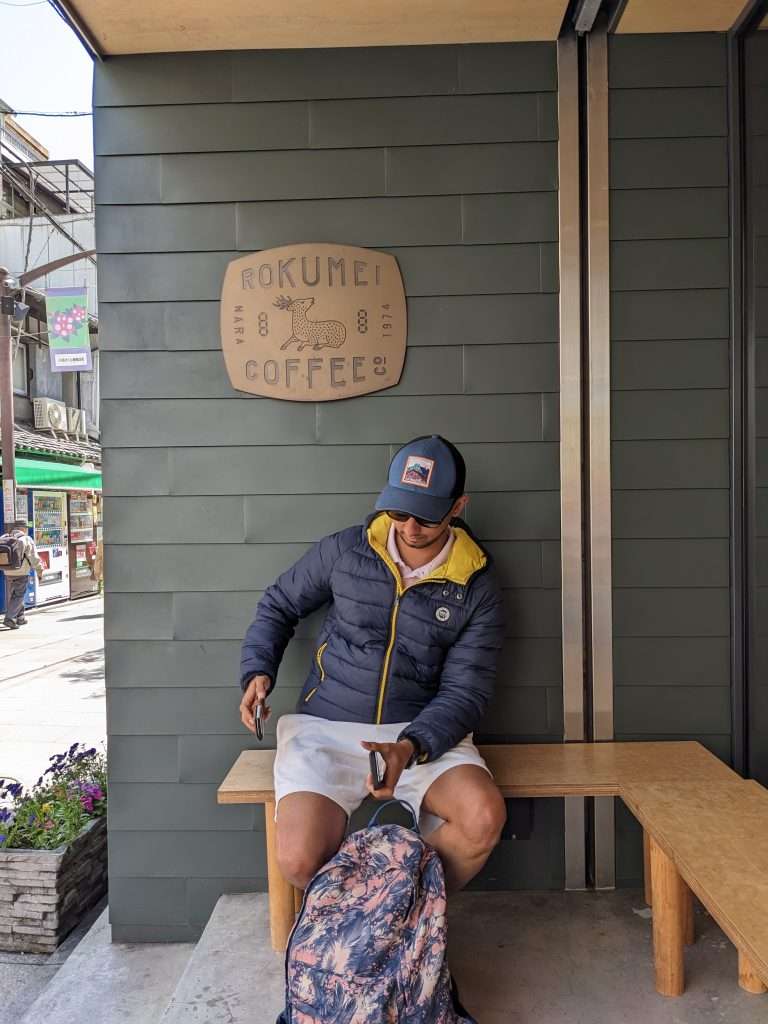 How to Reach Nara
Getting to Nara is relatively straightforward, thanks to its central location in Japan's Kansai region. Whether you're coming from Tokyo, Kyoto or Osaka there are several convenient transportation options available. In this section, we'll explore the different ways to reach Nara and help you choose the best mode of transport for your needs and budget. Read on and find the best route with my Nara travel guide.
From Osaka to Nara

I visited Nara from Osaka. If you have a JR pass I highly recommend taking this route.
Take the Yamatoji-Rapid from Shi Imamiya station to Nara station. This journey is covered under the JR pass. And it takes just 36 minutes to reach Nara station. The same train stops at Tennoji station before heading towards the countryside.
If you are living near Osaka station, you can catch the Osaka loop line to Nara station. It will take roughly 50 minutes to reach Nara station from Osaka station.
Take the Rapid Miyakoji on the Nara line from Kyoto station. The journey to Nara station will take about 44 minutes and cost ¥720.
Note that this train isn't covered under the JR pass.
From Tokyo to Nara
Nara doesn't have its own Shinkansen station, so if you're travelling from Tokyo, the best option is to catch the bullet train to Kyoto or Osaka and follow the directions above.
Things to do in Nara
While there are numerous temples, shrines, and museums to explore in Nara, my Nara travel guide covers a bit of everything. These attractions offer a great mix of history, culture, and natural beauty, and are sure to leave you with a lasting impression of Nara.
However, don't limit yourself to just these spots as there are plenty of hidden gems to discover in this charming city. So, make sure to leave some time in your Nara itinerary for exploring and discovering your own favourite places!
Todaiji Temple
Let me tell you about one of the most awe-inspiring places in Nara, the Todaiji Temple! As soon as you step foot in this ancient temple, you'll feel the weight of its history and cultural significance. The grand wooden structure is home to one of the largest bronze statues of Buddha in the world, standing at a colossal height of 15 meters!
Walking towards the temple, you'll be greeted by a majestic gate called Nandaimon, which houses two fierce-looking warrior statues. These imposing statues might make you feel small, but trust me, they're friendly once you get to know them!
Once you're inside the temple, prepare to be blown away by the sheer size of the Buddha statue and the hall itself. The hall is so massive that it's hard to believe it was built entirely of wood in the 8th century! The architecture is a masterpiece, and it's incredible to think that it's still standing after more than a millennium.
Don't forget to check out the intricate details of the temple, from the beautifully painted ceiling to the lotus flower petals on the Buddha statue's hands. It's truly a feast for the eyes!
If you're feeling adventurous, make sure to pay a visit to the deer park nearby. You'll get to see some of the thousands of deer that roam around Nara, and maybe even feed them some special crackers called "shika senbei" which are sold around the park.
Visiting Todaiji Temple is a must-do when you're in Nara. Make sure it's on your list of things to do in Nara.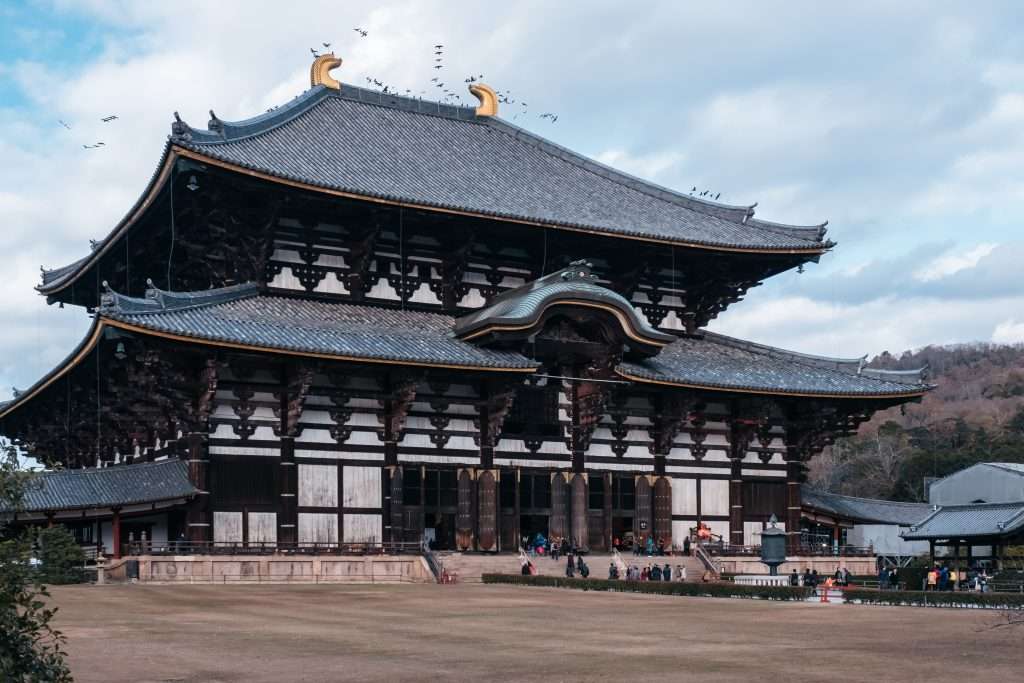 Nara Park
A Nara travel guide is incomplete without the mention of Nara park! Nara Park, where do I even begin? This place is a deer-lover's dream come true! As soon as you enter the park, you are surrounded by these cute and friendly creatures, just roaming around freely. And let me tell you, they are not shy at all – they will come up to you and beg for food (buy some deer crackers to feed them). It's such a unique and special experience to be able to interact with these animals.
Aside from the deer, Nara Park also has plenty of other things to offer. There are numerous walking paths and trails that lead you through lush forests and serene gardens, making it the perfect place for a leisurely stroll or a picnic with friends. And if you're lucky, you might even stumble upon one of the many temples or shrines that are tucked away within the park's borders.
I highly recommend visiting Nara Park if you're in the area – it's a must-see destination that's truly unlike any other. Just be prepared to fall in love with the adorable deer and to take a ton of photos!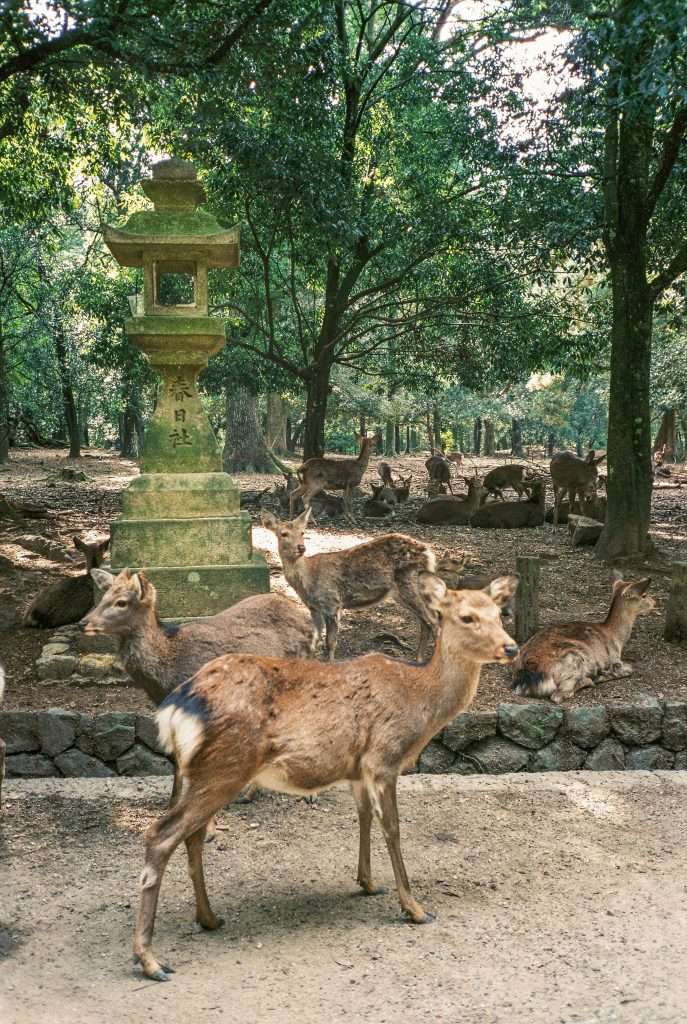 Kofukuji Temple
I had the pleasure of visiting this historic temple during my trip to Nara and let me tell you, it did not disappoint.
First things first, Kofukuji is one of the most famous temples in all of Japan and it's not hard to see why. As soon as I walked through the temple gates, I was blown away by the stunning architecture and the peaceful atmosphere. The temple has a rich history that dates all the way back to the 7th century, and you can feel the weight of that history in every step you take.
One of the standout features of Kofukuji is its towering five-story pagoda. This impressive structure stands at a height of 50 meters and it's one of the tallest pagodas in all of Japan. I couldn't help but feel a little bit dwarfed by its sheer size! The pagoda is surrounded by beautiful gardens that are perfect for a leisurely stroll, and you can even catch a glimpse of some of the resident deer that call the park home.
As I explored the temple grounds, I couldn't help but feel a sense of reverence and awe. This is a place that has been a centre of worship for centuries, and it's easy to see why. The main hall of Kofukuji is home to some truly magnificent Buddhist statues, including a massive wooden statue of Yakushi Nyorai, the Buddha of healing. I couldn't help but feel a sense of peace and tranquillity as I gazed upon these works of art.
It's a place that will leave you feeling humbled and inspired, and it's a testament to the rich cultural heritage of Japan. So go ahead, put on your comfy walking shoes, and get ready to explore one of the most beautiful temples in all of Japan.
National Treasure Museum
This place is a treasure trove of ancient artefacts and a must-visit destination for any history buff or art enthusiast. From Buddha statues and intricate metalwork to colourful pottery and calligraphy, the museum has an impressive collection that spans multiple periods of Japanese history.
What I loved most about the museum is that it's not just a static display of ancient relics. There are interactive exhibits that give you a glimpse into how these treasures were made and used. For instance, there's a section where you can try your hand at making pottery using traditional techniques. It was really fascinating to see how much effort and skill went into creating these works of art.
Another thing to note is that the museum is housed in a beautiful traditional-style building with a stunning garden outside. It's easy to spend hours wandering around and taking in all the exquisite details.
One tip I would give to visitors is to make sure to pick up an audio guide or take a guided tour. There's so much information to absorb, and having some context and background knowledge really enhances the experience. National Treasure Museum is a fantastic destination in Nara, and I would highly recommend adding it to your Japan itinerary.
You may also like to read
Mount Wakakusa
Located just outside of Nara Park, the mountain is a popular spot for hiking and offers stunning panoramic views of the surrounding area.
Now, I'm not exactly the most experienced hiker out there, but I managed to make it to the top without too much trouble. It took me about an hour or so, but I stopped to take in the scenery and snap a few photos along the way. The trail can be a bit steep in some parts, but there are plenty of resting spots along the way if you need to catch your breath.
Once you reach the summit, you'll be greeted with an incredible view that stretches all the way to Osaka. On a clear day, you can see for miles and miles. It's really quite breathtaking. And if you're lucky, you might even catch a glimpse of the sunset – I hear it's particularly spectacular from up there.
One thing to keep in mind is that the mountain is only open for hiking during certain times of the year, so it's best to check before you make the trek out there. But if you're looking for a bit of adventure and a chance to get some incredible views of Nara, Mount Wakakusa is definitely a must-visit spot in Nara.
Nakatanidou Mochi Shop
It was an experience I won't forget anytime soon! First of all, let me just say that if you're a fan of mochi, this place is a must-visit. The shop is known for its "mochi pounding performance," where the skilled staff pound the sticky rice into mochi with wooden mallets in a rhythmic, almost dance-like motion.
It's quite the show, and the energy is contagious. But let's talk about the mochi itself – it's soft, chewy, and absolutely delicious. I tried the Mochi, which is covered in roasted soybean powder and has a sweet red bean filling. It was the freshest mochi I ever had! The shop also has a wide variety of other rice cracker flavours, so there's something for everyone. Trust me, you won't regret stopping by Nakatanidou Mochi Shop during your visit to Nara.
Cost of Traveling to Nara
Cost of Transport:

Since I took the train covered under the JR line from Osaka to Nara. All major sites around the Park are within walking distance from the station so I essentially had 0 transport cost. Also walking is great way to explore the city, you come across things which you'd have missed otherwise.

Cost of Food:
There are plenty of vegan food options in Nara. A bowl of ramen or a set meal would cost you between ¥1200 to ¥1600. Coffee at a speciality coffee shop would be ¥590 and at a wending machine ¥140. The cost for a Suntory highball or an Asahi beer is ¥550. The famous Nakatanidou mochi costs ¥180 and a daifuku will cost ¥300.
Misc Cost:
Most temples and parks in Japan are free. However, there's an entrance fee at Todaiji of ¥1000. The deer crackers cost ¥200. Magnets and other souvenirs would cost you between ¥300 to ¥600.
My overall cost of a day trip to Nara was ¥3720.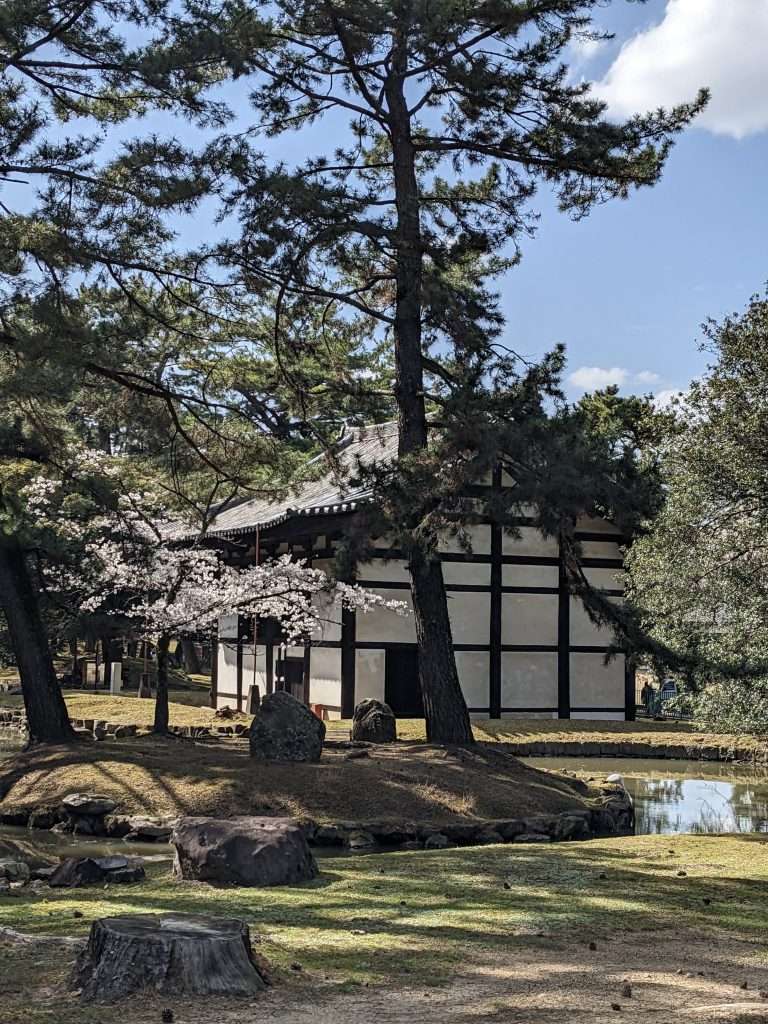 Nara Budget Travel Tips:
Sharing some simple budgeting tips to help you stay under check, in my Nara travel guide.
Certain times of the year are peak travel times in Japan, including the New Year's holiday, Golden Week at the end of April and beginning of May, and the August Obon holiday period. If you can avoid travelling during these times, you'll save money on accommodations and flights, and you'll be able to enjoy Nara without the crowds.
If you are travelling to Osaka, take the Yamatoji-Rapid from Shi Imamiya station to Nara station. Since the train is covered under the JR pass.

Accommodation in Nara is slightly more expensive than in Osaka, so if you are on a tight budget do a day trip.

Grab a meal from a convenience store. There are plenty of non-vegetarian options. However, for vegans, you'd only find some onigiri at best.
Nara is a beautiful city that truly captures the essence of ancient Japan. From its rich history to the beautiful natural landscapes and friendly locals, Nara is definitely worth a visit. With so many amazing temples and shrines, a walk through the stunning Nara Park, and some delicious vegan food options, there's something for everyone in this charming city. Whether you're a history buff, nature lover, or simply looking to experience a different culture, Nara will not disappoint. Hope my Nara travel guide helped you plan your trip!
Add Nara to your travel bucket list and get ready for an unforgettable adventure! And share this Nara travel guide with others!
Pin this Nara Travel Guide