It's time to leave the ordinary behind and let the magic of this Indonesian paradise sweep you off your feet. After having spent nearly 2 weeks exploring Bali, I decided to make the perfect 1 week Bali itinerary. Who is this Bali itinerary for? If you are a first-timer in Bali, this is the best itinerary for you. Because this 7-day Bali itinerary takes you through all the major Balli attractions, without feeling rushed! Like all my itineraries this one will also be packed with restaurant recommendations that serve vegetarian or vegan food in Bali.
After having planned numerous Bali trips for couples, groups and even solo travellers I'm confident this Bali itinerary perfectly encapsulates the spirit of the Island. But if you are looking for a customised Bali itinerary hit the below button, and I'll get in touch with you.
Best Bali Itinerary for 7 days
Day 1: Arrival – Ubud
You've landed in Bali, and your adventure begins in the cultural heart of the island, Ubud. From Ngurah Rai International Airport, hop into a comfortable taxi or arrange for a pre-booked transfer to reach Ubud. It's about an hour's drive from the airport.
Once you arrive in Ubud, settle into your accommodation and get ready to explore. Visit the iconic Monkey Forest Sanctuary. Enjoy the playful antics of the resident monkeys and explore the lush greenery surrounding the temple complex. Pro tip: Keep an eye on your belongings; those cheeky monkeys love to snatch shiny objects!
For lunch, head to Kismet, a cosy vegetarian cafe that serves a variety of delicious dishes. Try their nourishing bowls or indulge in a flavoursome veggie burger.
In the afternoon, take a stroll through the streets of Ubud and explore the local markets. Don't miss the Ubud Market, where you can find a treasure trove of handicrafts, clothing, and unique souvenirs to take home.
In the evening, treat yourself to a traditional Balinese dance performance at the Ubud Royal Palace.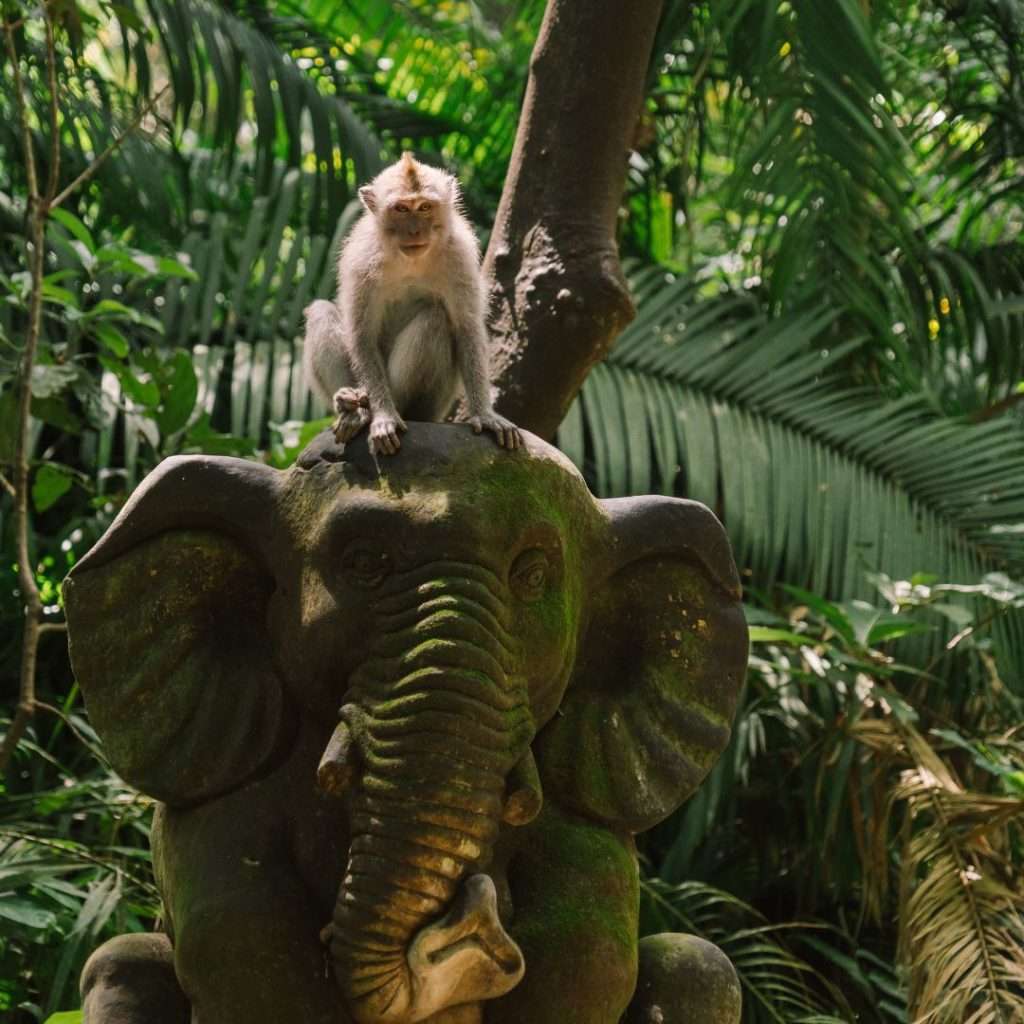 Day 2: Ubud
Start your super early day with a visit to the Tirta Empul Temple, a sacred water temple where you can participate in a traditional purification ritual. It's a unique and spiritually enriching experience that shouldn't be missed. You can hire a taxi to take you there and back.
For brunch, head to Moksa, an organic vegan restaurant that offers a delightful array of plant-based cuisine. Their creative dishes made with locally sourced ingredients are a true culinary delight.
In the evening, head to the OMMA day club in Bali. With its jaw-dropping infinity pool that seems to blend seamlessly into the lush rice fields, OMMA Day Club is the epitome of chic relaxation. Here's the deal: you grab a refreshing cocktail, find yourself a cosy spot in one of their poolside cabanas, and let the good vibes wash over you. The resident DJs set the mood with their groovy beats, and the energy in the air is contagious. It's the kind of place where you can kick back, soak up the sun, and let all your worries fade away.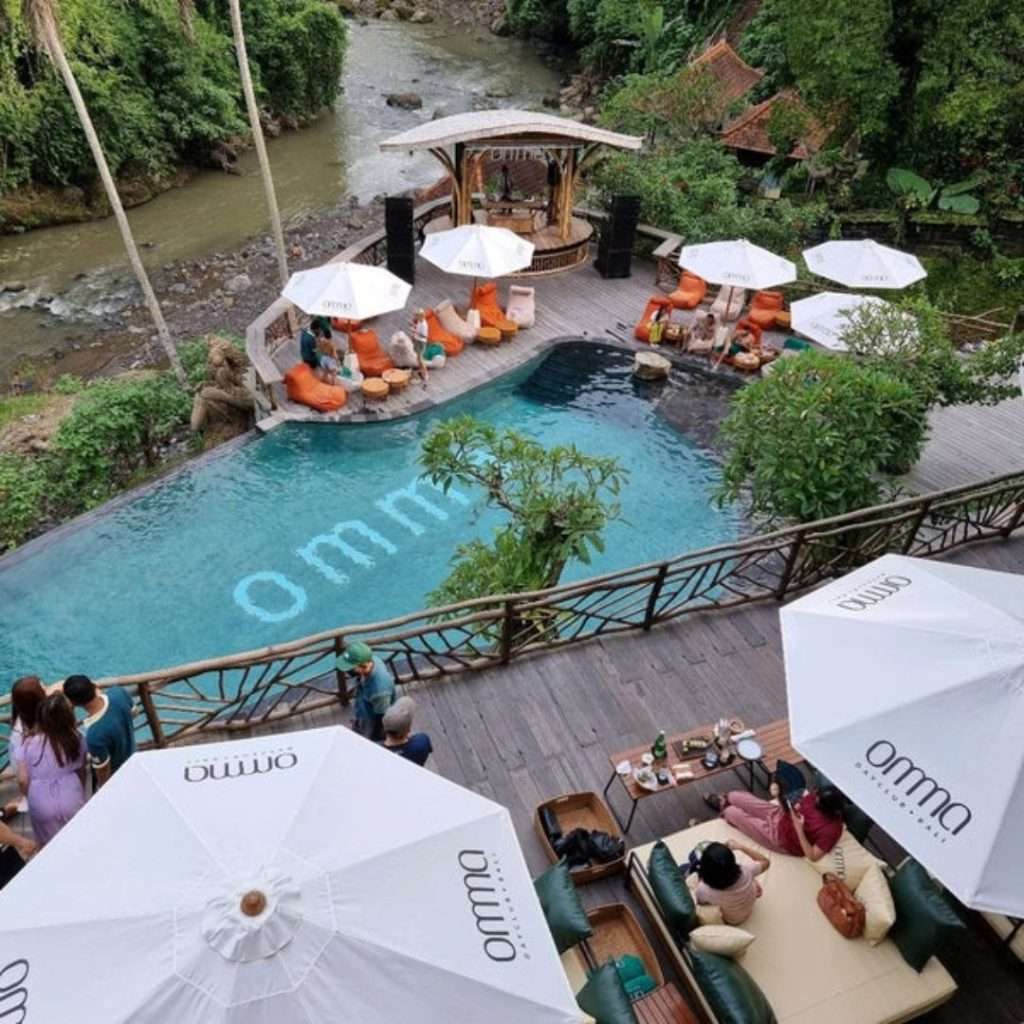 Day 3: Canggu
Now this one may sound confusing. But hear me out. I highly suggest booking a night trek to Mt. Batur from Ubud. Your transport arrives as early as 2:00 AM depending on your stay. Indonesia is known for some brilliant volcano hikes and if you are in Bali you have to try one out. The trek to Mt. Batur is great for beginners and it takes roughly 1.30 mins to reach the top. Once at the top, you see the best sunrise of your life! Enjoy a simple breakfast of toast, banana and coffee/tea – you have the option to add egg.
To make the most of your time, after the trek head to Canggu. I understand this may be a tad bit hectic. But, Mt. Batur is a must-visit Ubud experience.
After a good rest grab a light snack and make your way to a Balinese massage. Believe me, it is the best thing to get done after the trek! When hunger strikes, make your way to Shady Shack for a satisfying vegetarian lunch. Indulge in their mouthwatering Buddha bowls, fresh salads, or their famous tempeh burger. After
In the evening, visit the iconic Tanah Lot Temple, located just a short drive from Canggu.
This ancient temple perched on a rocky outcrop offers an incredible sunset view. After dinner get a good night's rest because you start early tomorrow.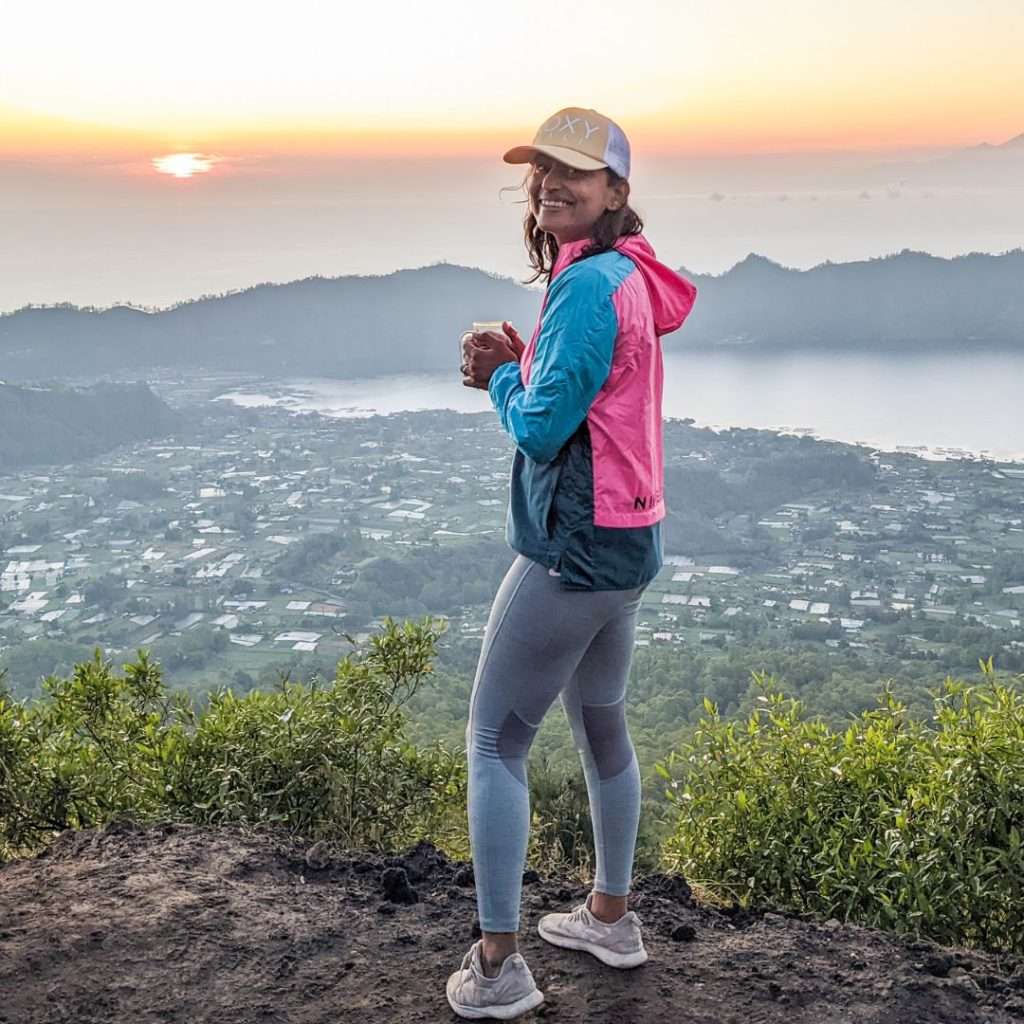 Day 4: Canggu
Canggu is known for its fantastic surf breaks and relaxed vibe. Today get a surfing lesson! Spend your morning riding the waves, lounging on the sandy shores, or simply taking in the breathtaking ocean views.
Then head to Crate Cafe for a delicious breakfast. Known for its laid-back vibes and tasty vegetarian options, their colourful smoothie bowls and avocado toast is a must-try. Bali definitely has the cutest vegan cafes of all time!
Get some rest and then hit the most adorable boutique stores in Canggu. Shopping in Canggu definitely is a tad bit more expensive than any other city in Bali, but I felt the products had a lot more variety. Around 4:00 make your way to one of the beach clubs, you can choose from- Finns, La Brisa or Potato Head. Great place to enjoy a drink, laze around the pool and witness the sunset! Today is all about relaxation. You've earned it after the surf lessons!
Get Ready to Jet-Set with My Bespoke Travel Plans
Your Perfectly Personalized Itinerary Awaits!
Day 5: Nusa Penida
Today make your way to Nusa Penida! A stunning island located southeast of Bali. Catch an early morning ferry from Sanur to Nusa Penida. The journey takes about 45 minutes.
Whenever I get a Bali custom itinerary request, a lot of people ask me- Is it possible to do a day trip to Nusa Penida from Bali? I suggest spending at least 1 night in Nusa Penida. If you have more time, even better! If you do not have the time, skip it and visit Nusa Lembongan on a day trip instead. You can technically do a day trip to Nusa Penida, but I do not recommend it! Many travel agents suggest this to save time. But believe me, it would be the most stressful and hectic day of your holiday! And you wouldn't want that, would you?
Once you arrive on the island, rent a scooter or hire a local driver to take you to Kelingking Beach. Prepare to be awe-struck by the jaw-dropping panoramic views from the cliff-top. Take your time to explore the area and, if you're feeling adventurous, hike down to the pristine beach below.
For lunch, head to Penida Colada, a charming beachfront cafe that offers a range of vegetarian options. Relish their tropical vibes and enjoy a flavorful meal while gazing out at the crystal-clear waters.
In the afternoon, visit the famous Broken Beach and Angel's Billabong. These natural wonders are a sight to behold, with their dramatic cliffs and turquoise pools. Don't forget your camera! End your day with a visit to Crystal Bay, a picturesque beach perfect for swimming and snorkelling. Dive into the azure waters, marvel at the vibrant marine life, or simply bask in the beauty of your surroundings.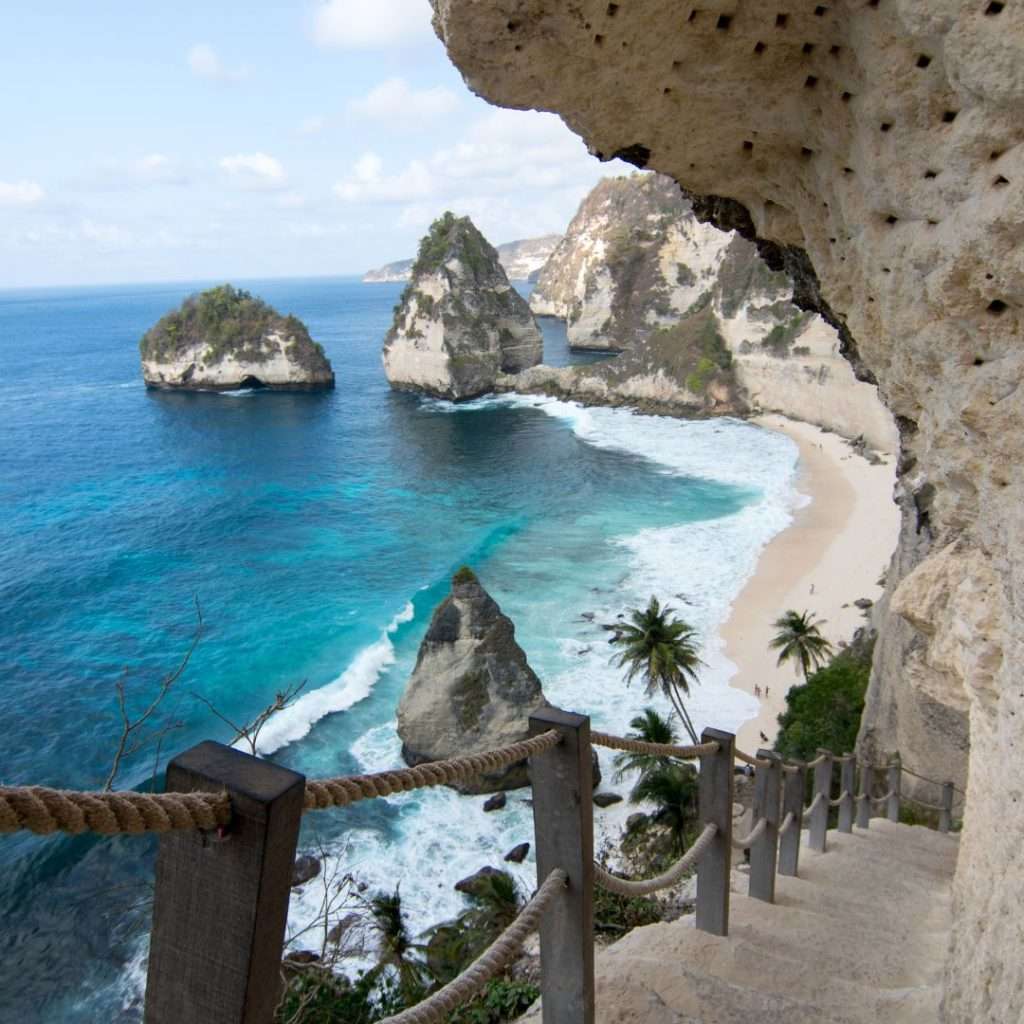 Day 6: Nusa Penida
I bet you are well rested – well that's just the magic of island life! Let's continue exploring the island of Nusa Penida. After a fulfilling breakfast at Penida Espresso, a cosy cafe with vegetarian options, set out to explore the island's hidden gems.
Make your way to Atuh Beach, known for its pristine sands and dramatic cliffs. Take a moment to soak in the breathtaking views and enjoy a peaceful walk along the shore.
For lunch, visit Warung Tarzan, a local eatery that serves delicious vegetarian fare. Feast on their traditional Indonesian dishes like gado-gado or nasi campur, all made with fresh local ingredients.
In the afternoon, visit the stunning Diamond Beach. Descend down the cliffside stairs and be rewarded with a postcard-worthy beach surrounded by towering cliffs and crystal-clear waters. It's a true gem!
As the day comes to an end, head back to the ferry terminal and catch a boat back to Bali. And make your way to your accommodation in Seminyak.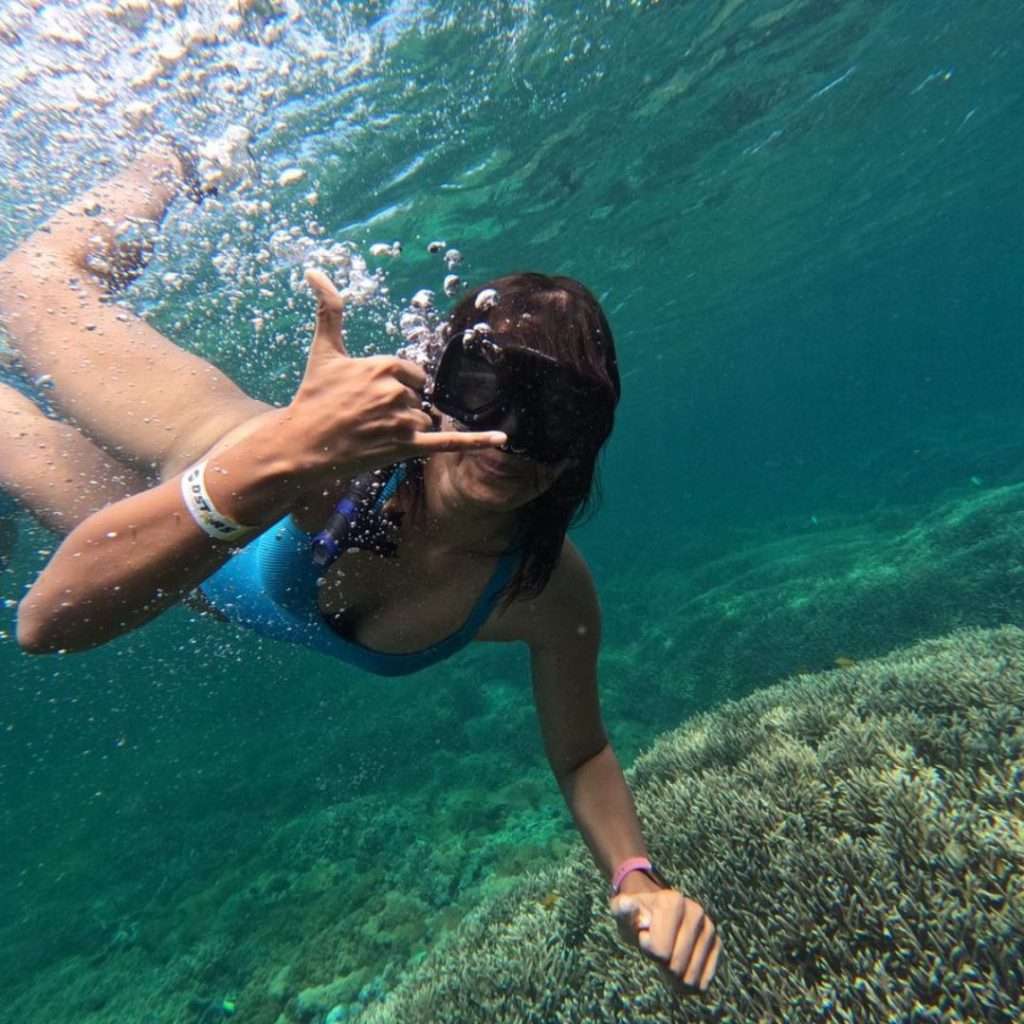 Day 7: Seminyak
On your final full day in Bali, make your way to the vibrant and trendy town of Seminyak. Start your day with a delightful breakfast at Kynd Community. Their vibrant and Instagram-worthy dishes will make your taste buds sing.
After breakfast, spend your morning exploring the famous Seminyak Beach. Soak up the sun, take a dip in the refreshing ocean, or simply relax on the sandy shores. Don't forget your beach towel and sunscreen! After which treat yourself to a rejuvenating spa session at Spring Spa. Indulge in a relaxing massage or try one of their invigorating body treatments. You deserve it!
For a scrumptious vegetarian lunch, head to Earth Cafe. This popular eatery offers a wide range of vegetarian and vegan options, from nourishing salads to hearty wraps.
In the evening, treat yourself to some retail therapy at Seminyak's trendy boutiques and stylish shops. From local designer stores to international brands, you'll find a variety of fashion, accessories, and homeware to suit your taste.
As the day winds down, Seminiyak's nightlife comes rising up! Go club hopping in this lively city. For a bit, you'll forget you are still on a sleepy coastal island. Let your hair down and dance your final night away.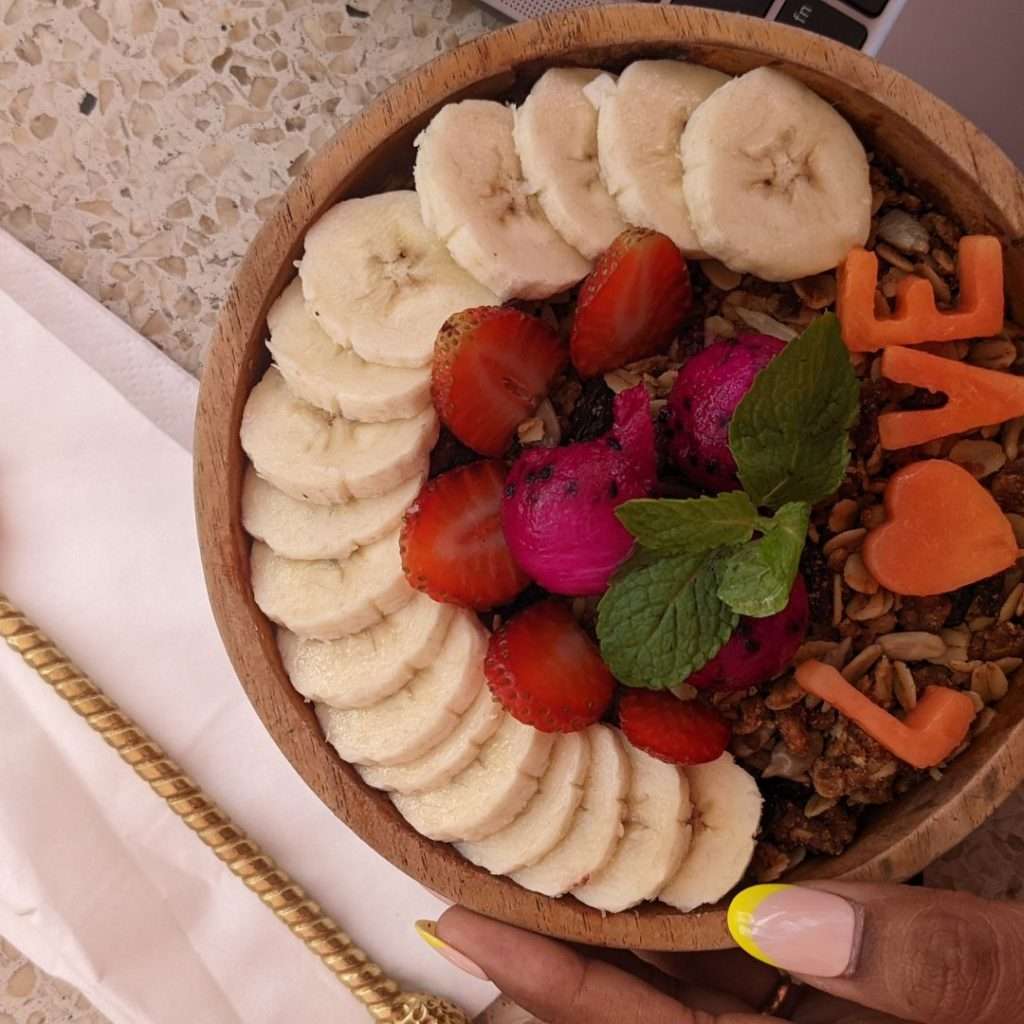 Day 8: Departure
Sadly, it's time to bid farewell to beautiful Bali. Spend your last morning in Seminyak savouring a leisurely breakfast at Revolver Espresso. Their delicious coffee and delightful vegetarian options will make for a memorable final meal. Take some time to pack and check out of your accommodation, ensuring you have everything you need for your journey back home.
As you leave Bali with a heart full of incredible memories, remember to cherish the moments, the people, and the beauty of this magnificent island. Safe travels, and until we meet again on another adventure!
Best Accommodation in Bali
I used booking.com to find the cheapest accommodation in Bali. I feel they have an exhaustive list of options and the reviews and ratings help me while finding the perfect stay in Bali. They have great deals running on stay options.
Planning Your Indonesia Trip? Also Read
A Guide to Indonesia's Volcano Hikes